Warning! This post is updating in real time!
Please take note as the information below is subject to change.
Post Livestream Update
Changed Queen's Relaxation to Queen's Respite.
April 15th Stream
Secret Phrase
Say the phrase

創造は生命

in chat to receive:

Beniobana (Talis Camo)
+100% Tribooster

You have until April 25th's Maintenance to complete this task.
Prizes will be sent to the Visiphone.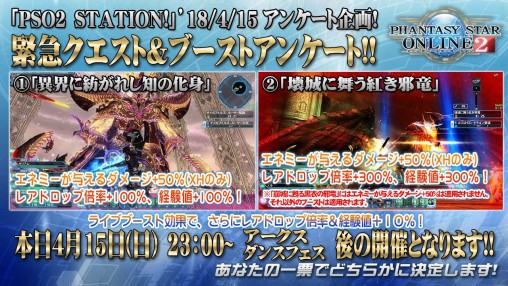 PSO2 EQ Boost Poll
Incarnation of Knowledge
50% Enemy Damage (XH)
+100% Rare Drop and EXP Boost
April 15th @ 23:00 JST (Dance Festival First)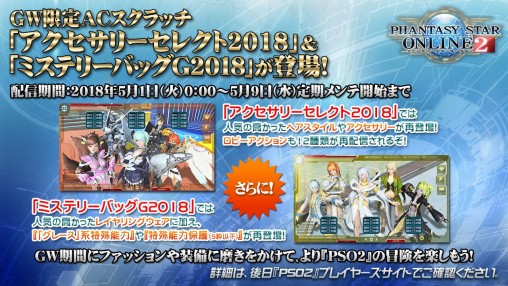 Golden Week Limited AC Scratch (May 1st ~ May 9th)
Accessory Selection 2018
Mystery Bag G 2018

Grace Type Ability and Special Ability Protection (5 Slot or Less)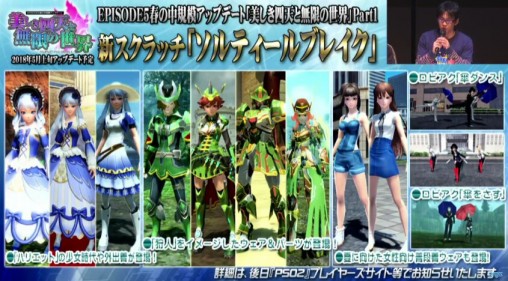 May Update
AC Scratch: Sortir Break
Young Harriet and Street Clothes Harriet outfits
"Hunting" style Layered Wear and Cast Parts
Casual Female Clothes for Summer
Umbrella Dance Lobby Action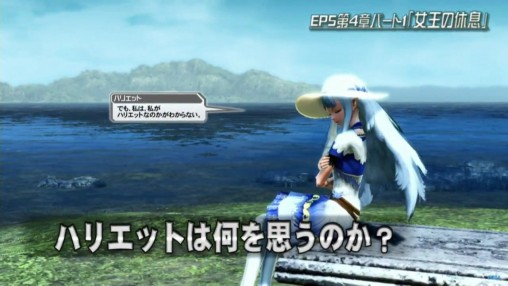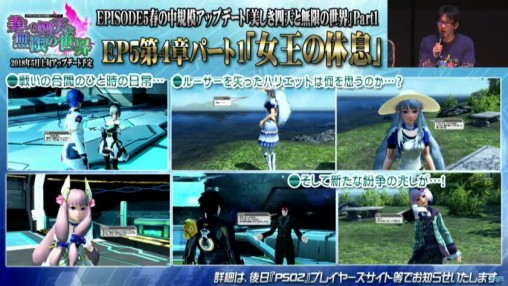 May Update
Episode 5 Chapter 4 Part 1 (The Queen's Respite)
The ordinary lives of characters between battles…
What is Harriet thinking about?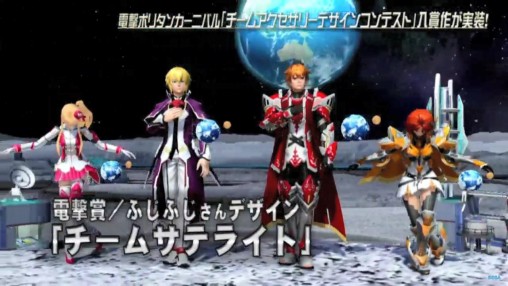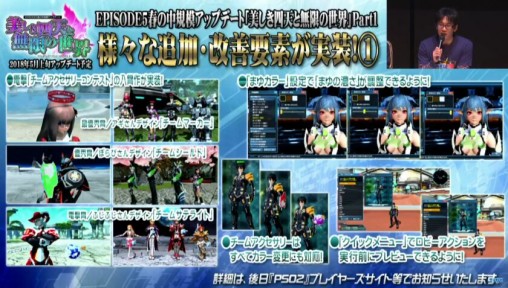 May Update
Dengeki Polytan Carnival Team Accessories Contest Winners!

Team Marker
Team Shield
Team Satellite (A Globe Floating Around You)
You can change their colors too!

Quick Menu Lobby Action Preview
Adjust Eyebrow thickness.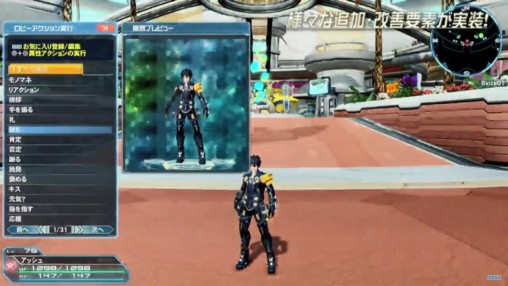 May Update
Special Ability Protection (4 Slot or Lower) in Recycle Shop
You can hold more than 1 Half Doll  (However, it still follows the current rules. You must return to the Campship to use it again.)
Sell items from My Shop based on the price you select while peeking at the Market.
Expanded Storage 1 and Material Storage can be purchased at the Star Gem Shop
Battle Arena Weapons will be Sword, Twin Machine Guns, and Rod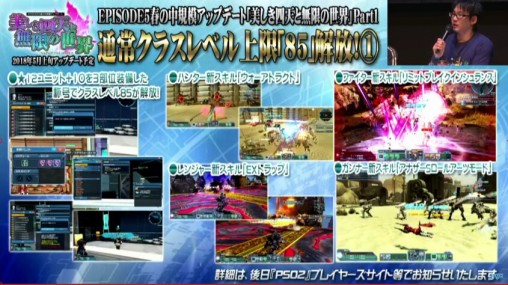 May Update
Level 85 Cap for Standard Classes
Requires a title to unlock the new level cap on a particular class.
Title Objective: Equip a ★12 Unit at [+10] grind in all three slots.
New Skill
Hunter: War Attract

Boosts War Cry's Effect and adds Jellen Effect

Fighter: Limit Break Insurance

Receiving damage that would otherwise incapacitate you during LB, will cancel the effect and leave you with 1 HP.
Each time this effect is used, causes the recast times to increase.

Ranger: EX Trap

Boosts the occurrence speed and explosive range of ALL tool type skills.

Gunner: Another S-Roll Arts Mode

Increases the power of S-Roll Arts and changes the attack style to a range attack. "Range Attack" refers to its wideness.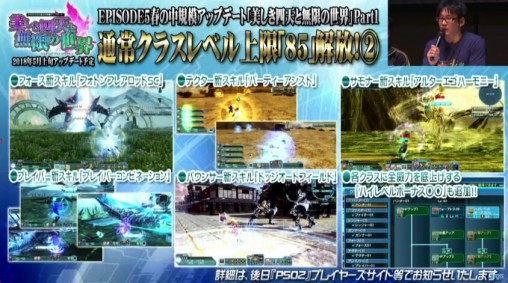 May Update
New Skill
Force: Photon Flare Rod SC

Reduces the charging time of Rod Technics while Photon Flare is active.

Techer: Party Assist

Your Shifta / Deband effects will apply to all party members on the field

Braver: Braver Combination

During Katana Gear's release, if you switch to Bullet Bow, your critical rate will rise, and you will maintain your Katana gear release status.

Bouncer: Dodge Auto Field

When evading an attack with step, it automatically activates your Fields.

Summoner: Alter Ego Harmony

While Alter Ego is activated, it only takes the damage received by the Pet.
New Skill: High Level Bonus <classname>
This appears to the right of each skill listed above.
Requires Level 80 in the appointed class.
May Update
The Enchanted Forest will finally become a Free Field
Three new enemies added!
Omega Hunar may also appear.
Devil Castle Missil Ghasud will serve as the boss.
Enchanted Forest Room Items and Verun weapon camos will also drop.
This quest has a new drop item known as [Demon Stone Chaos]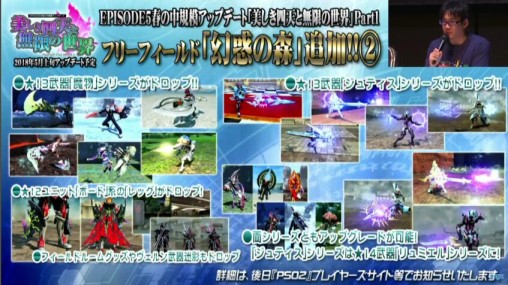 May Update (Enchanted Forest)
The ★12 Star Leg Unit from the "Bode" series will drop.
New ★13 "Demon" Weapon Series will drop.
New ★13 "Jutis" Weapon Series will also drop.

(You can suggest a better name)

Jutis Series can be upgraded into the ★14 Lumiere Series.
Demon series can also be upgraded.
May Update Part 2
Winners Design 5 Sideb

Pop La SorCery M / F
Karakazura
Grasulage Fril
Teufel Nonne
Mercurina [Ba]
High 5 Lobby Action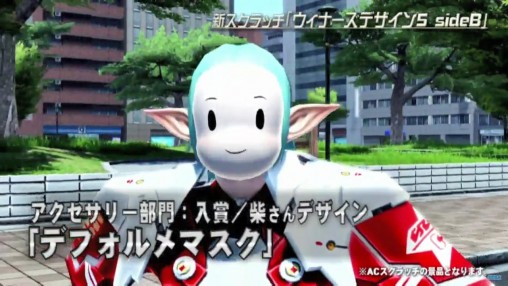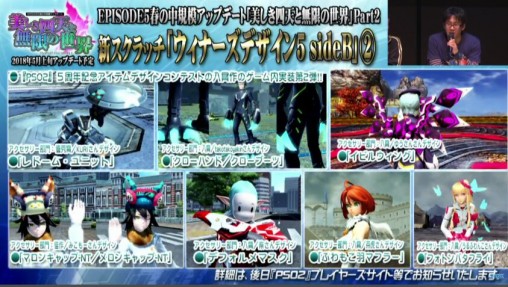 May Update Part 2
Radome Unit
Marron Cap-NT and Melon Cap-NT
Deformed Mask
Claw Hands and Claw Boots
Fluffy Wing Scarf
Photon Butterfly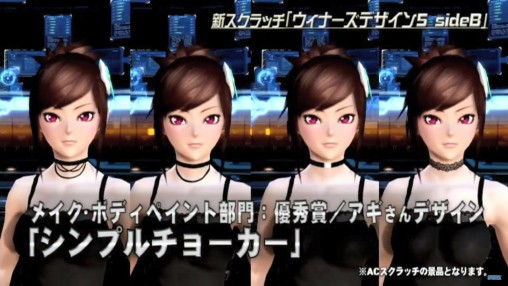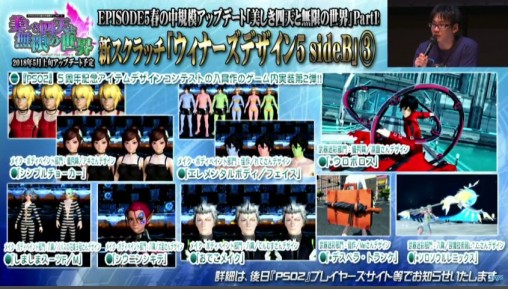 May Update Part 2
Winners Design Side B

Simple Choker
Elemental Body and Face Paint
Striped Suit F / M
*Ouroboros
*Desperado Case
*Solo Soulenix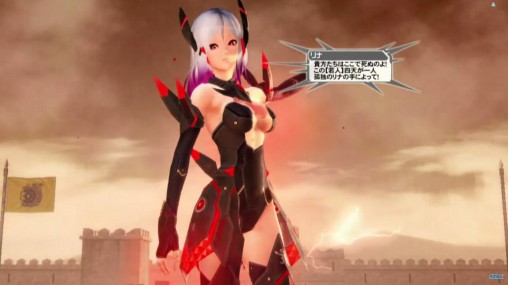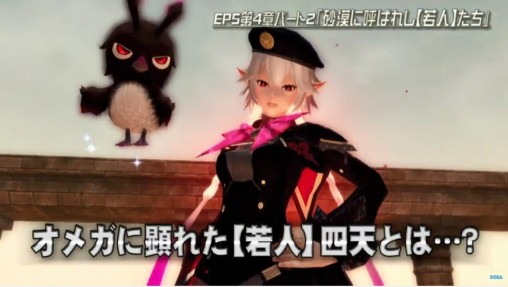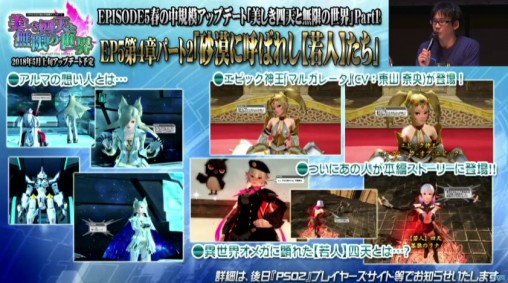 May Update Part 2
Episode 5 Chapter 4: Part 2
Margaretha of Epic  (CV: Nao Tōyama)
Alma's Sweetheart Has…
What exactly are the 4 Divines of [Apprentice]?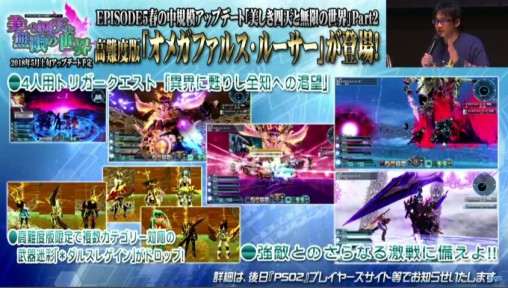 May Update Part 2
4 Player Trigger Quest: [Rebirth of the Desire for Knowledge]
You Can Obtain the Trigger Through [Incarnation of Knowledge]
*Dalz Regein will drop. (Supports Several Categories)
PSO2es Update
The Eternal Tower has expanded to 100 Floors
Enemies appear on the 61st+ floors are even tougher.
New Dominacio weapons will appear.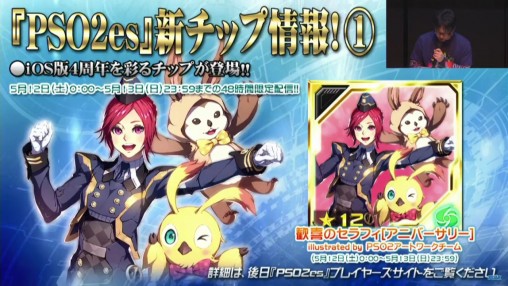 iOS 4th Anniversary Limited Chip
Available for 48hrs: May 12 ~ May 13th @ 23:59 JST
Delightful Seraphy [Anniversary]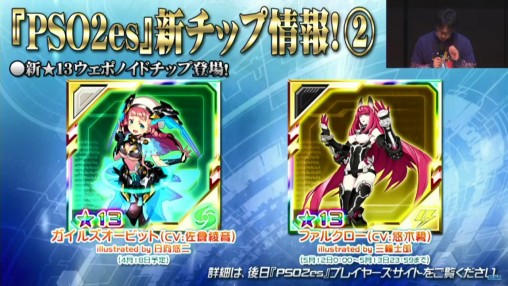 PSO2es Update
Gaels Orbit (4/18)
Fal Claw (5/12 ~ 5/13)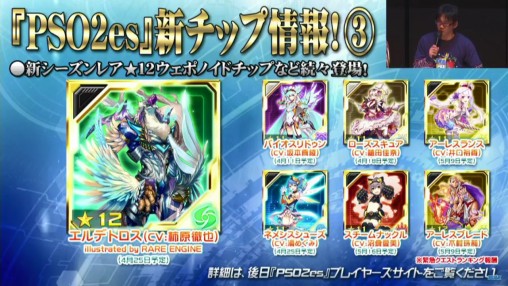 PSO2es Update
Eldetross (4/25)
Rose Skewer (4/18)
Ares Lance (5/9)
Nemesis Shoes (4/25)
Steam Knuckle (5/16)
Ares Blade (5/9)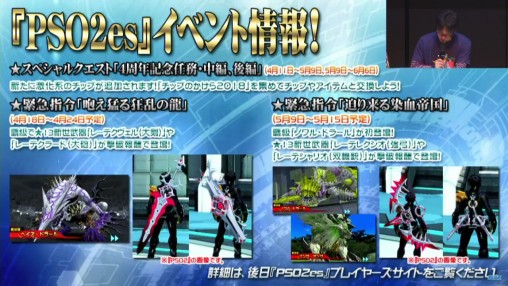 PSO2es Update
4th Anniversary Special Quest Continues (4/11 ~ 5/9) (5/9 ~ 6/6)
Roar Of the Fanatical Dragon 4/18 ~ 4/24

Raete Kvelle (Sword) and Raete Crahd (Launcher)

Looming Bloodstained Imperial  (5/9 ~ 5/15)

Noir Draal's first XH appearance.
Raete Lexio (Bow) and Raete Chario (TMG)
Endless Quest
~ Endless Quest ~
~ A New 4 Player Quest ~
~ How Far Can You Go? ~
~ The Battle Never Ends ~
~ Coming This June ~
Endless Quest
An amalgamation of Limited Quests,
The quest has "Mission Orders," similar to Dengeki Polytan Land.
Clear the Mission Orders for bonus points and time limit extensions.
An Interval Area is also provided to allow runners to purchase items such as monomates, etc.