Braver Skill Tree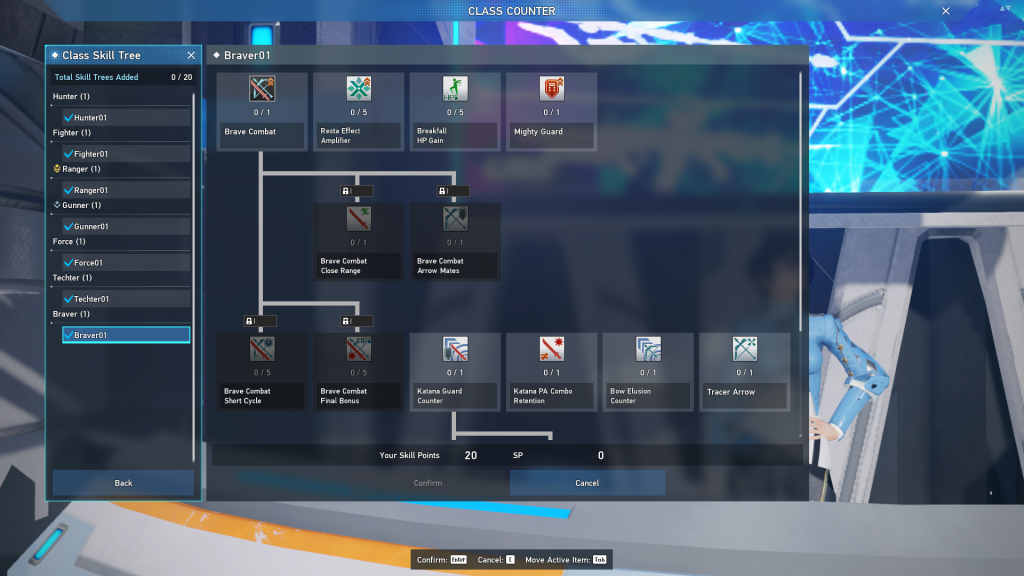 Brave Combat
ブレイブコンバット
For a limited time, PP consumption is reduced and PP recovery from attacks is increased. Reusing the skill while it's active will unleash a finishing blow.


Braver Weapons
Resta Effect Amplify


(Resta Effect Amplifier)
レスタエフェクトアンプリファイ
Increase the HP recovery amount when you use a Restasigne.
Breakfall HP Gain
ブレイクフォールHPゲイン
Recover HP after standing up from an attack that launched you or knocked you down.
Mighty Guard
マイティーガード
When using Guard Weapon Actions, decrease damage taken and PP consumed.
Brave Combat Close Range
ブレイブコンバットクロースレンジ
When in Brave Combat, jump to a locked on target in range when using a Normal Attack.

Katana
Brave Combat Arrow Mates
ブレイブコンバットアローメイツ
When in Brave Combat, for a specific time during the activation of a PA negate the effect of getting launched or knocked down.

Bowabc
 

Brave Spirit

ブレイブスピリット
Successfully performing a Perfect Guard / Evasion will temporarily increase the power of normal attacks and counters, and the amount of PP recovered when attacking.
Brave Combat Short Cycle
ブレイブコンバットショートサイクル
Reduces the duration of Brave Combat. In exchange, reduce the cooldown of Brave Combat.
Brave Combat Finish Prize
(Brave Combat Final Bonus)
ブレイブコンバットフィニッシュプライズ
At the end of Brave Combat, restore HP and PP based on the amount of hits landed during the ability.

Main Class/Braver Weapons
Katana Guard Counter
カタナガードカウンター
After successfully performing a Just Guard, automatically perform a counter attack.

Katana
Katana PA Combo Retention
カタナPAコンボリテンション
Katana PA Combo count will now be remembered even after using a different PA.

Katana
Bullet Bow Elude Counter
(Bow Elusion Counter)
バレットボウイル―ドカウンター
After avoiding an attack using your Weapon Action, perform a Normal Attack to execute a counter.

Bow
Tracer Arrow
トレーサーアロウ
Arrows shot using your Normal Attack will now track enemies.

Bow
Katana Guard Counter Advance
カタナガードカウンターアドバンス
Adds a shockwave to Katana Guard Counter if you successfully perform a Just Guard using the Weapon Action.

Katana
Fearless Attitude
フェアレスアティチュード
After using a Normal Attack or PA, for a short period of time cancel a frontal attack from an enemy and counter it.

Katana
Bullet Bow Elude Expand
(Bow Elusion Plus)
バレットボウイルードエクスパンド
After using a PA, if you activate a Weapon Action while inputting a direction at the correct timing, perform a sliding attack.

Bow