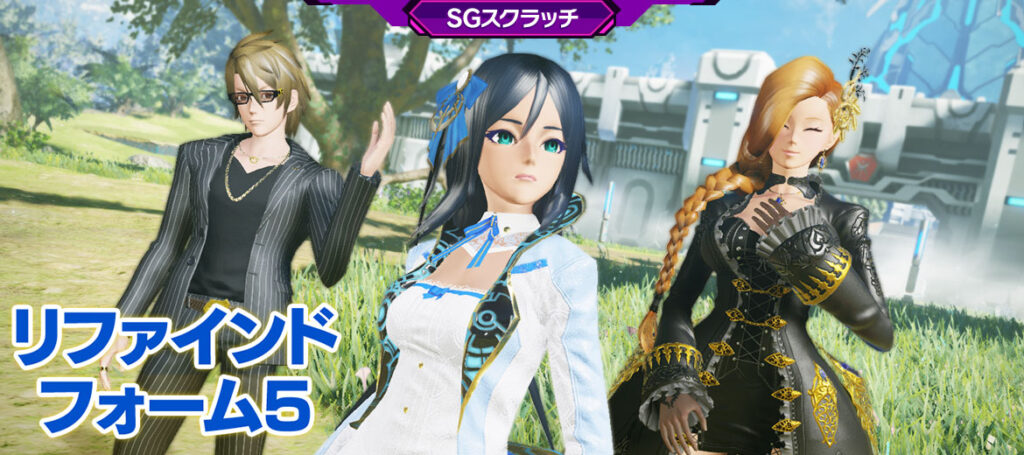 Refined Form 5
(Available until 9.14.2022)
N-ストライプジャケット[Ou]
N-Stripe Jacket [Ou]

N-ストライプジャケット/2[Ou]
N-Stripe Jacket/2 [Ou]

N-ストライプパンツ[Ba]
N-Stripe Pants [Ba]

N-ストライプパンツ/2[Ba]
N-Stripe Pants/2 [Ba]

N-幻創聖母礼装[Ou]
N-Phantom Mother [Ou]

N-幻創聖母礼装/2[Ou]
N-Phantom Mother/2 [Ou]

N-幻創聖母礼装[Ba]
N-Phantom Mother [Ba]

N-幻創聖母礼装/2[Ba]
N-Phantom Mother/2 [Ba]

N-幻創聖母礼装[In]
N-Phantom Mother [In]

N-幻創聖母礼装/2[In]
N-Phantom Mother/2 [In]

N-フォージドレス[Ou]
N-Forge Dress [Ou]

N-フォージドレス/2[Ou]
N-Forge Dress/2 [Ou]

N-フォージライン[Ba]
N-Forge Line [Ba]

N-フォージライン/2[Ba]
N-Forge Line/2 [Ba]

N-フォージビスチェ[In]
N-Forge Bustier [In]

N-フォージビスチェ/2[In]
N-Forge Bustier/2 [In]
---
N-フォージグラブ
N-Forge Gloves

カジュアルスクエアリング
Casual Square Ring

カジュアルワイドリング
Casual Wide Ring
---
NOTICE
The items listed above will be removed from the lineup after the next SG Scratch update.
Stamps
St「タイヴァス:怒る」 | St "Taivas: Angry"
St「トゥーリ:ため息」 | St "Tuuli: Sigh"
NGS Music Discs
Uphill Struggle – Pettas Vera
Blink
Scratch Bonus
Play this SG Scratch a specific amount of times for exclusive bonus items!
※Collecting all items in the First Lap will enter you into the Second Lap.
※The Second Lap can be repeated ad infinitum.
※The Refined Form 5 Ticket allows you to choose 1 item from this SG Scratch.