Notice
This post is updating in real time. Contents are subject to change.
Early July Update
Scratch, 9th Anniversary Event Part 1
Early July Update
AC Scratch: Rapid Aqua Bullet (Sweet Summer)
New Motions: Arm Spread, Jump – Arms Spread, Swim – Diving.
Landing – Support with Hands.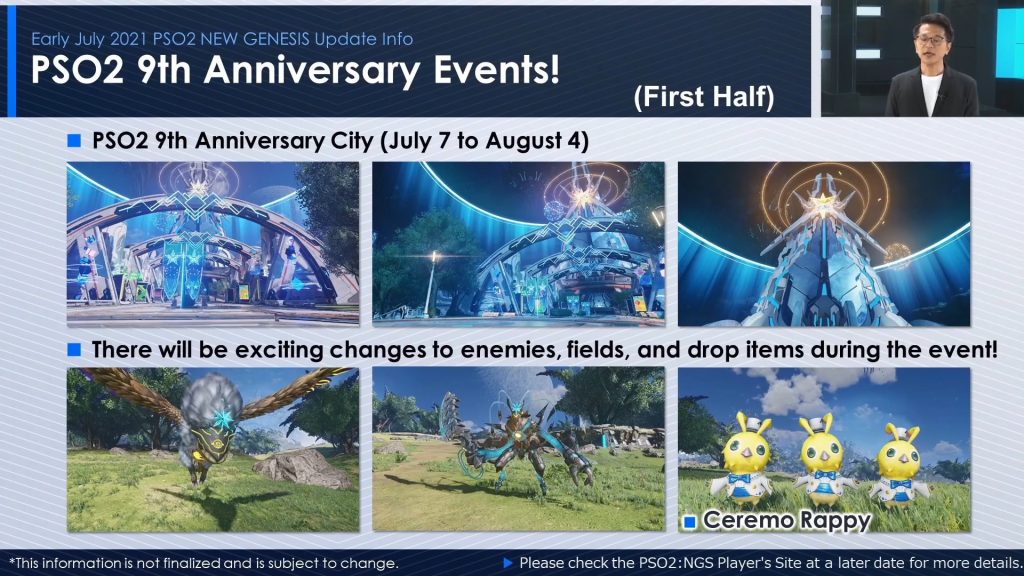 Early July Update
PSO2 9th Anniversary Event
Central City will be decorated for the 9th anniversary with fireworks and lights.
Enemies, fields, NPCs, and drop items will change in a variety of ways across the region.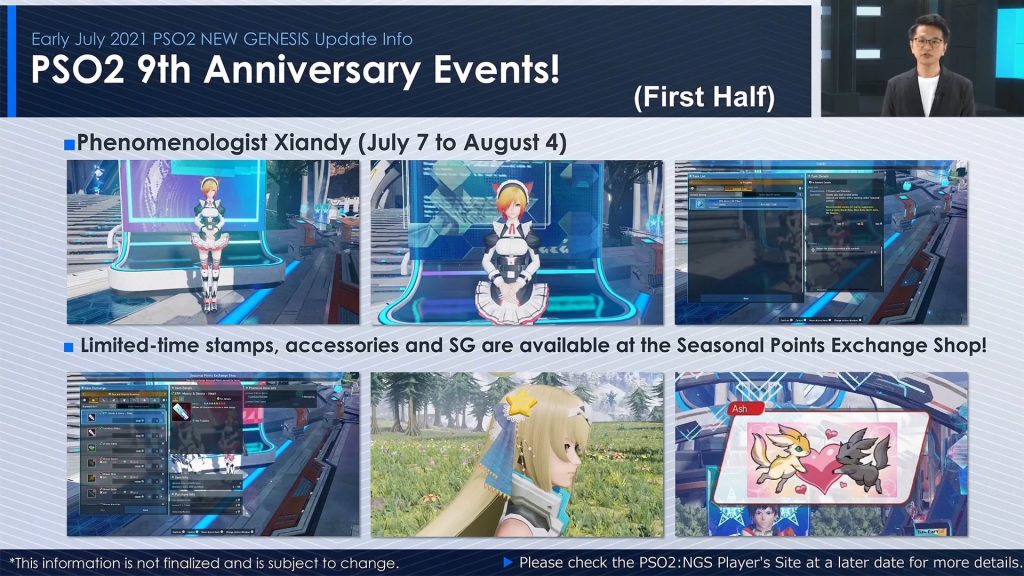 Early July Update
Peculiar Phenomenon Researcher Xiandy will appear between July 7th ~ August 4th
You can exchange points earned during the event to obtain limited-time stamps, accessories, SG and other items.
Exchange Shop Listing

Moony & Sunny: Heart (Stamp)
Twinkle Ribbon
20 Star Gems
Greisen Series Weapons (Lightning)
Photon Chunk
Photon Quartz
C / Thunder Weaker I (Lightning Exploit I)

+2.5% Power towards enemies weak to Lightning

Power III
Shoot III
Technic III
Alpha Reactor

Each product can only be purchased in

limited quantities

.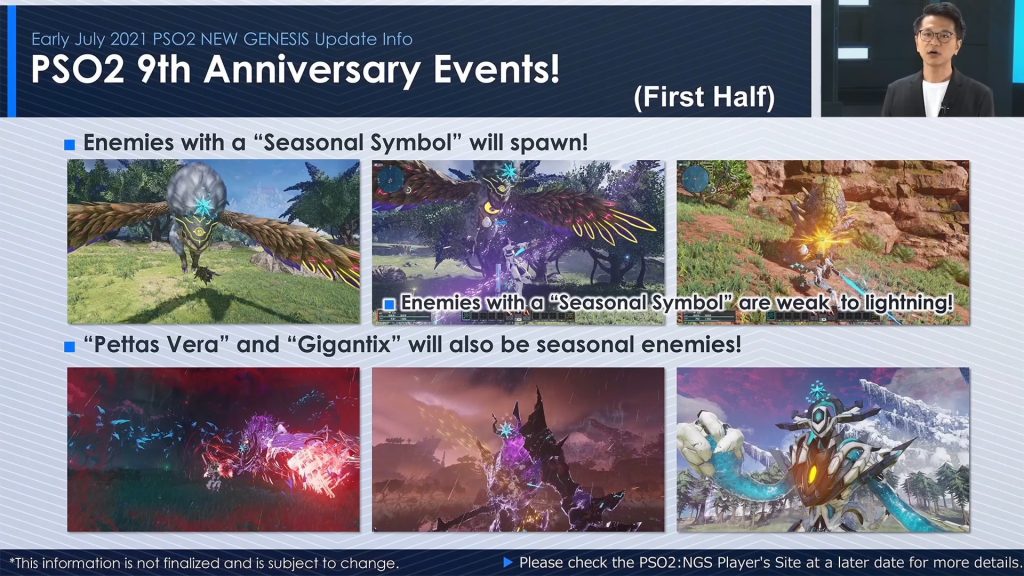 Early July 2021
Enemies with a "Seasonal Symbol" will spawn. These enemies will be weak to lightning.
Defeating them will net you seasonal points.
Ceremo Rappies will also spawn. They will have different drop items than usual.
Pettas Vera and the Gigantix will also be seasonal enemies.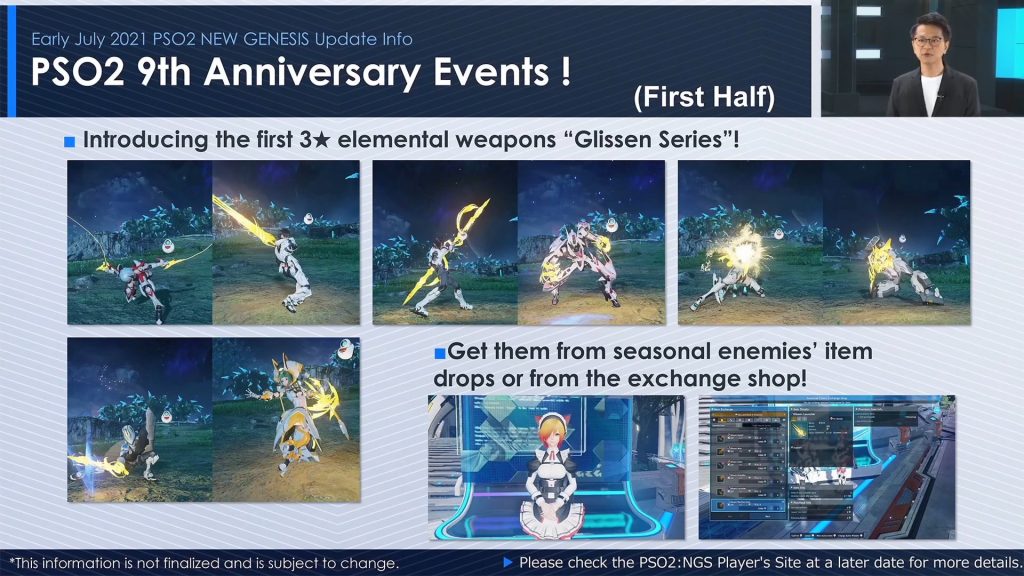 Early July Update
New ★3 elemental weapon series "Greisen Series" (Glissen Series) through limited-time drops.
These weapons have element themed potentials.
You can acquire the weapons from either seasonal enemies or the exchange shop.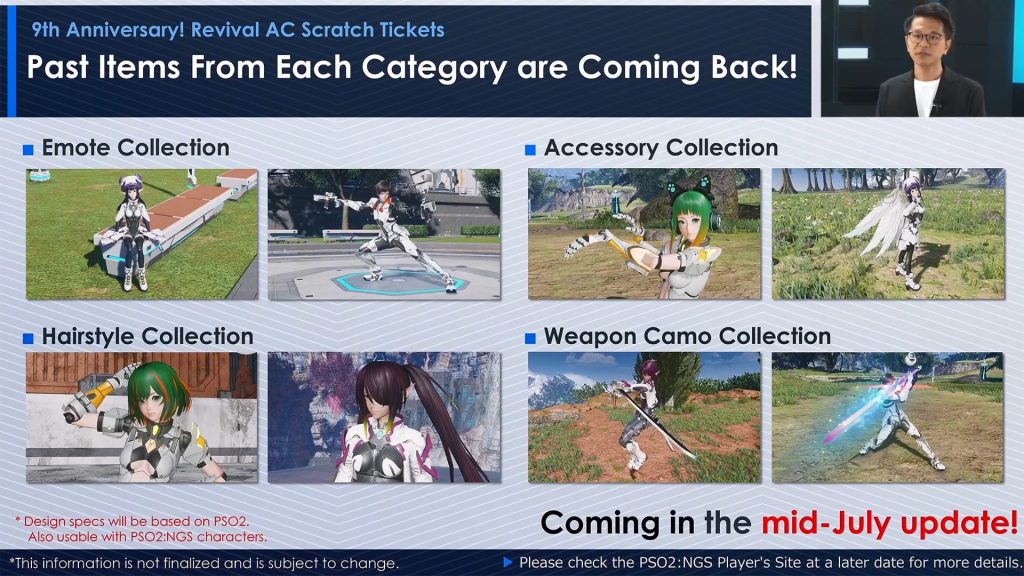 Mid-July Update
Past PSO2 items from each category are coming in a Revival scratch.
The items released will be PSO2 spec, but they can also be used with NGS characters.
They will be separated into categories of Emotes, Accessories, Hairstyle, and Weapon Camos.
Late July Update
Scratch, 9th Anniversary Event Part 2
Late July 2021
AC Scratch: Various Trainees (Trainee Line)
Contains CAST Parts on Trainee-themed outfits.
Emote – Sit 8, Idle – Power Stance, (Scratch Bonus) Dash – Fairy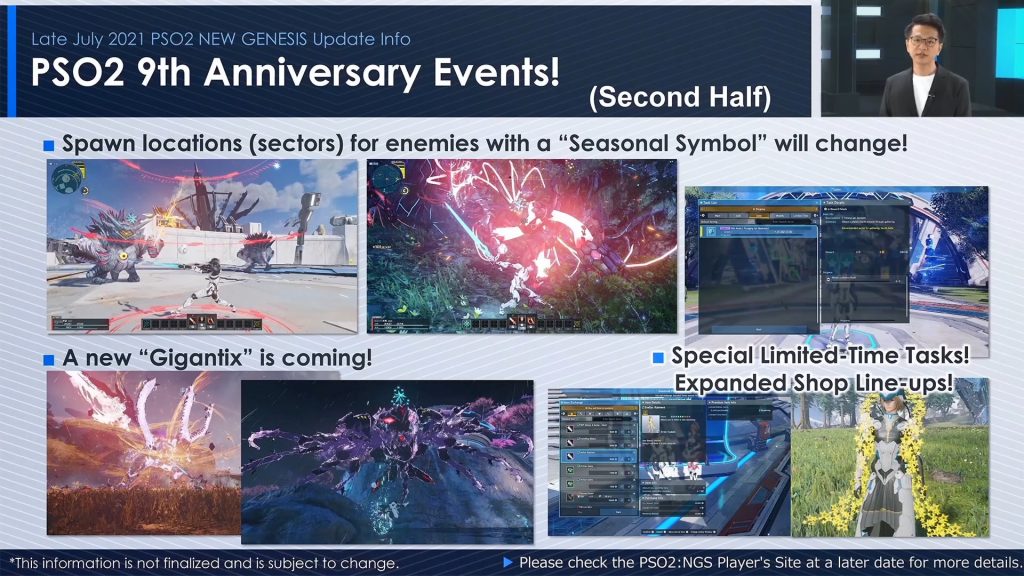 Late July Update
During the 2nd half of the event, the spawn locations for "Seasonal Symbol" enemies will change.
There will be some changes in Tasks, Gigantix, and Shop lineups.
Campaigns and Merchandise
9th Anniversary, Starter Package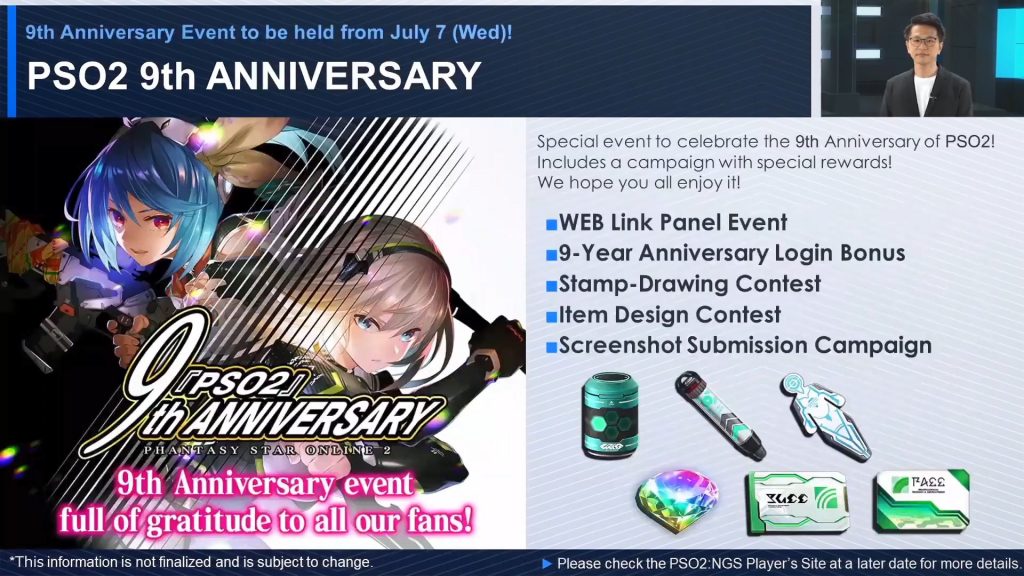 9th Anniversary Event (July 7th ~ August 4th)
A special Anniversary event will be held to commemorate the 9th anniversary of PSO2.

Web Panel Event
9th Anniversary Login Bonus
Stamp-Drawing Contest
Item Design Contest
Screenshot Submission Campaign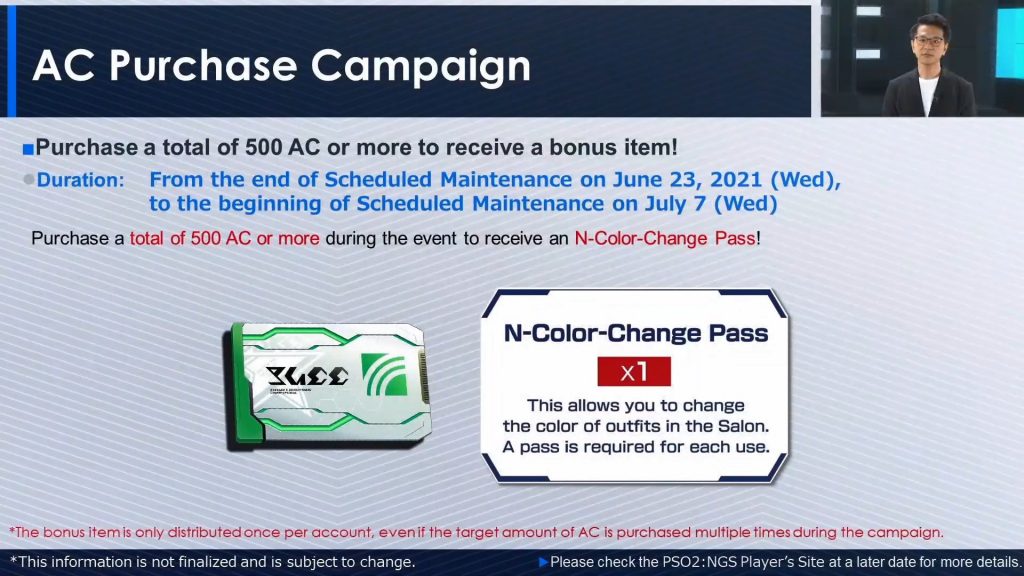 AC Purchase Campaign (JP & Global)
Purchase a total of 500 AC or more during the event to receive an N-Color Change Pass.
Campaign Period June 23rd ~ July 7th. (Once per Account)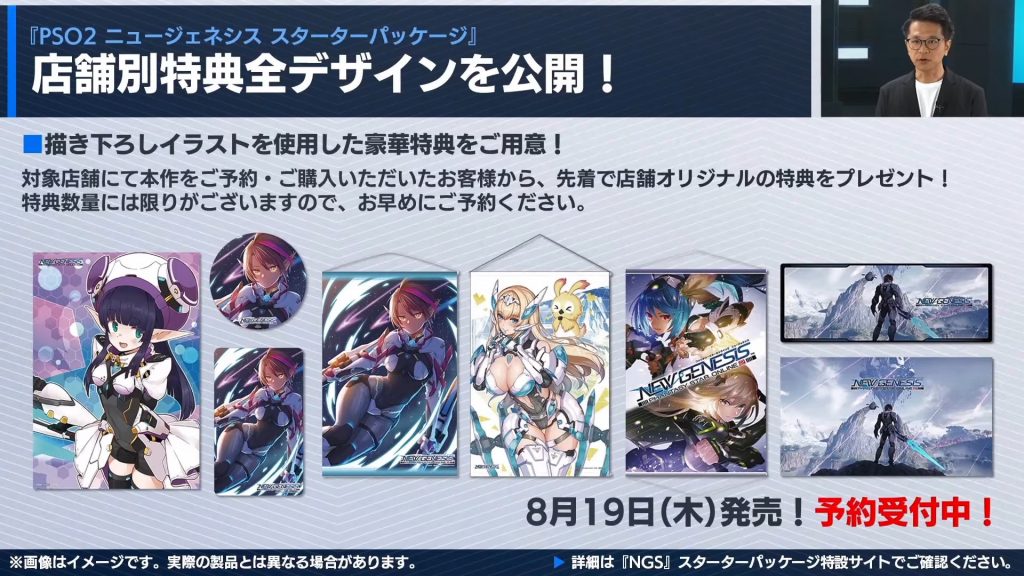 New Genesis Starter Package Bonuses (JP ONLY)
Store specific illustrative bonuses are available for the Starter Package.
The Starter Package goes on sale August 19th.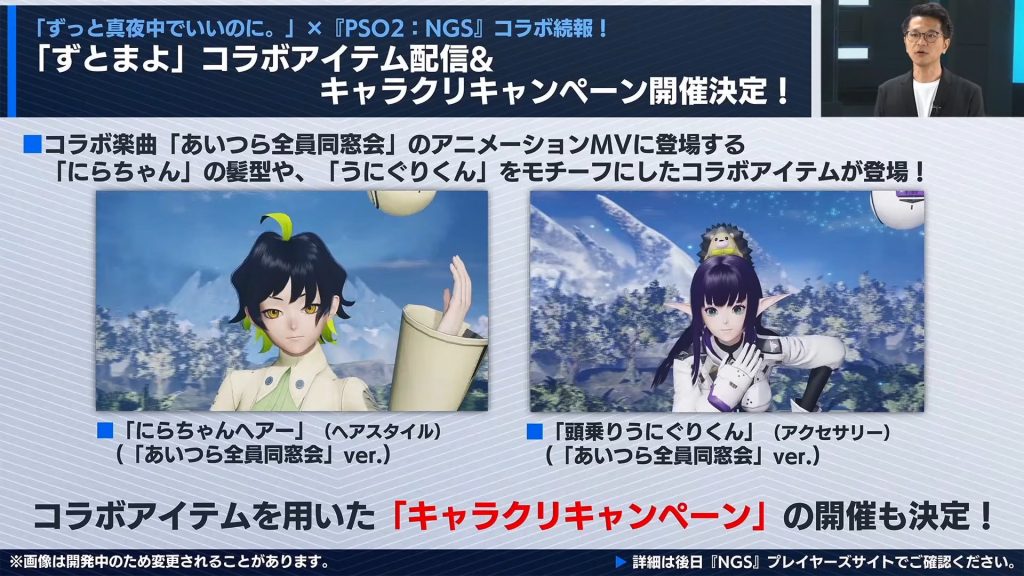 ZUTAMAYO x PSO2 Collaboration (Japan)
I don't know if Global is getting this, so…
Collab items include [Nira-chan Hair] and [Perched Uniguri-kun] accessory.
In addition, a Character Creation Campaign will be held.
BRAVER CLASS – BULLET BOW
BRAVER CLASS – KATANA
Coming in August
Next NGS Broadcast
July 27th 2021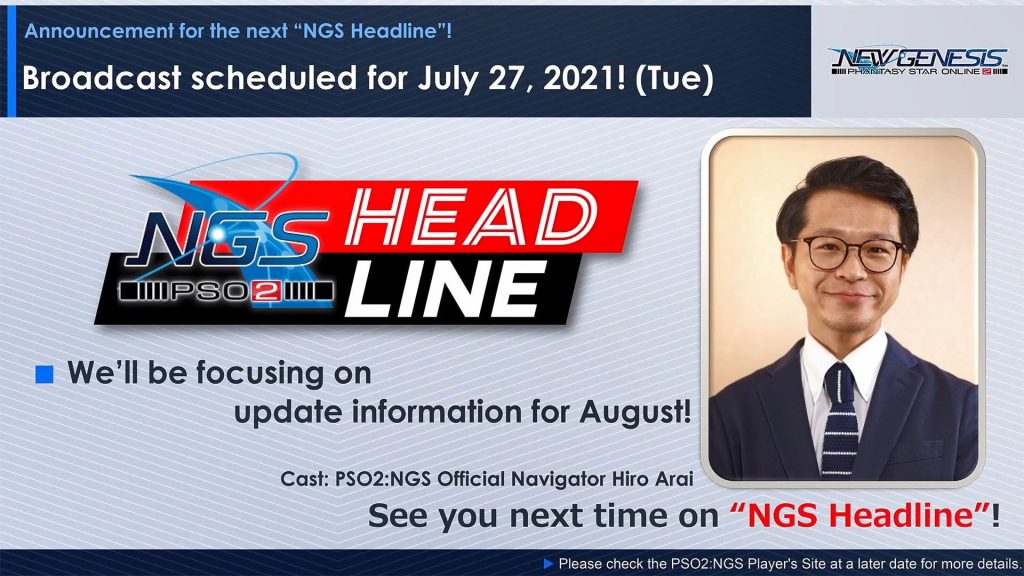 Next NGS Headline is July 27th, 2021