Notice
This post is updating in real time. Contents are subject to change.
November 30th
Revival Scratch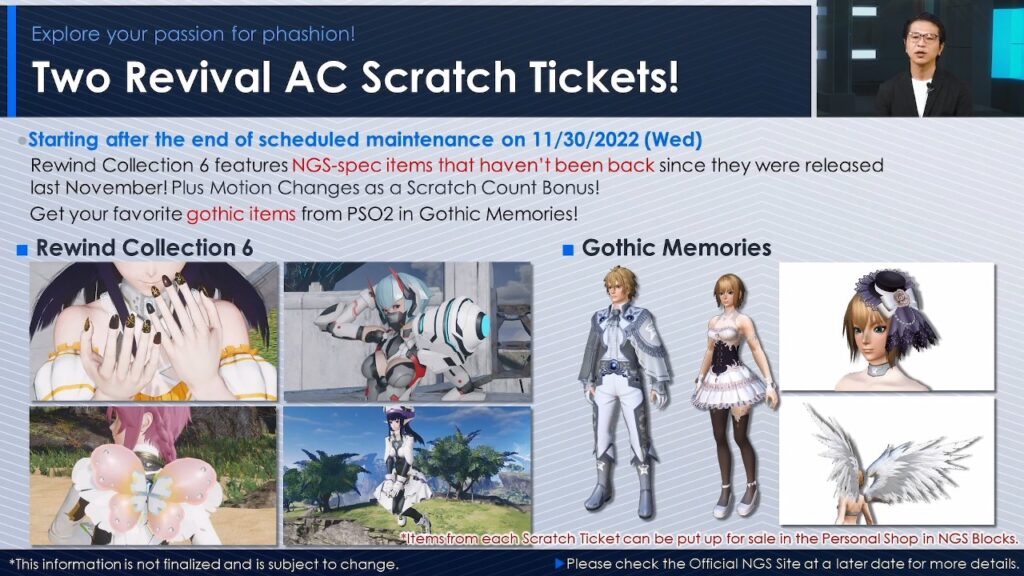 Two Revival Scratch Tickets
NGS Spec: Rewind Collection 6
PSO2 Spec: Gothic Memories
December 7th
Stia Region, Crystalline Concepts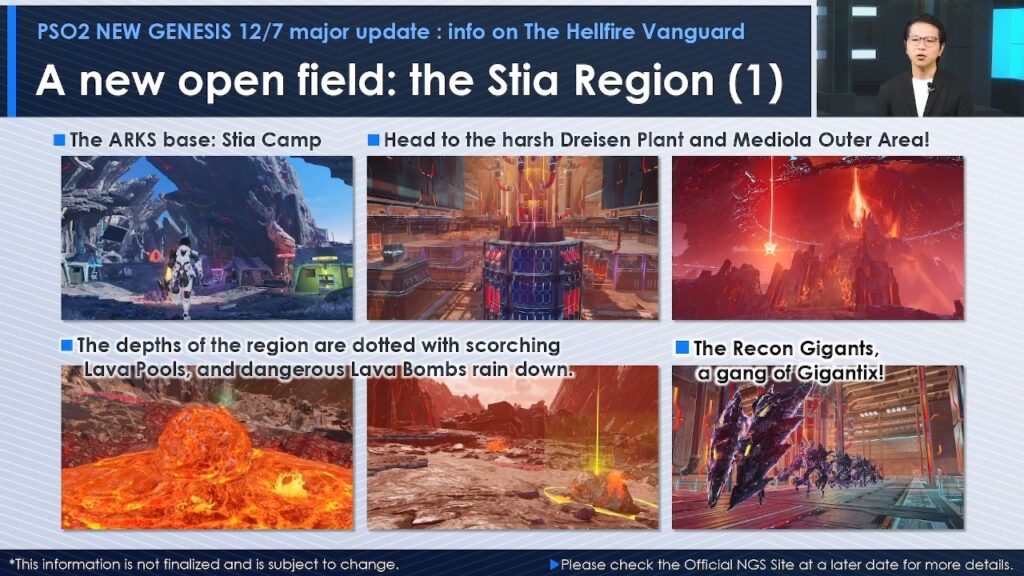 New Region: Stia
Arks Base: Stia Camp
The environment gets harsher as you head towards the center of the volcano.
The depths of the region have scorching Lava Pools and dangerous Lava Bombs that rain down.
Face on the Recon Gigants, a gang of Gigantix.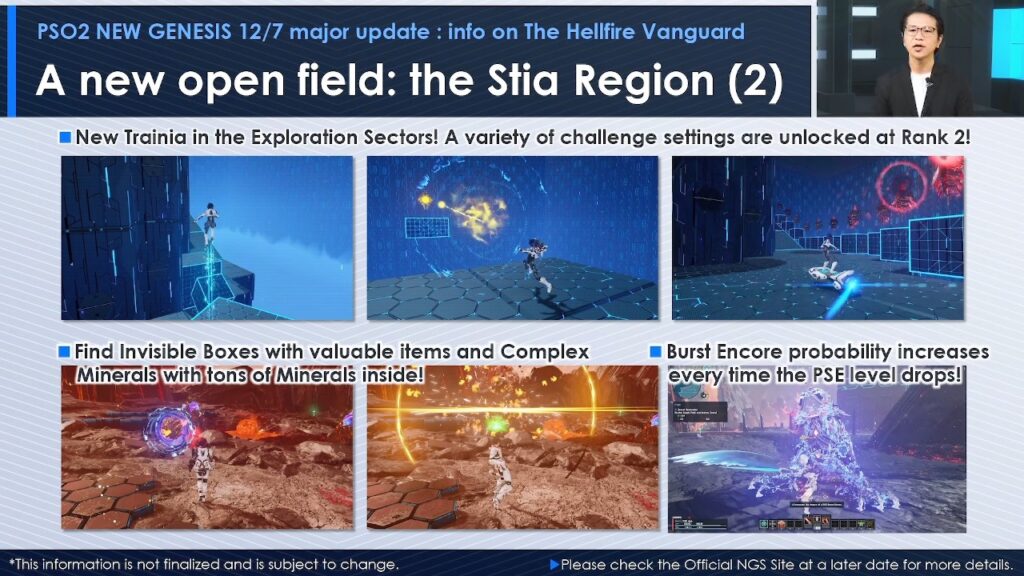 New Region: Stia
New Trania will be available in the Exploration Sectors!

Challenge Settings Unlocked at Rank 2!
You can receive a Title for completing Rank 2 with certain settings.

In Exploration Sectors, you can find Invisible boxes with valuable items!
There's also Complex Minerals, which are large clusters containing tons of minerals inside. There's also new Gathering items, some will appear for a limited time or under certain weather conditions.
Burst Encore chances increases every time the PSE level drops!
PSE Burst Encore Changes For All Battle Sectors
The probability of PSE Burst Encore will increase every time the PSE Level decreases.
If the PSE Level drops several times, a new icon will appear indicating an increase in PSE Burst Encores along with a message.
After that, the chance of an Encore will increase each time the PSE Level drops.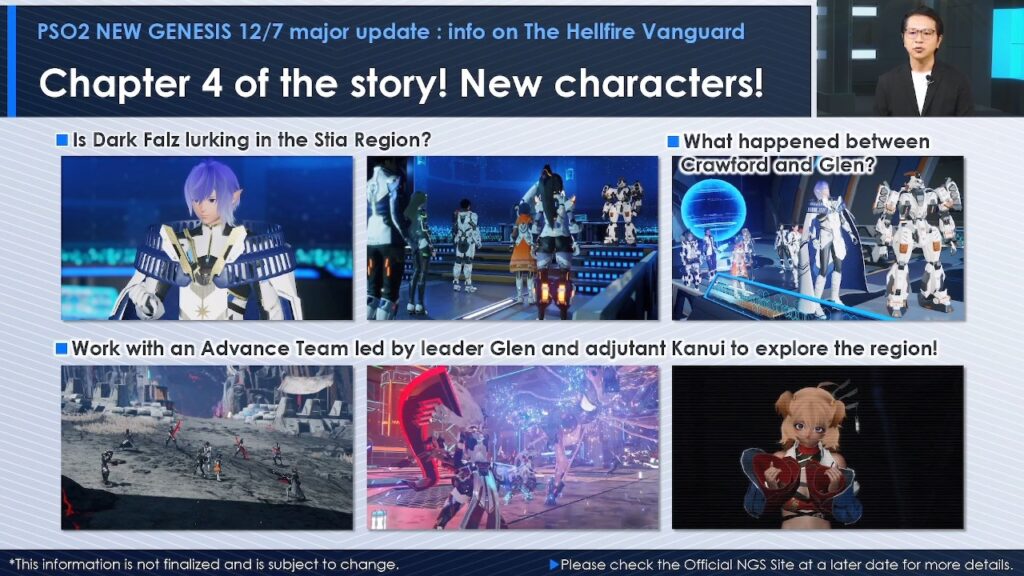 Chapter 4 Story
Crawford suspects Dark Falz is lurkin in the Stia Region.
What happened between Crawford and Glen.
Commander Guren and adjutant Kanui are leading an Advance Team.
Guren and his team are not very welcoming towards the protagonists, due to something happening in Guren and Crawford's past.
Side Tasks from Guiden in Central City will help you level up quickly.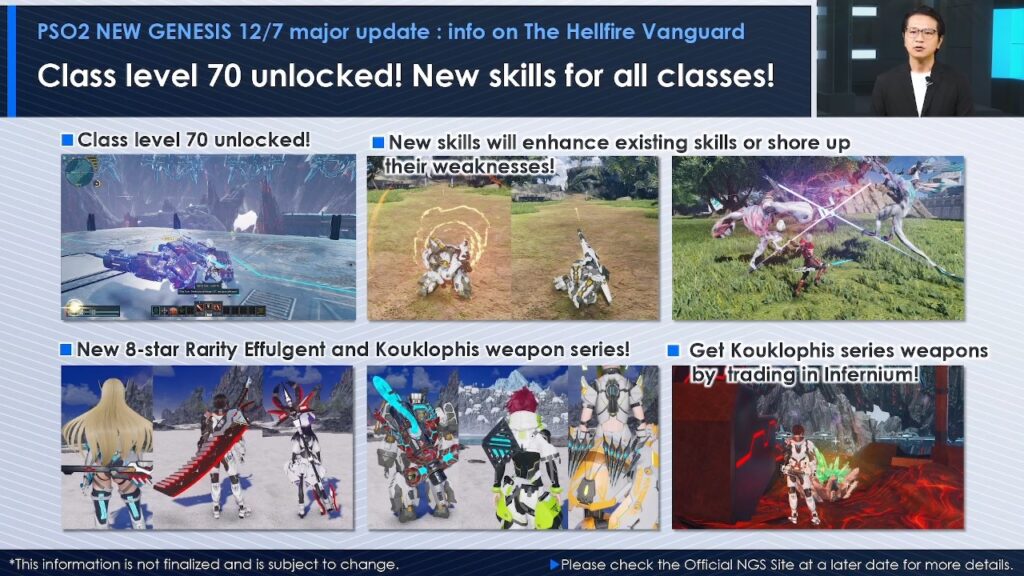 Class Level 70 Unlocked!
New Skills For All Classes
The new skills will enhance the traits of existing skills or compensate for their weaknesses.
Hu: Partisan Quick Assault
Fi: Twin Daggers Quick Attack

After certain attacks, your normal attack will turn into a ranged attack in the direction you're aiming.

Ra: Launcher Attack Reinforce

Greatly boosts speed of Launcher normal attacks while active.

Gu: Hail of Bullets

Rapidly build up Chains to perform a powerful continuous-fire attack!

Fo: Rod Charge Quick Move
Te: Wand Element Pursuit

Adds an additional attack to Wand Element Revoke.

Br: Bow Elusion EX Counter
Bo: Pinion Blade
Wa: Familiar Harmony Marking Clef
New ★8 Rarity Weapons
Seigayou / Effulgent: Advantageous against enemies weak to Fire.
Kouklophis: Potential provides increased power and damage resistance against Dolls.

You can get Kouklophis by trading in the material item: Infernium.
Infernium is available through Gathering or by defeating the Gigantix in Stia.
New Special Abilities
Stira Domina: Power +3% / All Down Resistance -2.0%
Doldor Soul IV: HP +15 / PP +5 / RNG WPN PWR +3.0% / All Down Resistance -10.0%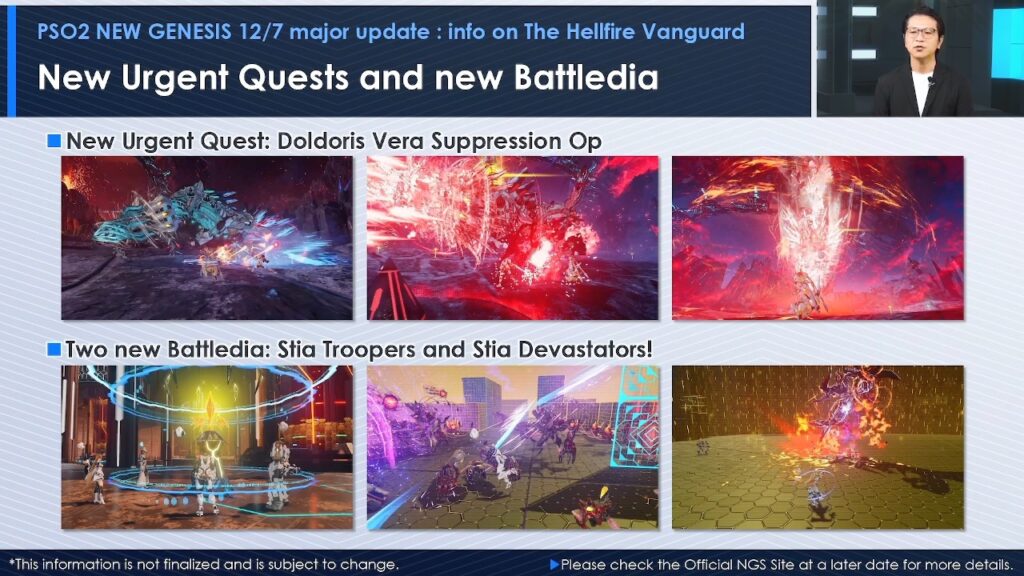 Emergency Quest: Doldoris Vera Suppression Op
The boss attacks with a massive Drill that can be destroyed to expose its weakpoint.
Battledia: Stia Troopers and Stia Devastators
Stia Troopers: Use a variety of special attack actions to combat enemies appearing in Stia. Gain tons of EXP and Drop Items from here.
Stia Devastators: A series of battles against the Gigantix in Stia. The enemies will be level 74.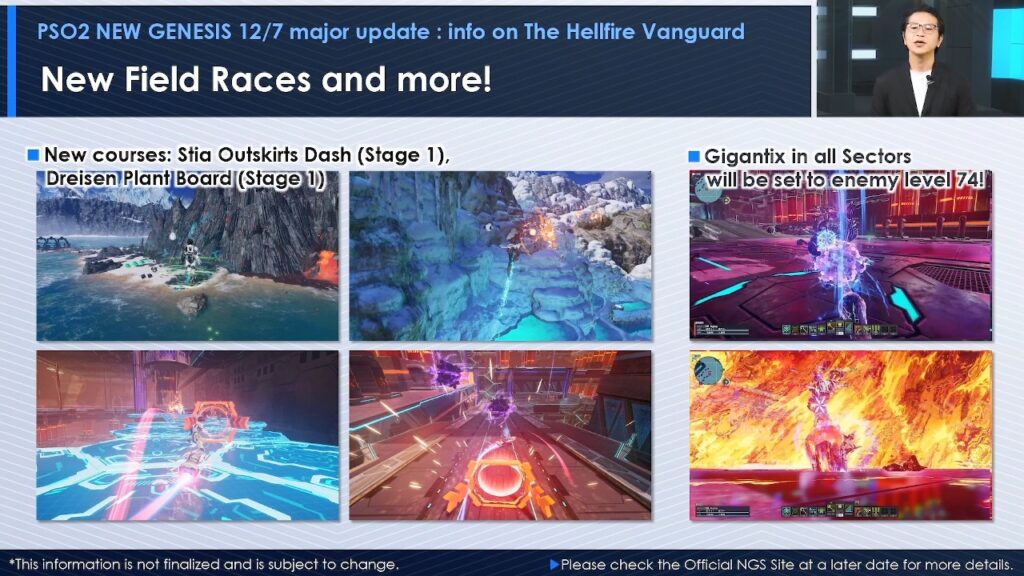 Field Races
Two new Field Races: Stia Outskirts Dash (Stage 1) and Dreisen Plant Board (Stage 1).
Gigantix in All Sectors
Gigantix in all Sectors will now be Level 74.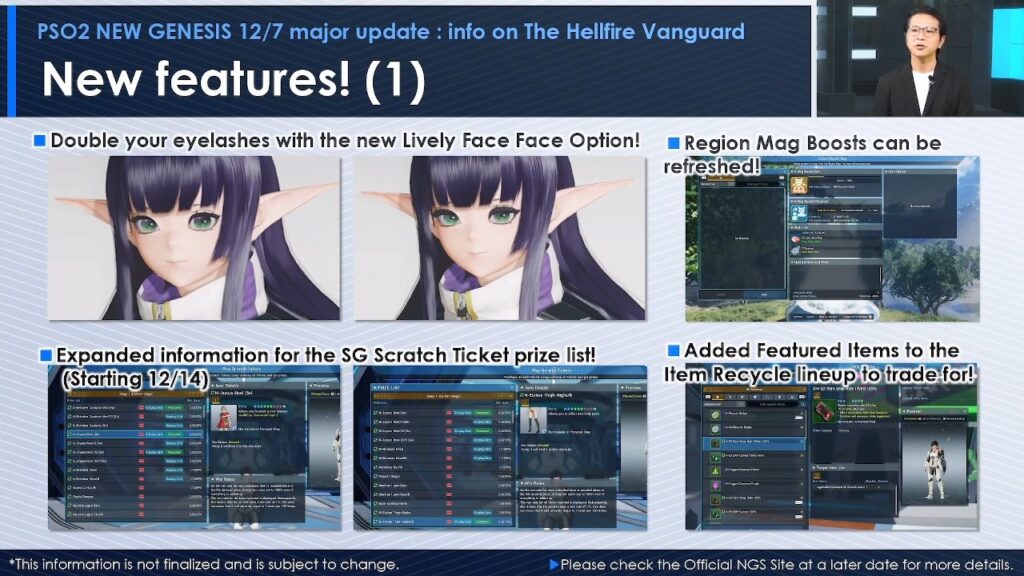 New Features
Lively Face gives you the option of making a more anime style character. By default it has Double Eyelashes but this can be toggled off in the Face Options ornament display settings.
When an individual region mag boost is at level 3, an additional item can be thrown in to overwrite the effect's duration.
Featured Items will be added to the Item Recycle lineup to trade for.
Items that will be added to the SG Scratch Ticket prize list will be marked with a "New" label. Items that are scheduled to be removed in the next scratch update will be marked with "Display End."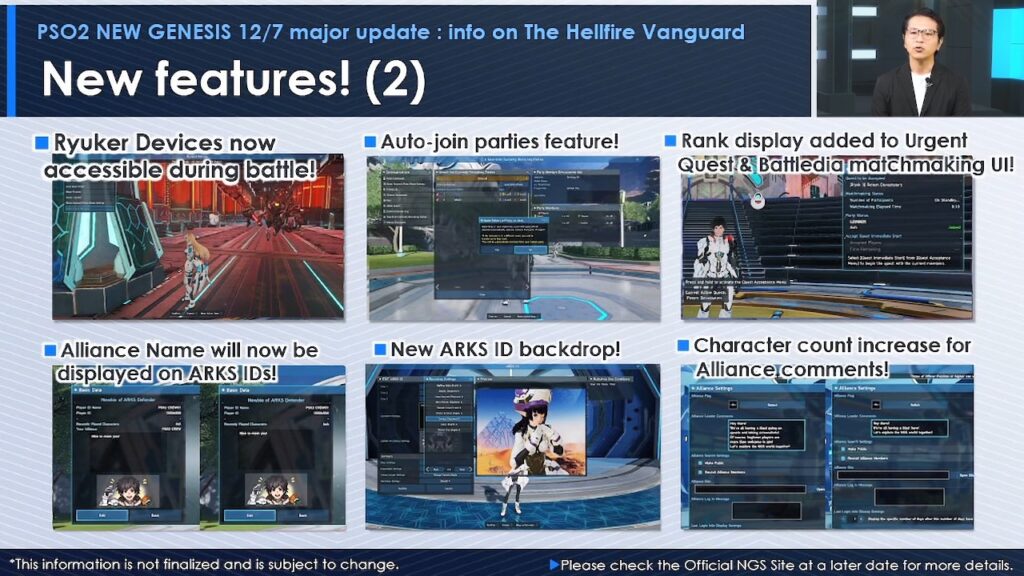 New Features
Ryuker Devices are now accessible when enemies are nearby.
A feature will be added to automatically add players to currently recruiting parties when they meet the Join requirements.
The Rank will now display in the Matchmaking UI for quests.
The Alliance Name will now appear on the Arks ID.
New ARKS ID Backdrops featuring the Retem Region.
The character count when writing comments about your Team will be increased.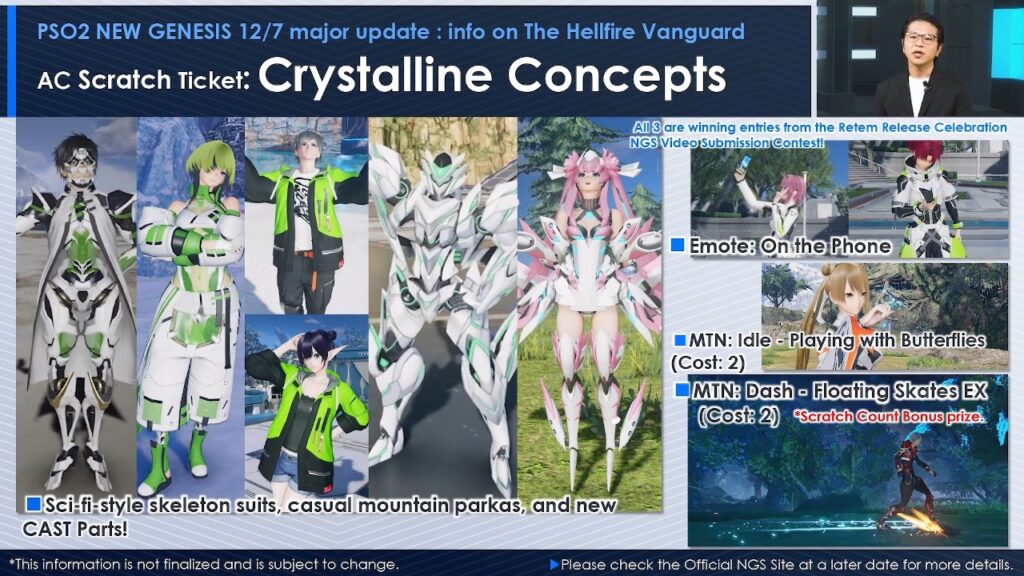 AC Scratch: Crystalline Concepts
Contains Sci-fi style skeleton suits, casual mountain parkas, and new Cast Parts.
Lobby Action: On the Phone
MTN: Idle – Playing with Butterflies
MTN: Dash – Floating Skates EX (Scratch Bonus).
December 14th
Christmas '22 Event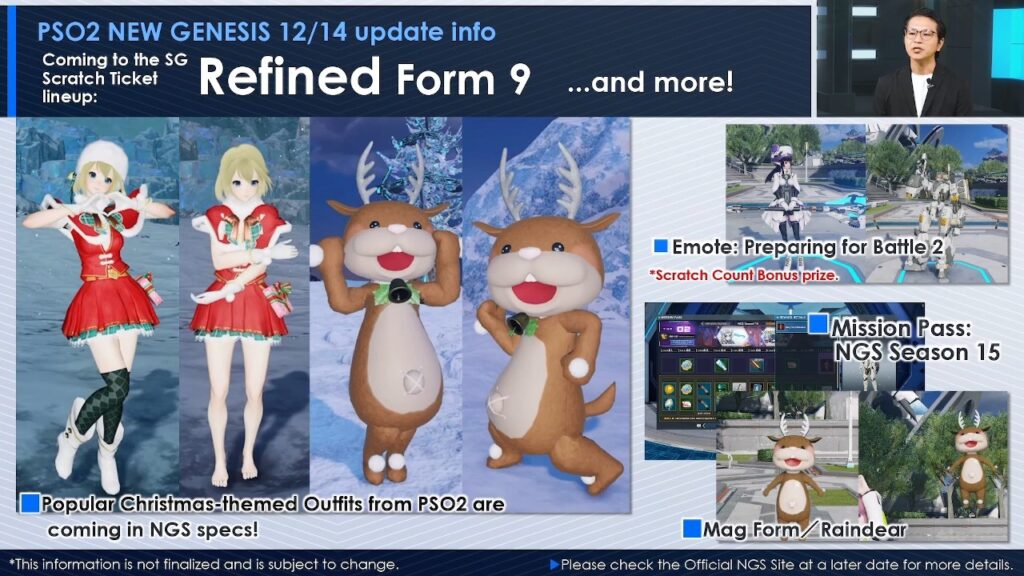 SG Scratch: Refined Form 9
NGS-Spec versions of Reindeer Costume and Joyous Noel.
Lobby Action: Preparing for Battle 2 (Scratch Bonus)
Mission Pass Season 15
Stamps, Accessories, and Mag Form / Raindear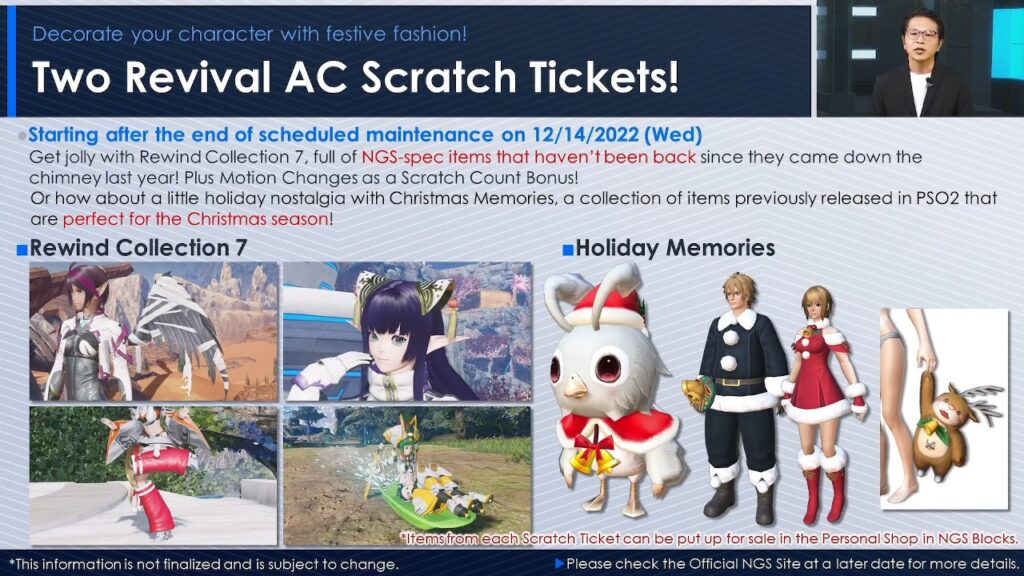 Revival Scratch
NGS Spec: Rewind Collection 7
PSO2 Spec: Holiday Memories.
AC Scratch: AC Support Item Selection 5
Get Addi Series Special Abilities that can boost two attack stats.
Same lineup as AC Support Item Selection 4.
December 21st
Christmas '22 Event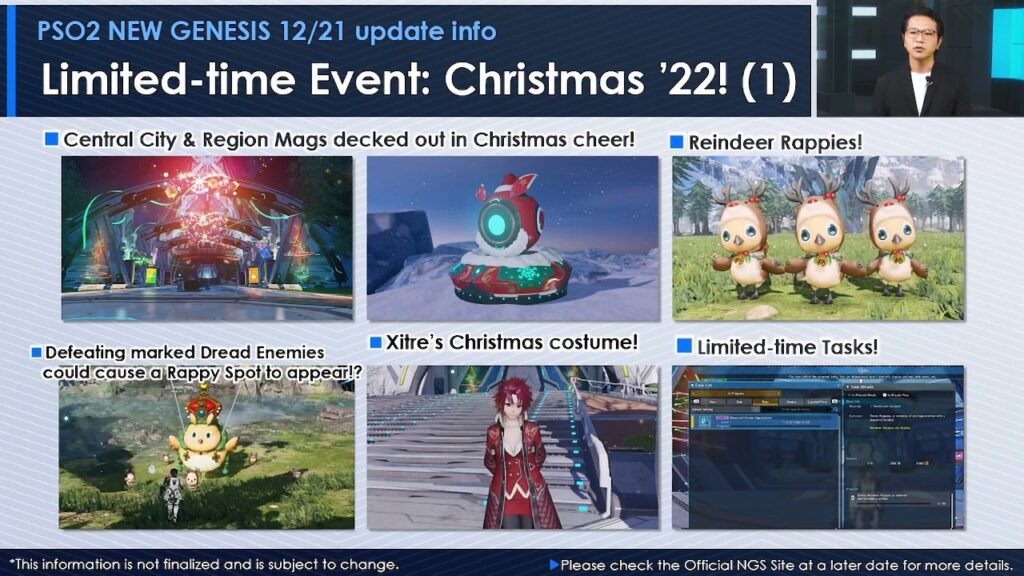 Limited-time Event: Christmas '22
Central City will be decorated in Christmas Cheer.
Reindeer Rappies will spawn wearing a cute little Santa Claus on their backs.
Defeating Marked Dread Enemies may cause a Rappy Spot to appear.
Xitre will be hosting the event in a Christmas Outfit. She will task you with collecting Rappy data!
Gain Seasonal Points by clearing Tasks.
Collect Seasonal Titles and SG by clearing Christmas '22 Title Tasks.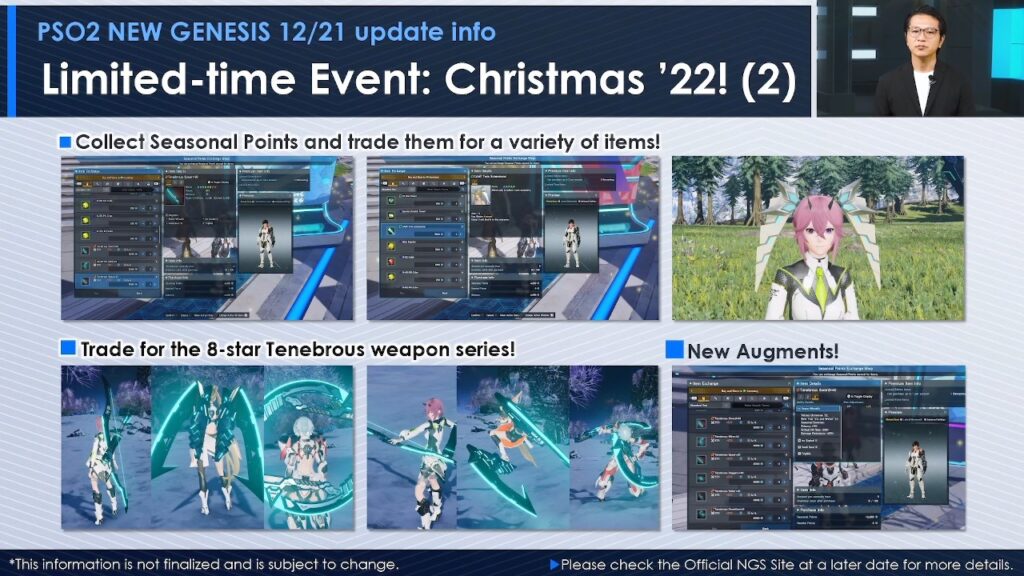 Xitre Seasonal Point Exchange Shop
Cast Headset Accessory
EX Cubes, Class EX Cubes, Beta Reactors
Trade in for ★8 Weapons: Seigain / Tenebrous

Ice Element Weapons with the Ice Exploit Special Ability
Limited Quest: Practice Drill: Snow Field Workup
Defeat the enemies and throw Cannonballs to destroy the targets while descending a snowy mountain. At the end, the snow sculptor master, Snowflake Bujin has a unique attack.
Saint Empe Rappy may spawn as well.
Special Scratch Tickets and SG Scratch Tickets may drop as Quest Rewards.

The higher the rank, the higher the drop rate.
There's a first time completion reward available at Rank 5.
ARKS Record: Field Race between 12/21 ~ 12/28
Stia Outskirts Dash Stage 1
Dreison Plant Board Stage 1
Central Aelio Board Stage 1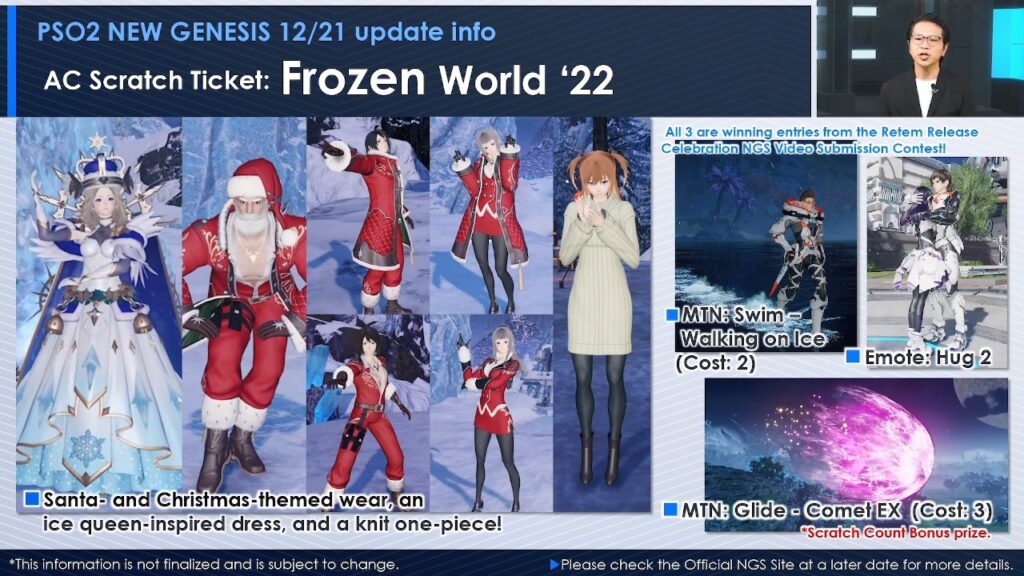 AC Scratch Frozen World '22
Get ready to sleigh this season with an Ice Queen dress and SEXY DADDY SANTA outfit.
Lobby Action: Hug 2
Motion: Swim – Walking on Ice
Motion: Glide – Comet EX (Scratch Bonus)
Satellite Information
Merch, Campaigns, and Boost Events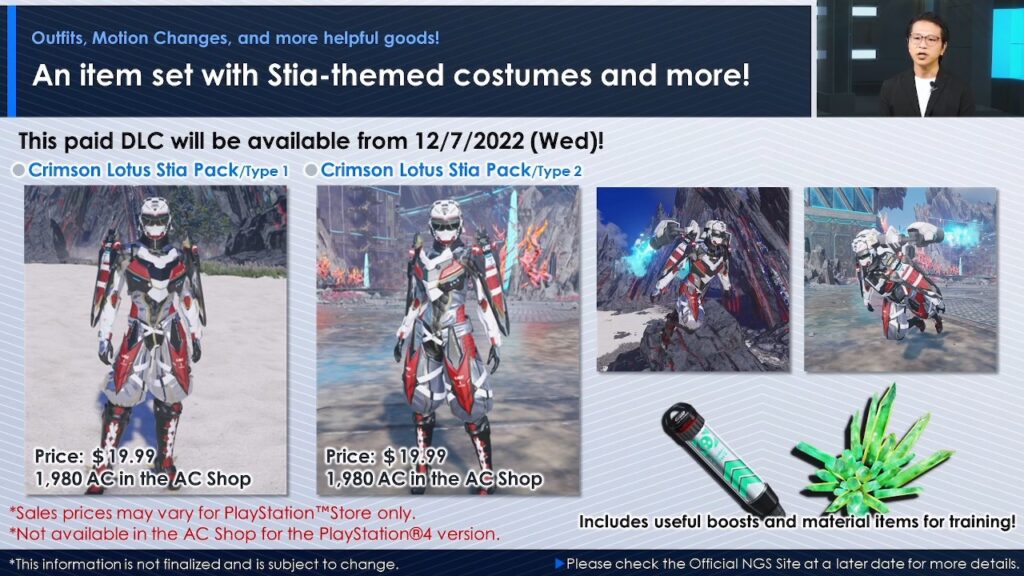 Crimson Lotus Stia Pack: December 7th, 2022
Stia Pack / Type 1

1980 AC | $19.99 | 1980 Yen

Stia Pack / Type 2

1980 AC | $19.99 | 1980 Yen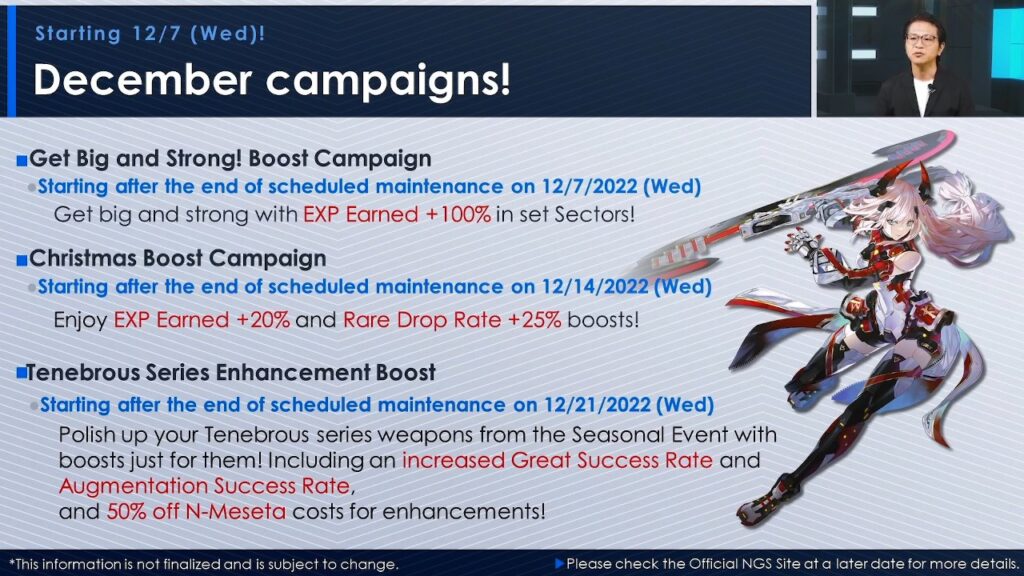 Training Support Boost Campaign (12/7~)
Gain a +100% EXP Boost in certain Sectors.
Christmas Boost Campaign (12/14~)
Experience a +20% EXP Boost and +25% Rare Drop Boost
Seigain / Tenebrous Series Enhancement Boost (12/21~)
This Weapon Series will experience increased Great Success Rate and Special Ability Success Rate with 50% off N-Meseta Enhancement Costs.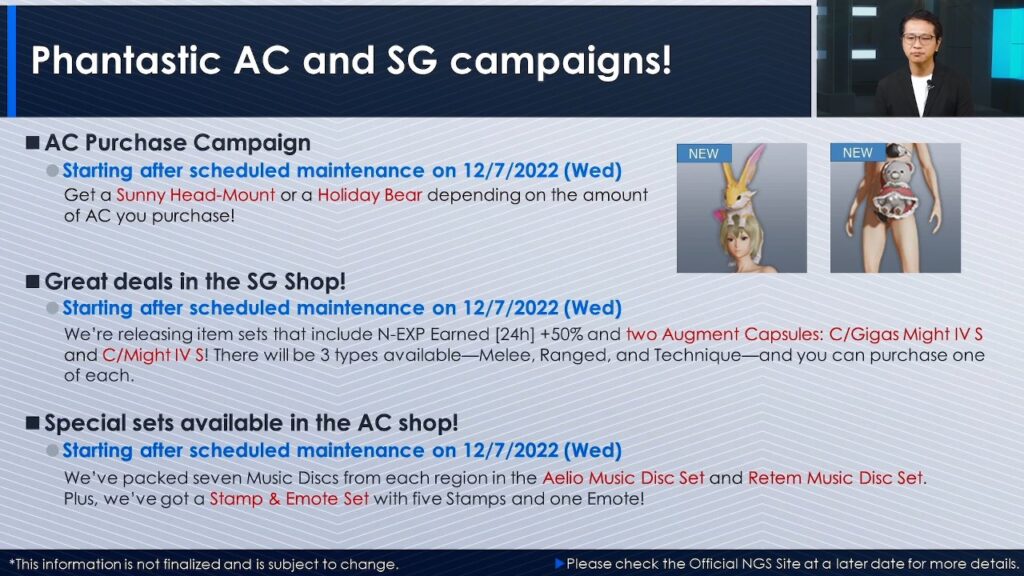 AC Purchase Campaign (12/7~)
Get a Sunny Head Mount or Holiday Bear based on the amount of AC you purchase.
Great Deals in the SG Shop (12/7~)
Item Sets containing [C/Gigas Power IV S] + [C/Power IV S] will be available.
You can purchase one of each set geared towards Striking / Ranged / Tech
Special Sets Available in the AC Shop (12/7~) (GLOBAL ONLY)
Contains 7 music discs from each region in the [Aelio Music Disc Set] and [Retem Music Disc Set]. Additionally there's a Stamp & Emote Set with 5 Stamps and one Emote.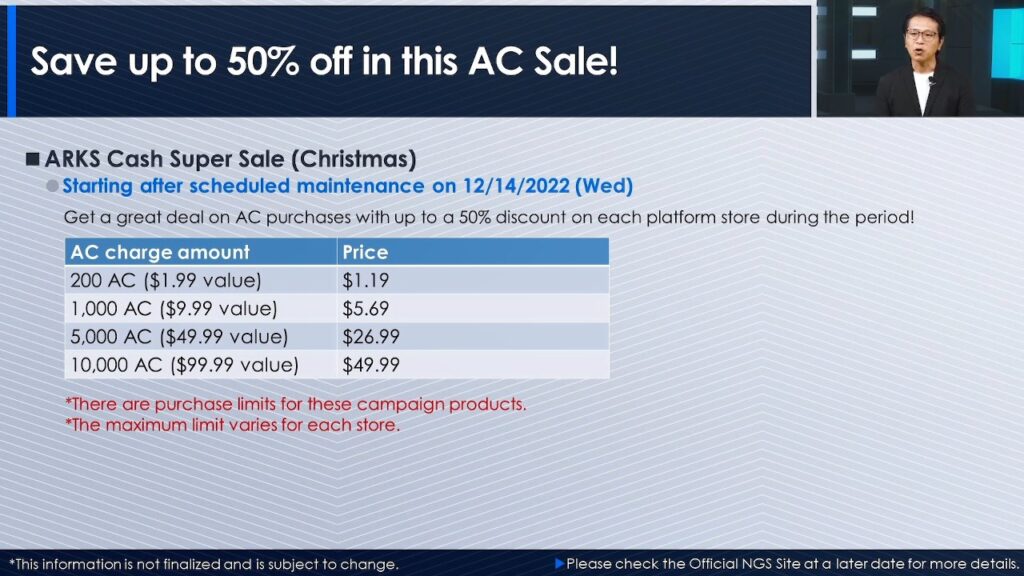 ARKS Cash Super Sale (Christmas) (12/14~) (GLOBAL ONLY)
200 AC = 1.99
1,000 AC = 5.69
5,000 AC = 26.99
10,000 AC = 49.99
NGS Official Creators Accessory
NGS Official Creators will get an accessory after 3 months of being certified as an official creator.
Every 3 months, the rank of the accessory will increase to different color variants.
The accessory will be released in a special color to those with a full year of service.
Sympathy 2023 Concert Cast
Asuza Tadokoro, the voice of Nadereh will join the stage.
A total of 8 performers will be presented during the concert.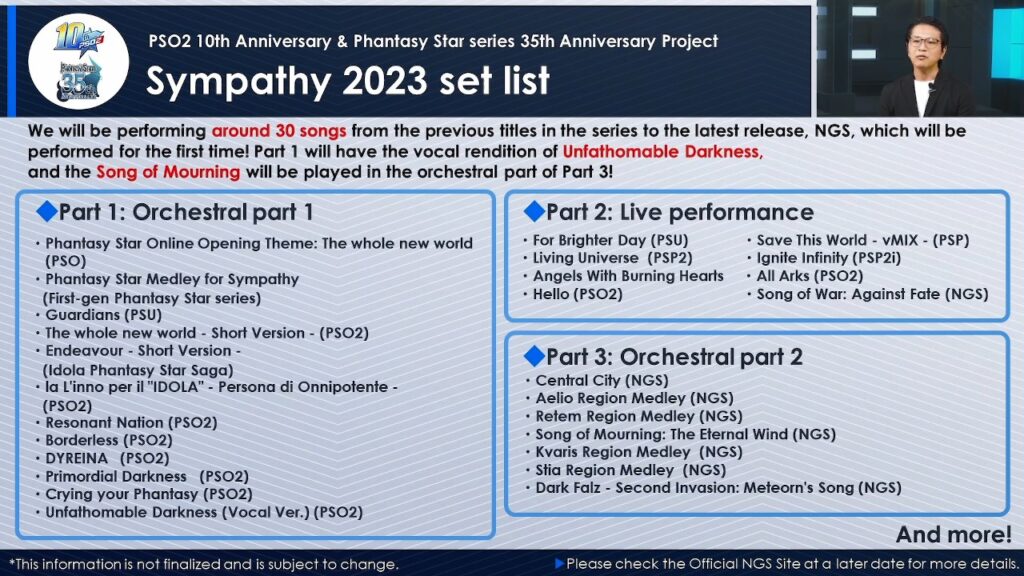 Sympathy 2023 Set List
Music from Phantasy Star, PSU, PSO2, IDOLA, and NGS.
Listen to the vocal version of Unfathomable Darkness.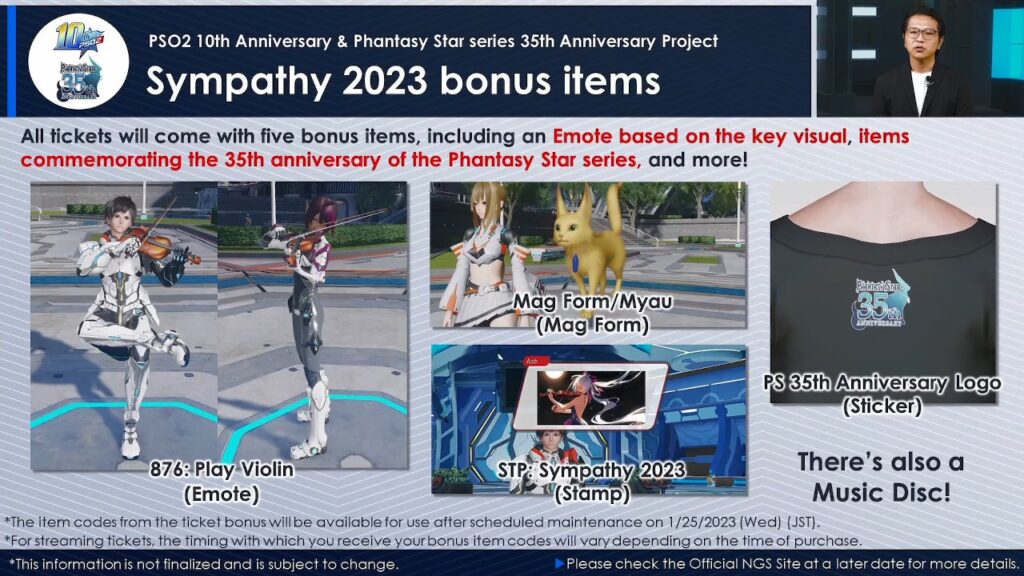 Sympathy 2023 Bonus Items
All concert goers and streamers will receive 5 bonus items

876: Play Violin
Mag Form / Myau
STP: Sympathy 203
PS 35th Anniversary Logo
Music Disc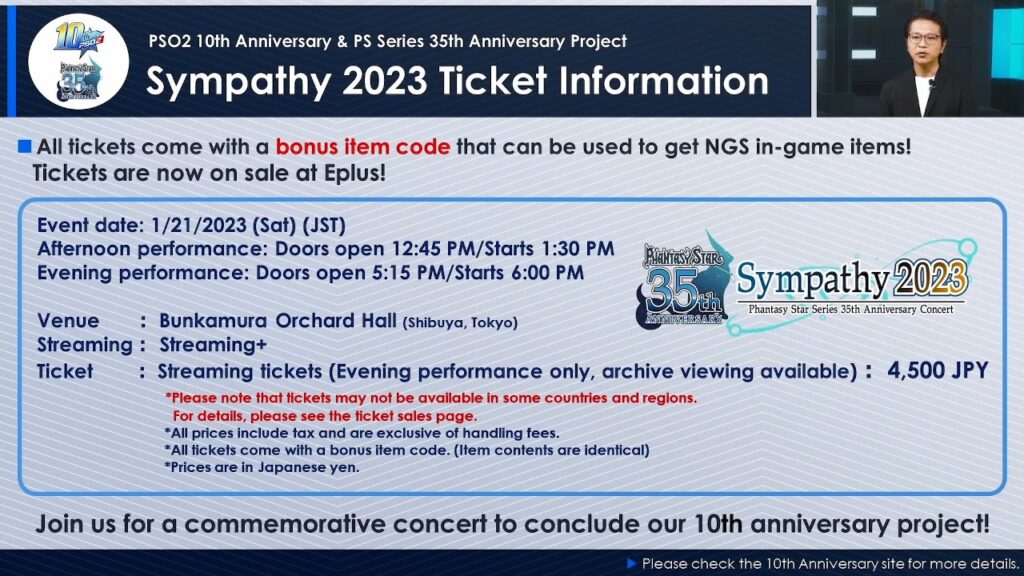 Sympathy 2023: Ticket Info
Tickets are already on sale at e+
All tickets, including streaming tickets, will contain a bonus item code.
Streaming Ticket Price: 4,500 Yen (≈ $31 USD)
JAPAN: Satellite Information
Merch, Campaigns, and Boost Events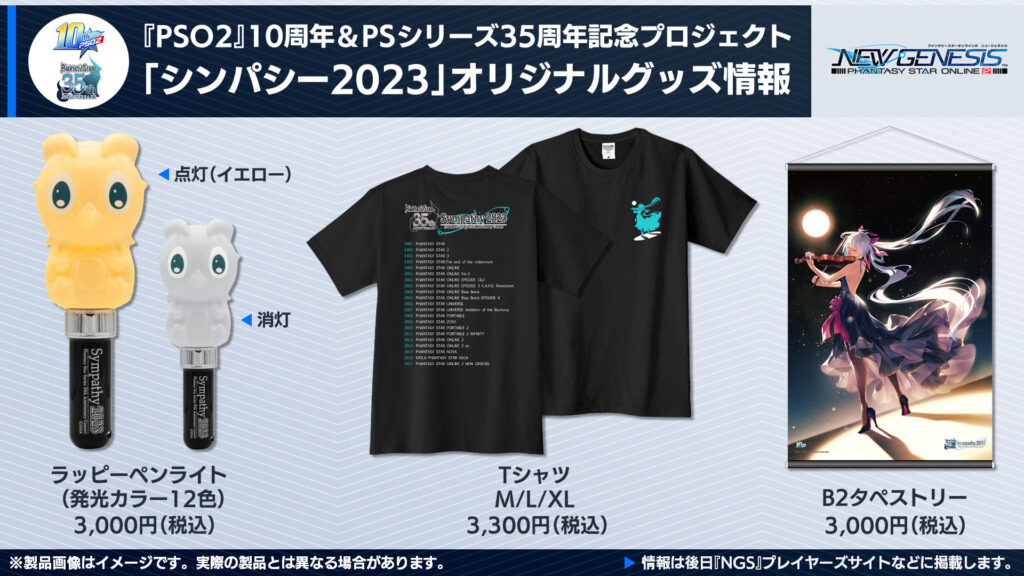 Sympathy 2023 Merchandise
Rappy Penlight = 3,000 Yen
T-Shirt = 3,300 Yen
B2 Tapestry = 3,000 Yen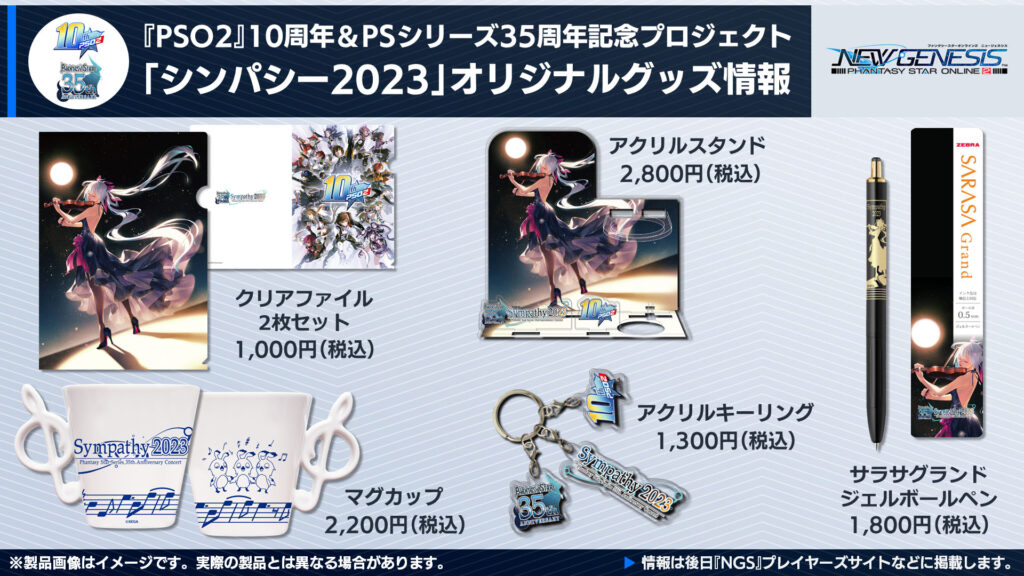 Sympathy 2023 Merchandise
Clear File = 1,000 Yen
Mug Cup = 2,200 Yen
Acrylic Stand = 2,800 Yen
Acrylic Key Ring = 1,300 Yen
Sarasa Grand Gel Pen = 1,800 Yen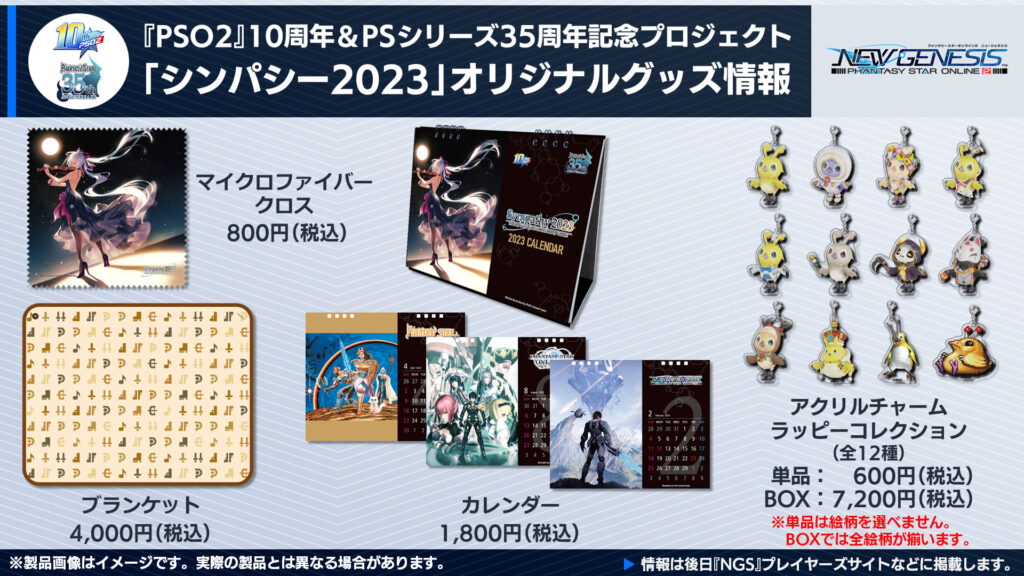 Sympathy 2023 Merchandise
Microfiber Cloth = 800 Yen
Blanket = 4,000 Yen
Calendar = 1,800 Yen
Arcylic Charm: Rappy Collection: Single = 600 Yen, Box = 7200 Yen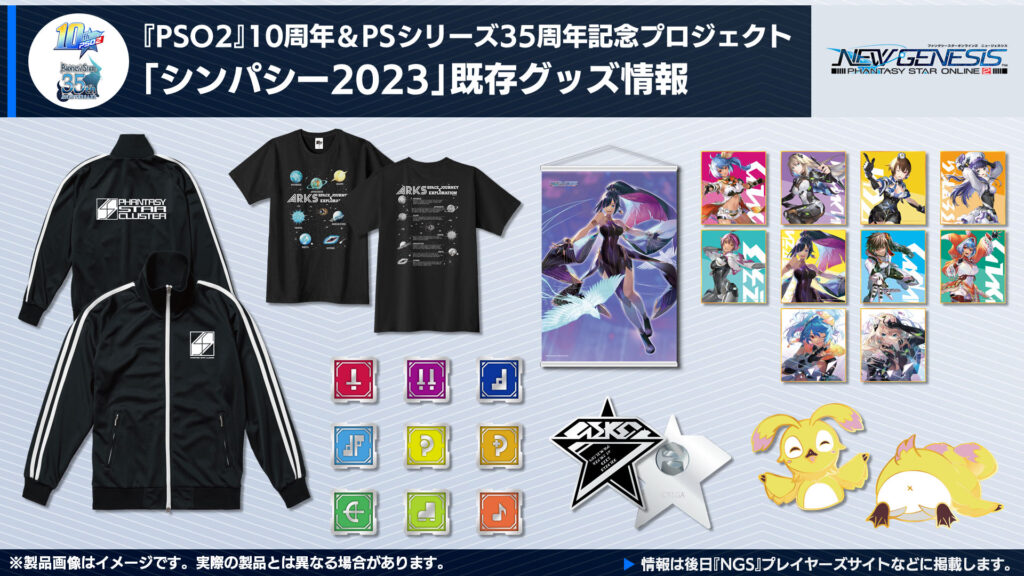 Other Merchandise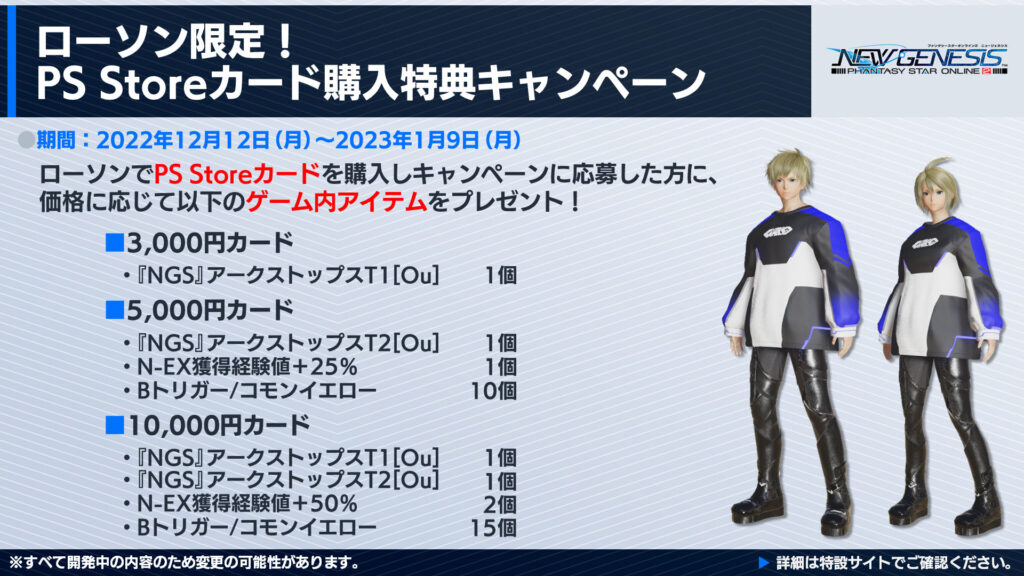 Lawson Bonuses
Purchasing the PlayStation Store Card at Lawson in Japan will net you NGS ARKS Tops outfits!
Arks Operation Report
Question and Answer Session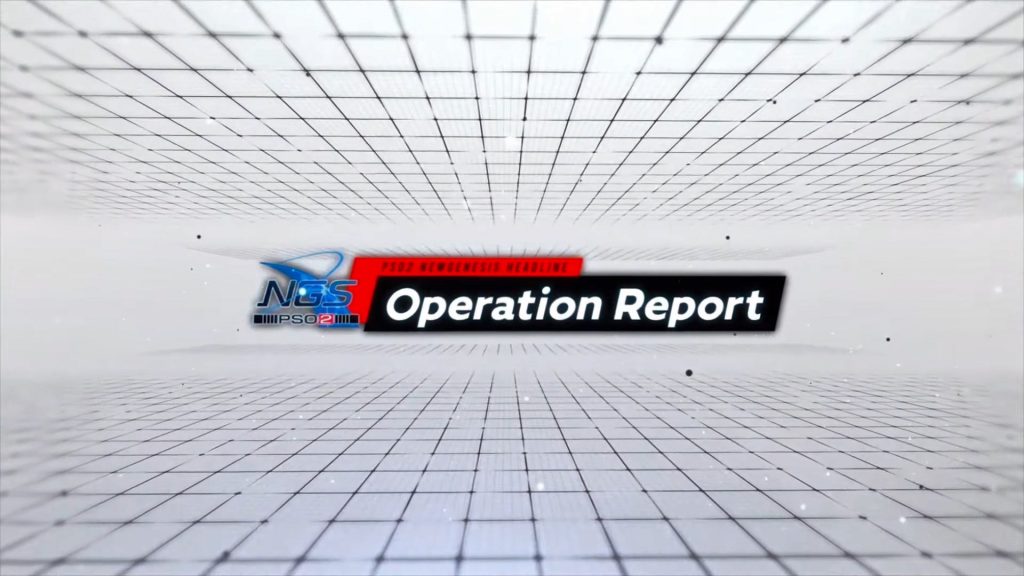 Since the PSE Burst Forte was implemented, my inventory becomes full of Gold/Silver Primm Swords and other rare enhancement items after one or two Bursts. Could you please include these in the Auto Sell Settings?
We plan to extend the Auto Selling Feature in a future update to include rare enhancement items. You will be able to specify this setting for each item, however please note unlike before they won't be included automatically, and you will need to set them yourself.
I would like to be able to check if a Music Disc is already registered to my Mag.
We are planning to expand the feature in a future update so that you can check whether you have already registered or not. Just as you can with tickets for avatar items or mag forms.
Recently, there was a bug on the Japanese version's servers that allowed players to access regions and other content that had not been released yet. I came across spoilers spread over social media with clips or images of that bug happening. Could you share your thoughts on this?
First of all, we would like to apologize once again for the bug and any negative impact it may have had on your playing experience or participation of future content. Please accept our sincerest apologies. Next, we ask that you strictly refrain from using or spreading the bug as that may violate the terms of use. We have separately contacted all official creators to ask them to remove or prohibit the dissemination of any videos or information that may lead to the spread of this bug. We ask not only official creators to refrain from such activity, but all of you as well. We will continue to make every effort to prevent a reoccurrence, and appreciate your cooperation with this issue.
I want to play without worrying about my Inventory and Storage getting full, so could you make it so items are registered in the Creative Space?
All building materials, furniture and other objects that can be placed in the creative space are to be registered for use so they will not take up unnecessary space in your inventory and storage. Once you register them, they will be registered on your account information and can be used by all characters on any ship. Furthermore, you will be able to place multiple units of an object.
It was announced that the PSO2 Furnishings would not be able to be used in NGS. I would like the same items released again for NGS.
Since the specifications of the Creative Space are different than those for the Personal Quarters in PSO2, it is impossible to simply bring over and use existing furnishings, however we plan to port popular items including furnishings in a step-by-step manner to be released as new goods for use in the Creative Space. In regards to furnishings we plan to port from PSO2, most of the collab items would be difficutl to bring over. Furnishings with PSO2 exclusive functions would mostly be ported as goods that only look like the originals.