Notice
This post is updating in real time. Contents are subject to change.
Early September Update
Sonic Collaboration, Autumn Event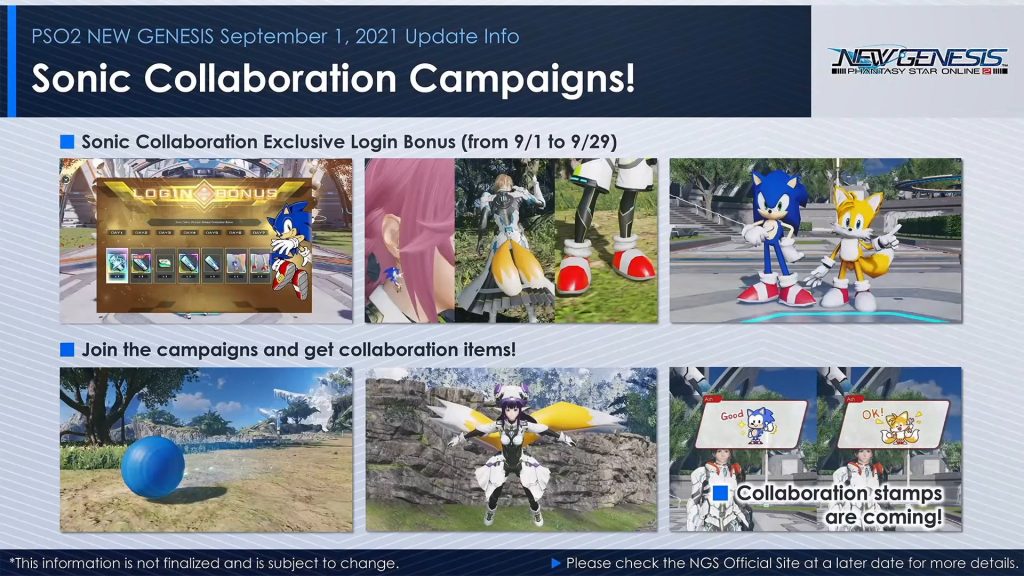 Early September Update
Sonic Collaboration Campaign
Exclusive Login Bonus

Sonic Shoes, Sonic Earrings and more!

New Mag Form: Tails Doll (Twitter Campaign)
Lobby Action: Sonic / Tails 3
Motion Dash: Sonic
Motion Glide: Tails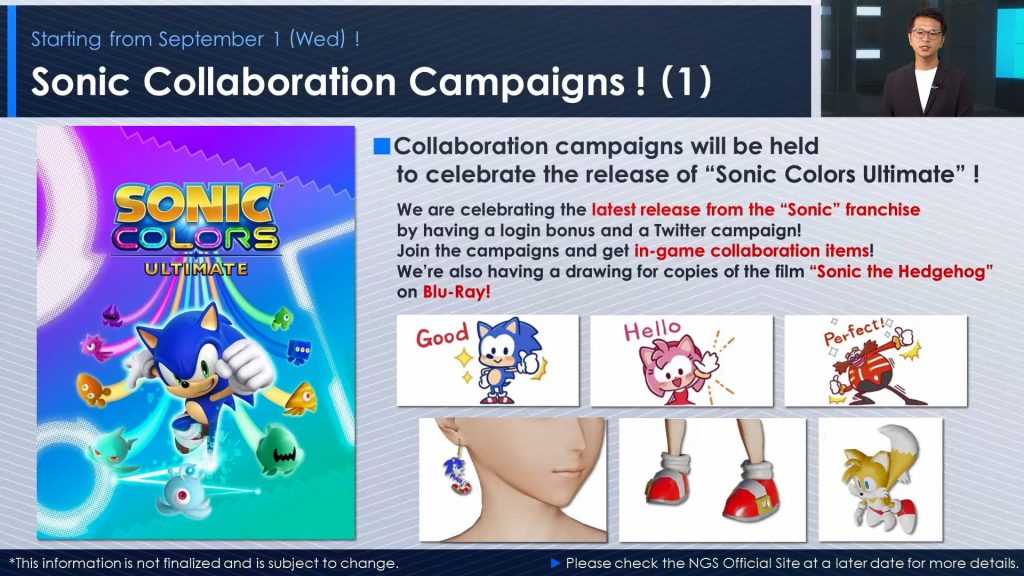 Sonic Collaboration
The Sonic Collaboration celebrates the release of Sonic Colors Ultimate.
There's a login bonus and a Twitter Campaign
The Tails Doll mag will be given out in the future if they reach a certain amount of ReTweets.
There's also a drawing for Sonic The Hedgehog movie on Blu-Ray!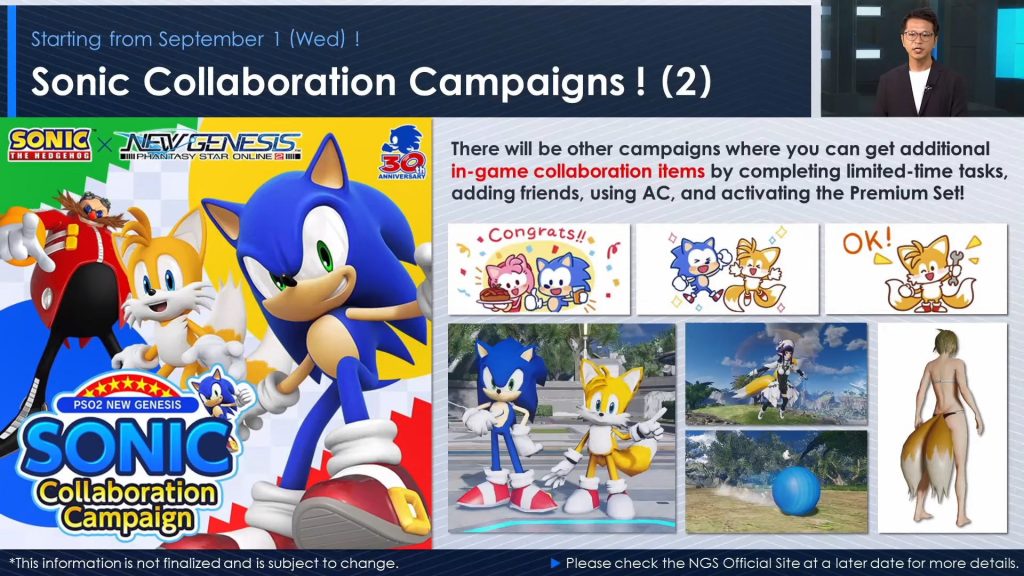 Sonic Collaboration
There will be other campaigns where you can get other Sonic items by completing limited tasks, adding friends, spending AC, and activating Premium sets. Details will be revealed in the future.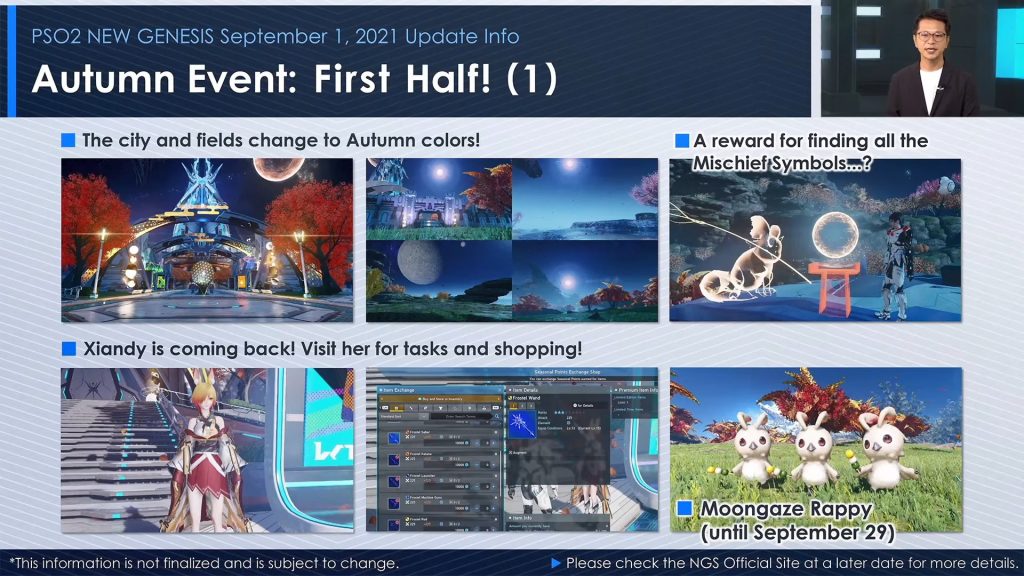 Autumn Event
The city will transform into an Autumn festival.
There are mischief symbols around the city.
Xiandy is coming back with new tasks and an Exchange shop

Rappy & Moony – Moon Gazing Stamp
Bunni Hood
Frostel Weapons
Trinite
Photon Quartz
C/Ice Exploit I

Moongaze Rappy will appear on the field until Sep 29th.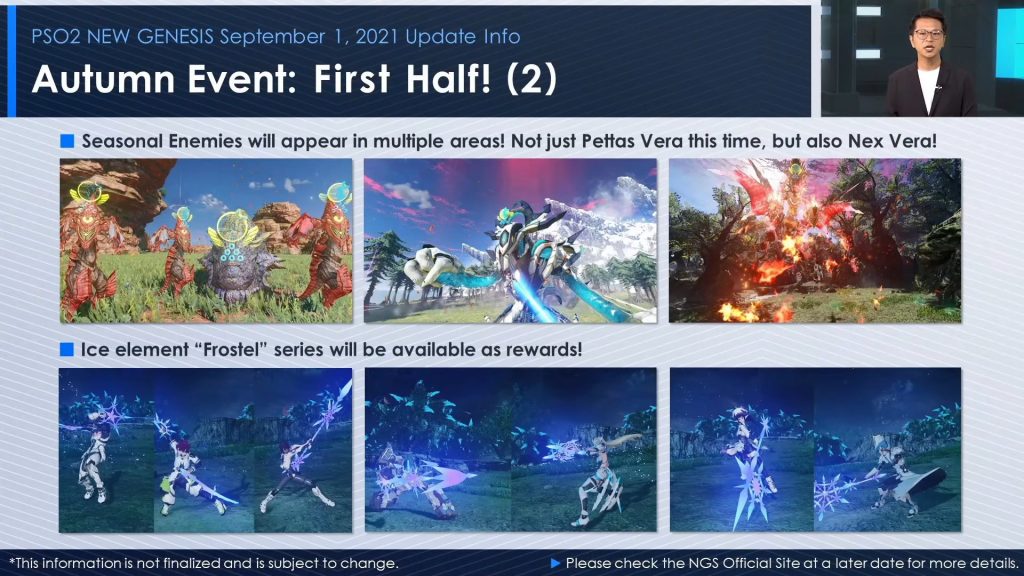 Autumn Event
Seasonal enemies will appear with symbols over their forehead.
These enemies will be weak to Ice.
Pettas Vera, Nex Vera, and some enemies in Mining Rig Defense will be seasonally tagged.
The Frostel series are Ice elemental weapons that can be obtained through drops or at Xiandy's exchange shop.
AC Scratch: Moonlight Sanctuary
Shrine priest and maiden-style battlewear.
Moon Gazing and Rabbit Dance Lobby Action
New Motion: Playful Run
Late September Update
Autumn Event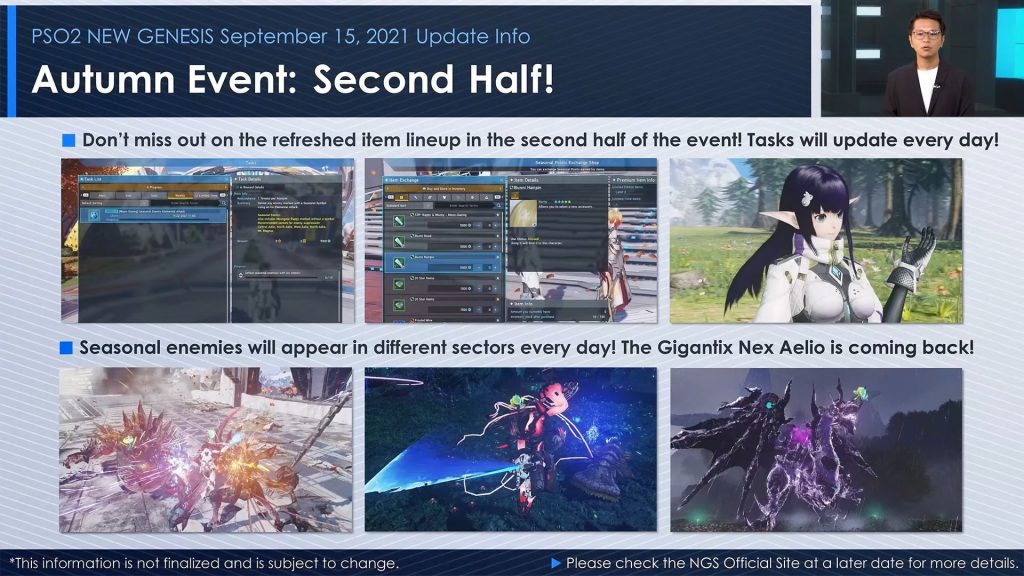 Autumn Event
The Seasonal Exchange shop lineup will be updated.
Seasonal enemies will appear in different sectors every day.
The Giganti Nex Aelio will be coming back.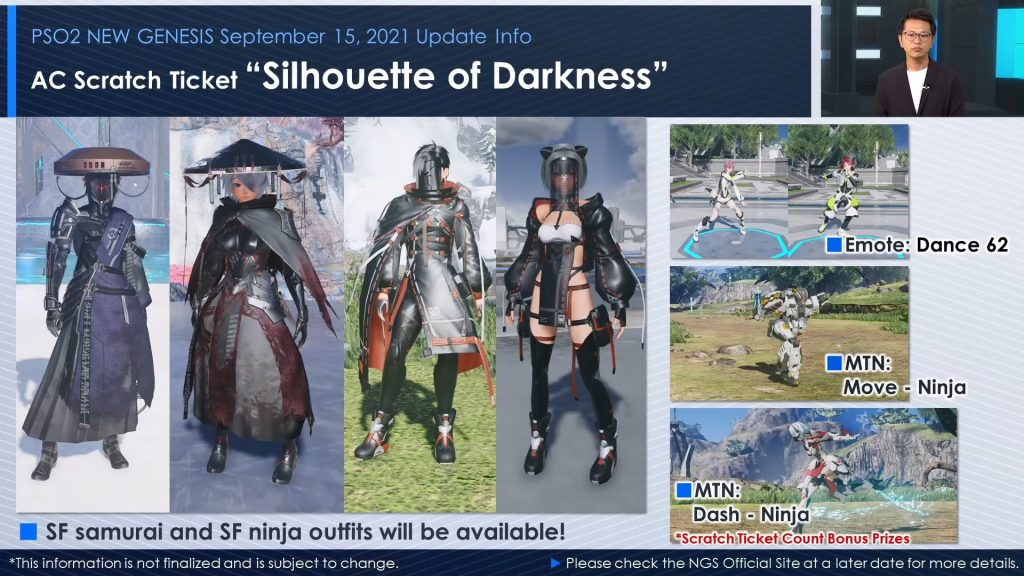 AC Scratch: Silhouette of Darkness
Scifi samurai and Scifi ninja outfits.
New Lobby Action: Dance 62
New Motion: Dash Ninja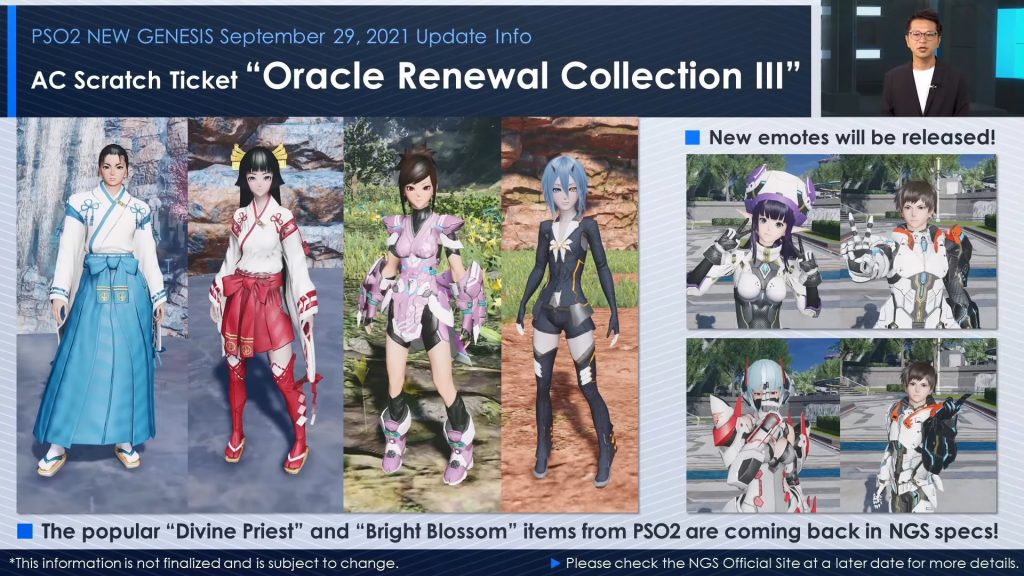 AC Scratch: Oracle Renewal Collection III
Releasing September 29th
New Lobby Actions
Bouncer! Bouncer!
Coming October
Jet Boots
Dual Blades
Campaigns & Merch
zutomayo
Zutomayo Collaboration (Global Version)
Now Global players can get the collaboration items from Zutomayo.
Say the phrase" ZUTOMAYO" in chat when the campaign starts to receive Nira-chan's hairstyle and uNiGuRi-Kun's Head Mount accessory.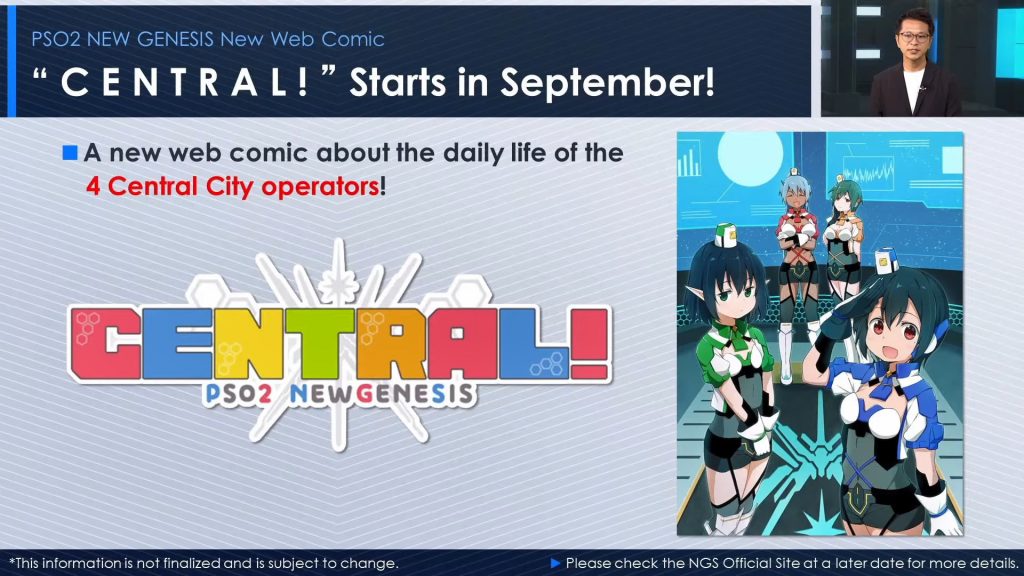 Central
A new web comic starring the 4 Central City Operators will begin in September.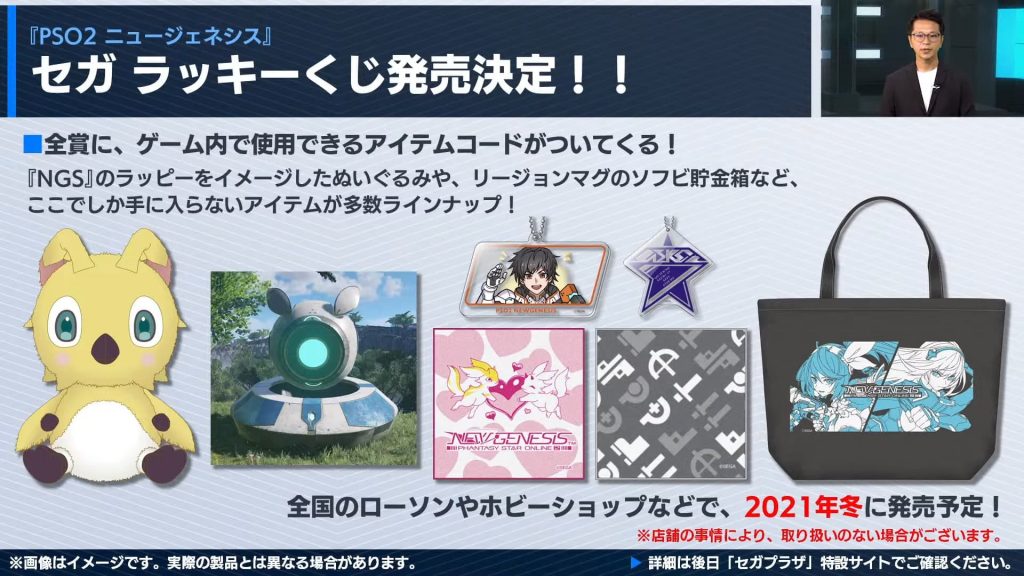 Sega Lucky Lottery (Japan Version)
Sega Lucky Lottery will now include a Rappy Plush, Region Mag Soft Vinyl Savings Box, and more.
All prizes will include an item-code that can be used in-game.
Find them at Lawson and Hobby Shop starting Winter 2021!
Next Broadcast
October 5th, 2021