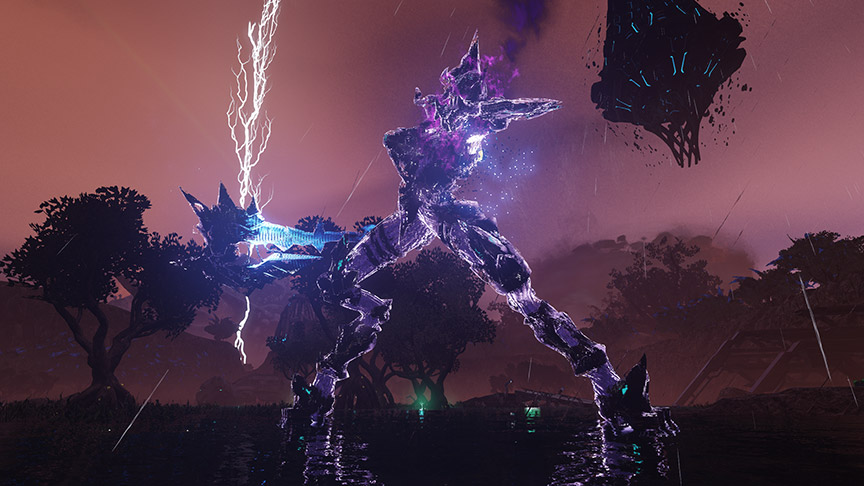 These despaired enemies will appear in Exploration Areas during Thunderstorms. Defeating them will reward the players a chance at new Weapons, Armor, and the Gigas Special Abilities.
Players who actively hunt them down should be Lv.20 Main Class or else you'll deal greatly reduced damage to the enemy. Once the thunderstorm resides the enemy will retreat.
Gigantix Locations
Central Aelio
Nagrus (Lv.24)
North Aelio
Daedal Axe (Lv.24)
West Aelio
Vallas (Lv.24)
South Aelio
Oruq (Lv.24)
Lake Halphiria
Daedal Sword (Lv.64)
Drops
 
Nagrus
Daedal Axe
Vallas
Oruq
Stragga Sword
✔️
✔️
 
 
Stragga Saber
 
 
✔️
✔️
Stragga Launcher
✔️
 
✔️
 
Stragga TMG
 
✔️
 
✔️
Stragga Rod
✔️
 
 
✔️
Stragga Wand
 
✔️
✔️
 
Ziont Armor
✔️
✔️
✔️
✔️
Still uncertain on the Gigas Power, Shoot, and Technic Special Abilities. I've seen it reported that at the very least Daedal Axe and Vallas can drop them all.
Hunting Tips & Notes
Preparation
Become Level 20 Main Class to do most possible damage.
Feed the Region Mag to max out your area damage and personal boosts.
Eat Quick Food with mostly Meat to increase your damage.
Looking for Them
Thunderstorm and Rain weather can look similar. However, a Thunderstorm's rain will fall diagonally.
Set the Limited-Time Event Tasks as your display to see a white marker when the Gigantix spawns.
Most players are camping Exploration Areas sitting around waiting for Thunderstorms.
Gigantix HP Scaling
The enemy's HP will change in real time depending on the amount of players around it.
The Total amount of players in the area will not affect it's HP.
False Rumors
There is NO way to increase the chance of Thunderstorms.