Notice
This post is updating in real time. Contents are subject to change.
Please manually refresh to see latest updates.
March 1st Update
Giant Mutants Part Deux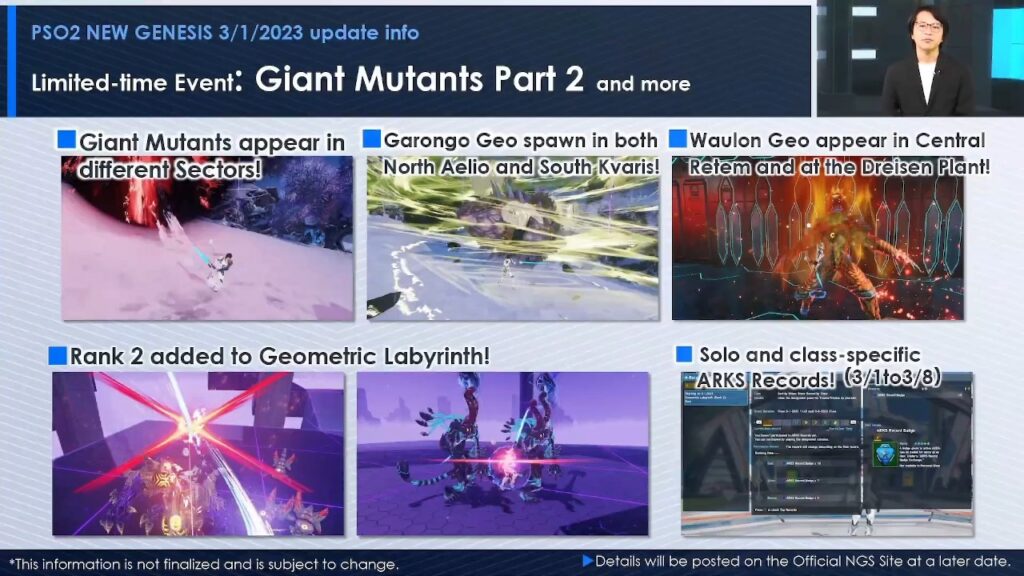 Giant Mutants
Giant Mutants will appear in different sectors
Garango Geo will spawn in North Aelio and South Kvaris
Waulon Geo will appear in Central Retem and Dreisen Plant
Rank 2 added to Geometric Labyrinth

A Brand new enemy will appear that can clone itself.
Solo and Class-Specific ARKS Records for Rank 2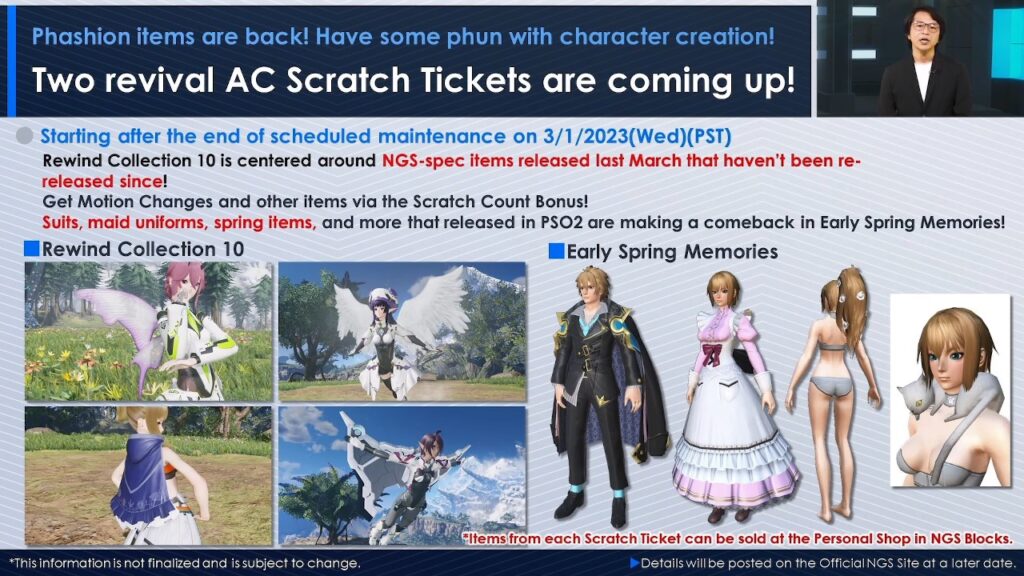 Revival Scratch
PSO2-Spec Scratch: Early Spring Memories
NGS-Spec Scratch: Rewind Collection 10

Items that haven't been re-released since Last March.
March 8th Update
Spring Event '23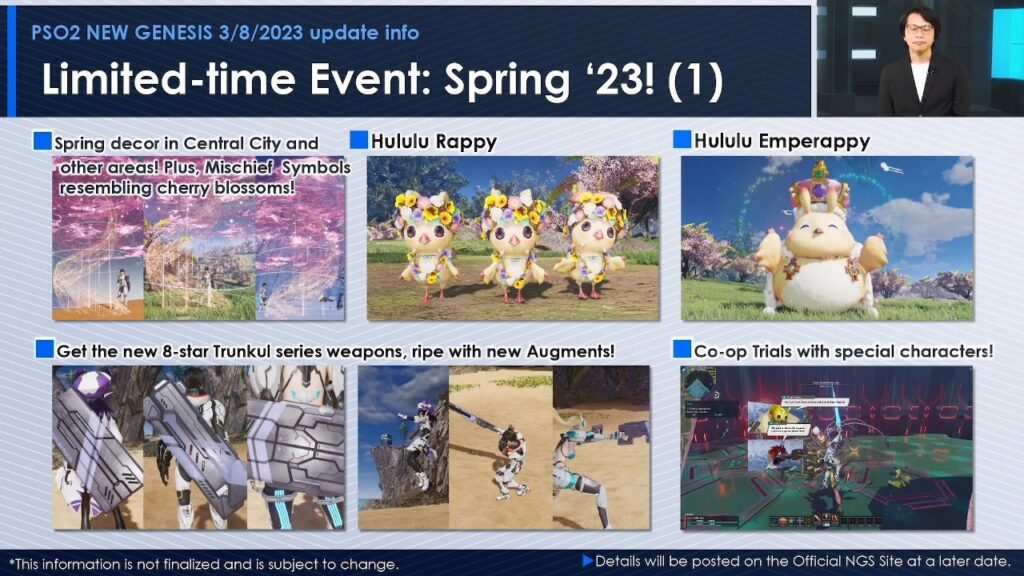 Spring Event
Spring decor in Central City and Other Areas
Mischief symbols will also appear.
Hululu Rappy and Hululu EmpeRappy
New ★8 Trunkul series

Increases damage resistance each time a critical attack occurs.
Sezun Springfiv

Versus Spring '23 Enemies:
Power +5%
Critical Hit Rate +20%
Damage Resistance +25%

Get the Trunkul Armaty Camo from Title Rewards for collecting 300,000 Seasonal Points

Co-Op Trials with special characters.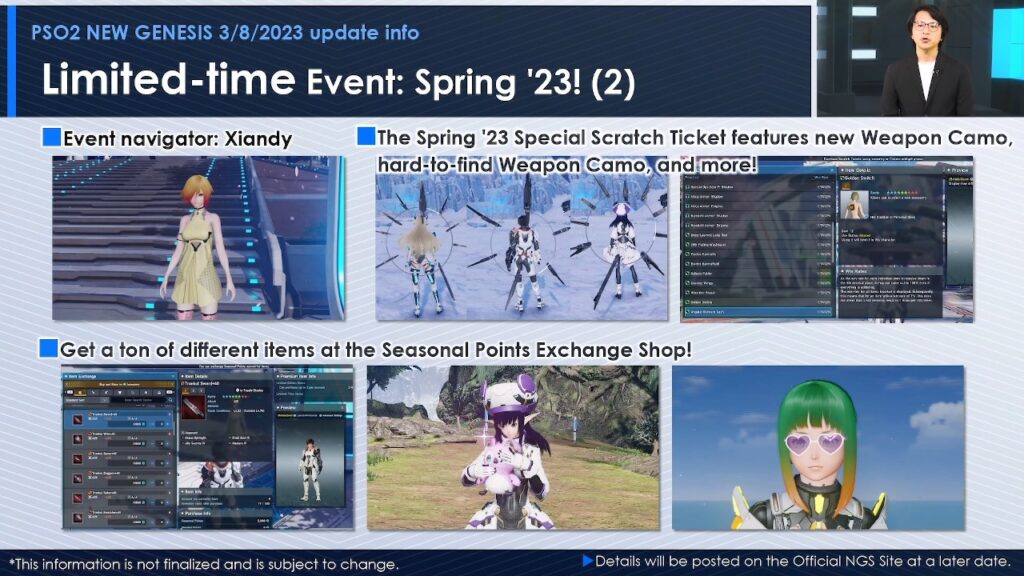 Spring Event
Xiandy is the event navigator this time
Seasonal Point Exchange Shop

Gradient Heart Glasses Accessory
Motion Change: Idle Rappy Plush B
Ability IV (Mastery IV) & Gigas IV Capsules

Spring '23 Special Scratch Tickets

New Weapon Camos and Items released in the past that are hard to find.
Some of these items will be added to the regular Special Scratch in the future, but they'll be harder to obtain. So now's the time to get the items you want.
Spring '23 Special Scratches Tickets can be obtained from certain Tasks, the Seasonal Point exchange shop, and Limited Quests.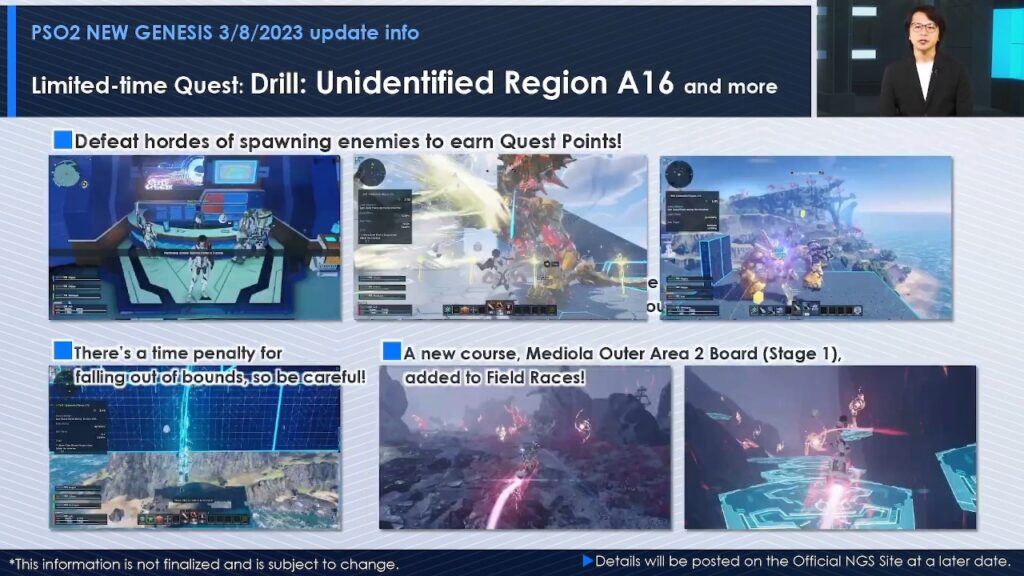 Limited Quest: Drill: Unidentified Region A16
Defeat hordes of enemies to earn Quest Points.
You will earn Seasonal Points based on how you've placed in the total rankings for Quest Points.
Gold & Silver Rare Enemies, Rappies, Equalizing Enemies, Hovacs will be worth more Quest Points when defeated. You'll also earn Quest Points based on the amount of damage inflicted on bosses.
Falling out of bounds will result in a time penalty
Mobile Cannons can only be used once during the quest.
When you complete the quest, the Trunkul weapon series and Spring '23 Special Scratch tickets may drop along with Seasonal Points.
The higher the quest rank, the more likely Spring '23 Special Scratch Tickets will drop.
Field Race: Mediola Outer Area 2 Board (Stage 1)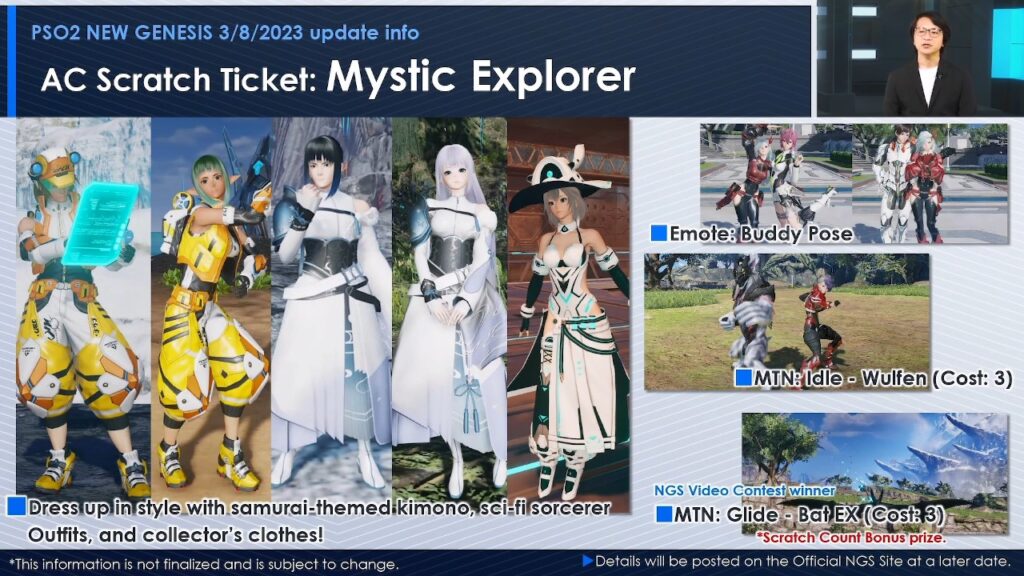 AC Scratch: Mystic Explorer
Dress up in Samurai-themed kimono and Sci-fi sorcerer outfits.
Lobby Actions: Buddy Pose
Motion Changes: Motion Glide – Bat & Motion Idle – Wulfen
Scratch Count Bonus: Motion Glide – Bat EX
March 15th Update
SG Scratch Refined Form Reival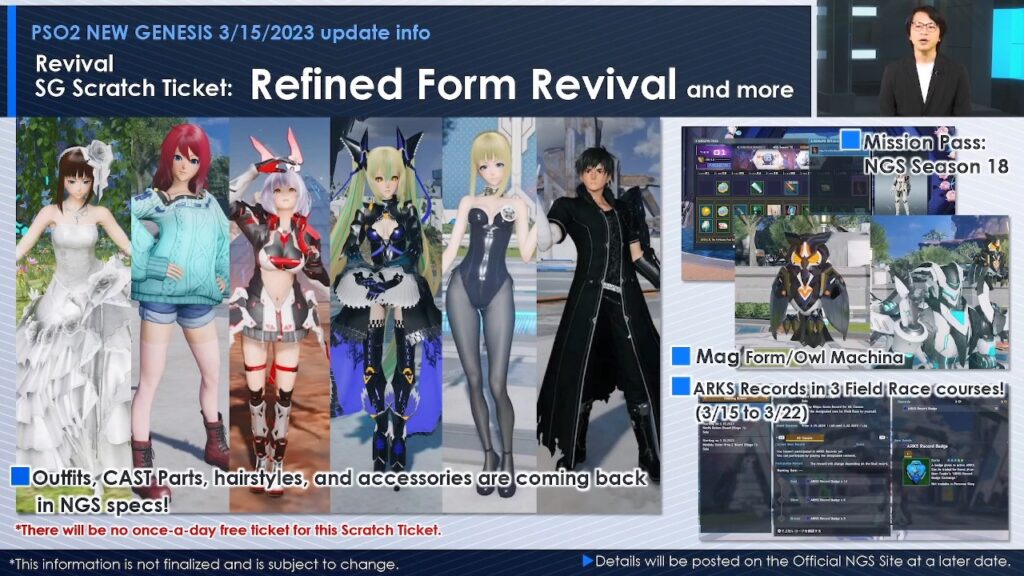 SG Scratch: Refined Form Revival
Revival for Refined Form Scratches.
There will be no once a day free ticket for this Scratch.
Mission Pass Season 18
Mag Form Owl / Machina
Dragon Ring
Lux Ende
Lux Nero
ARKS Record: 3 Field Race Courses
March 22nd Update
Spring '23 Part 2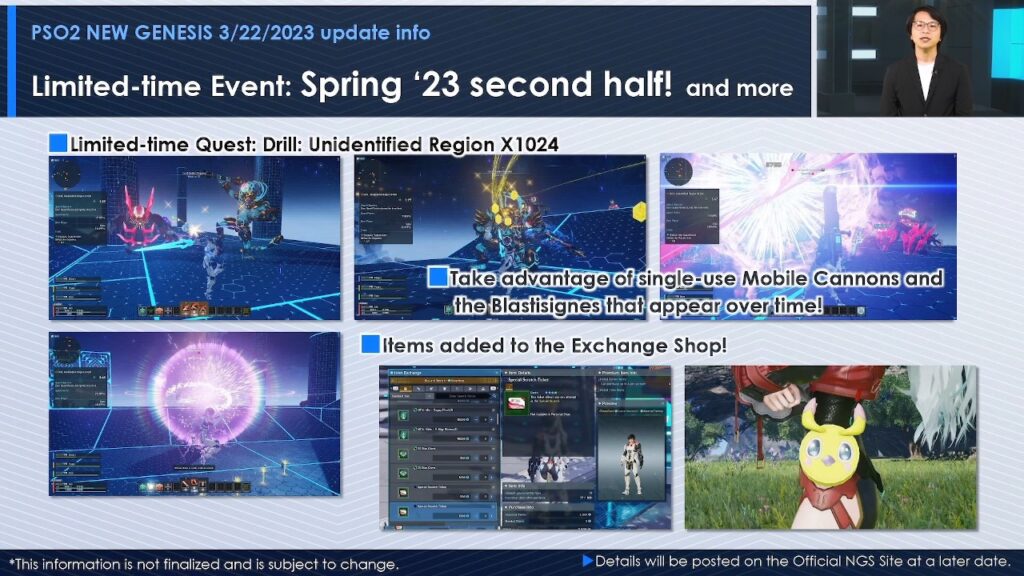 Limited Event: Spring '23 Part 2
Drill: Unidentified Region X1024

Compete for the most quest points.
Single User Mobile Cannon
Blastisignes will appear.

New Items Added to Seasonal Shop

Rappy Pouch Accessory
Glide – R Mag Minimo B
Spring '23 SP Scratch Tickets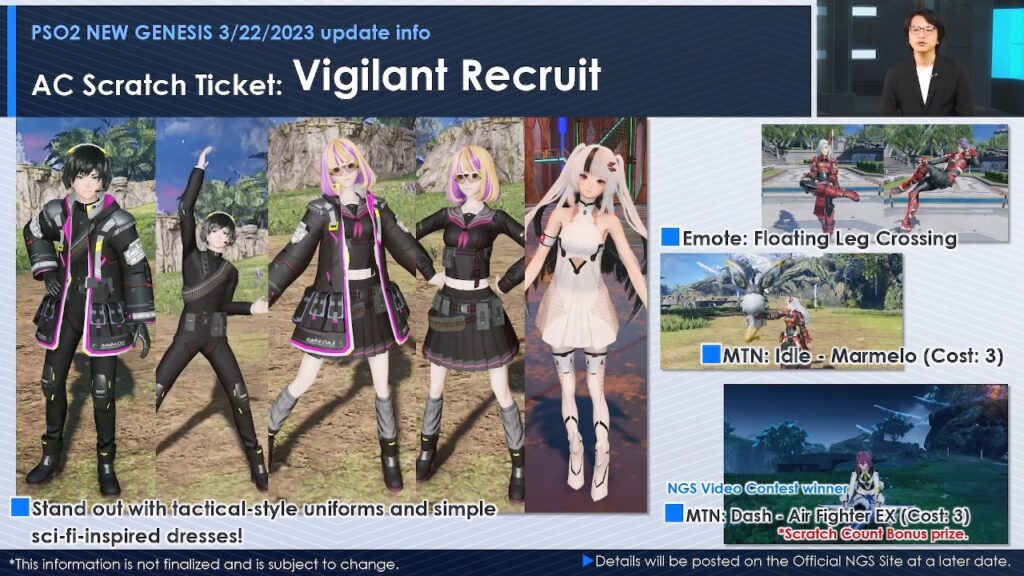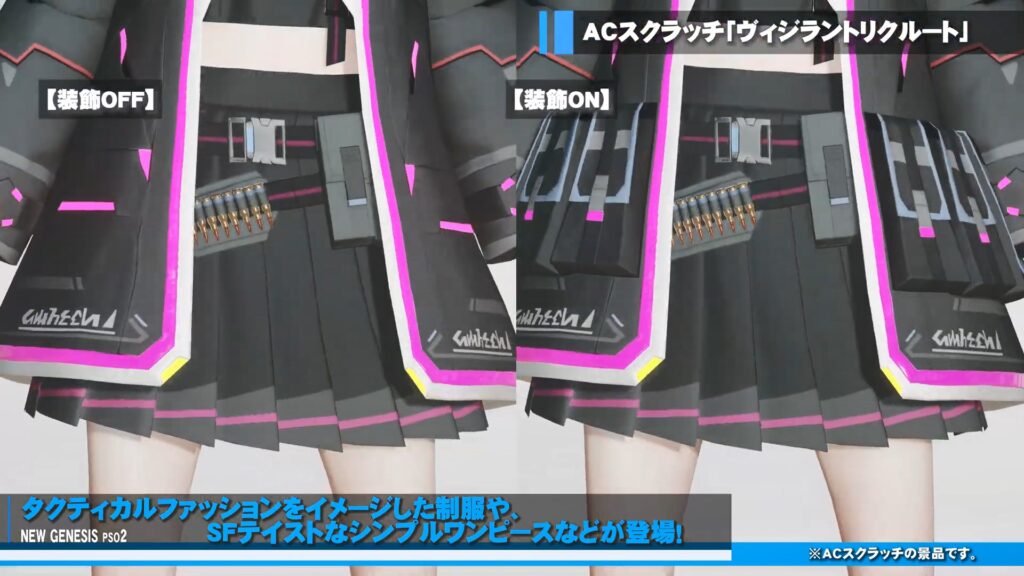 AC Scratch: Vigilant Recruit
Tactical sytle uniforms and Sci-fi Dresses
Lobby Actions: Floatin Leg Crossing
Motions: Idle – Marmelo
Scratch Bonus: Air Fighter EX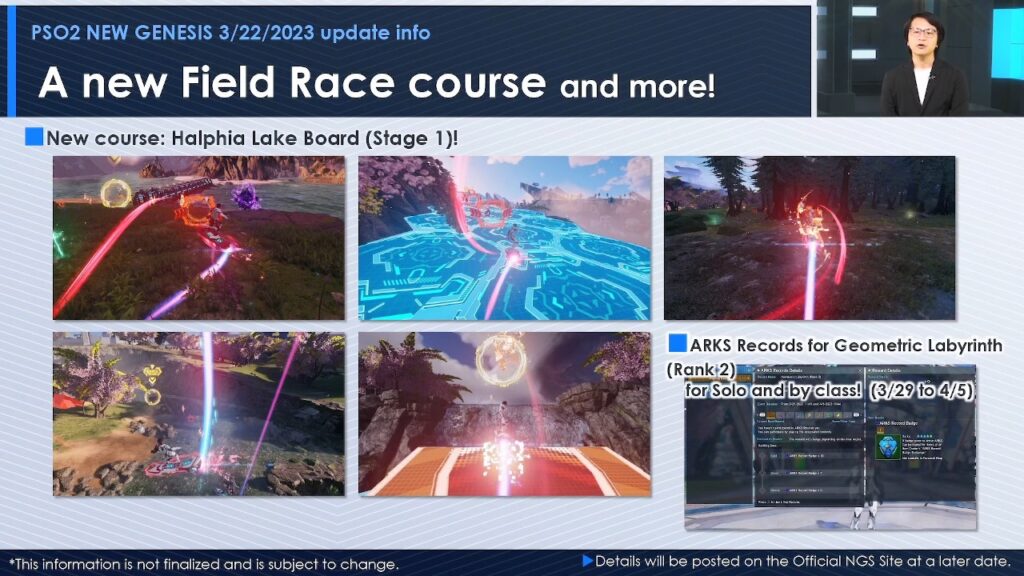 Field Races & ARKS Record
Field Race: Halphiria Lake Board (Stage 1)
ARKS Record for Geometric Labyrinth Rank (3/29 ~ 4/5)
New Class: Slayer
Gunslash Weapon Class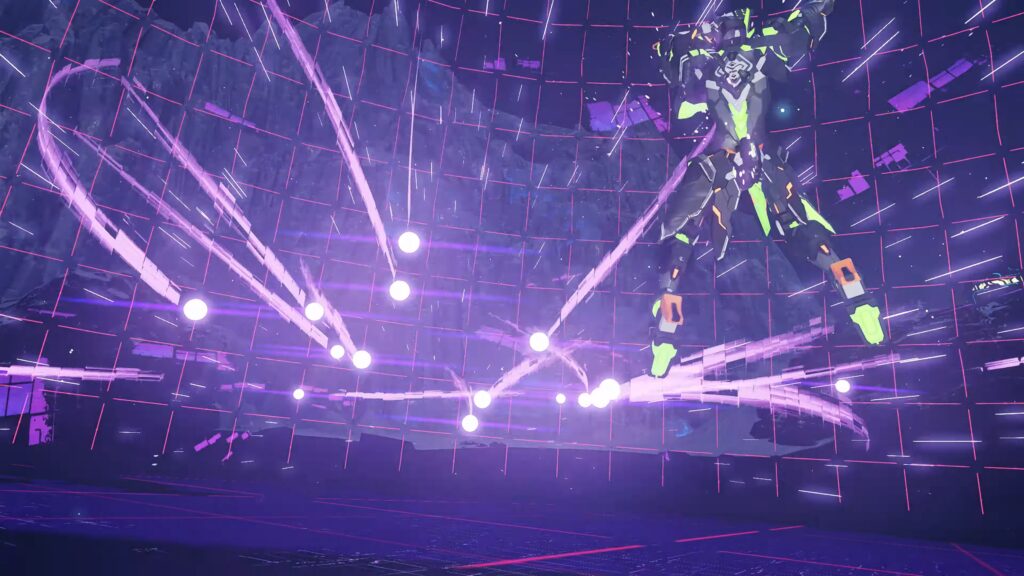 Coming Mid April
Arks Operation Report
Question and Answer Session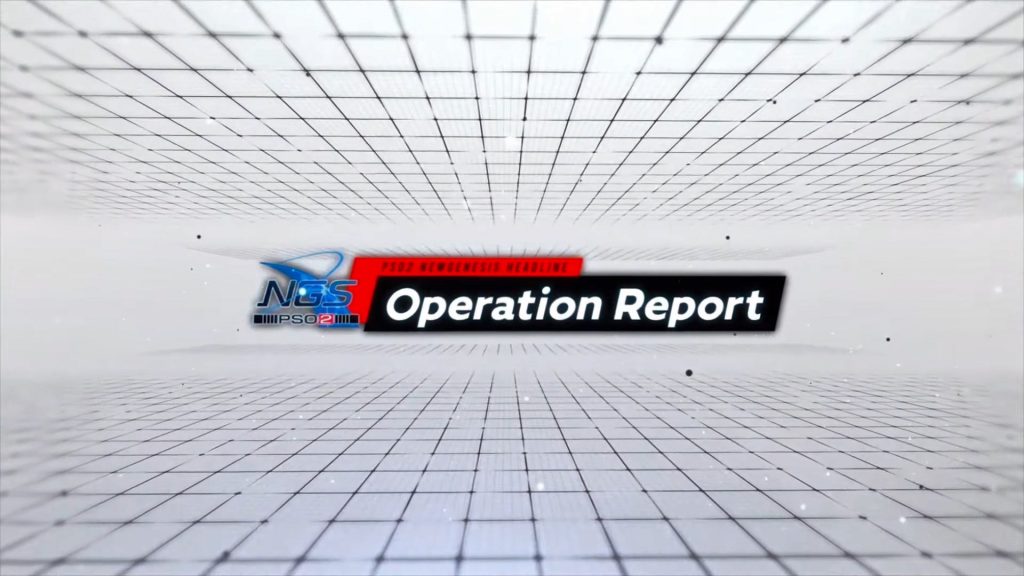 When taking a screenshot, the character fades out if you move the camera too close to the character. Can you make it so we can take close-up shots?
In a future update, we will make adjustments to allow you to get closer to the character when zooming in with the [Fixed Camera]. This will allow for close-ups without causing fade-outs.
During Mini Episodes, the button to skip dialogue doesn't skip the voice being played.
They plan to improve event scenes so that the voice playback is skipped when the dialogue is skipped by the player. Please note, for event scenes in which the dialogue progresses automatically, the specifications will remain the same as it is now.
Will a Premium Set be required to use the Creative Space?
Everyone will be able to use ONE free Creative Space per Account per Ship. Premium Set users will have access to one additional space. Each Space will be the same size and have the same functions available.
I would like to be able to repeatedly generate Add-On Skills.
In a future update, after Add-On skill generation, a confirmation screen with the same conditions will be displayed making it easier to generate add-on skills in succession.
Can you make photo rooms usable in cities and camps?
We are planning to expand functionality to allow usage of Photo Rooms in cities and camps in the future.
Satellite Information
Merch, Campaigns, Events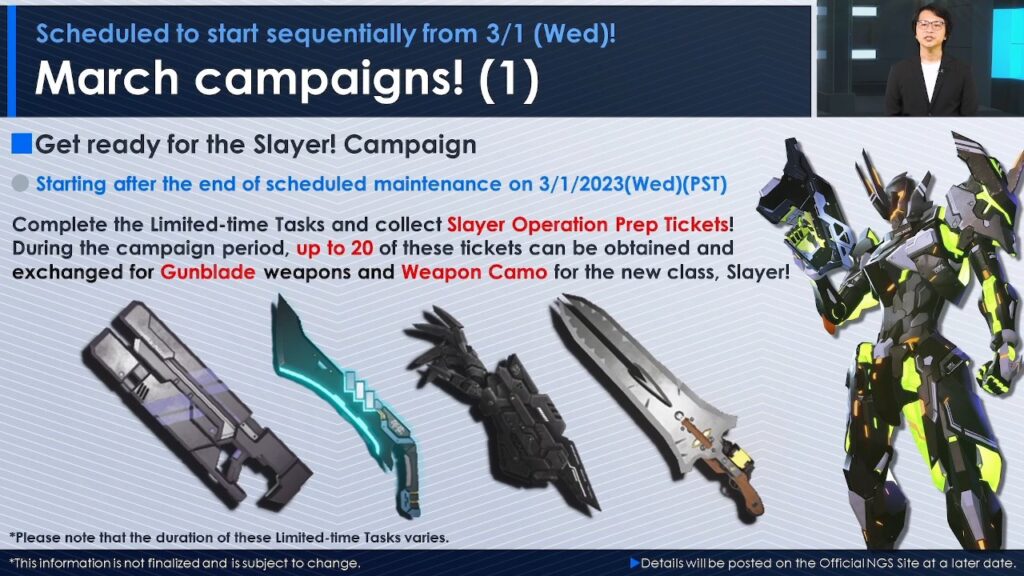 March Campaigns
Slayer Preparation Campaign: March 1st~

Earn [Slayer Operation Prep Tickets] by completing Limited-time Tasks.
You can earn up to 20 [Slayer Operation Prep Tickets]
Trade in the Tickets for Gunslash weapons and camos.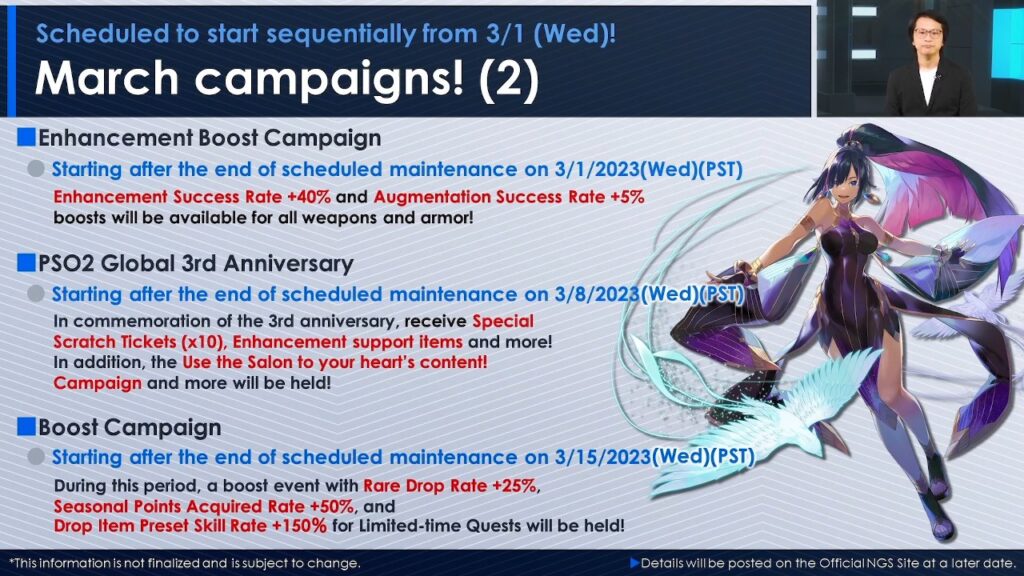 March Campaigns
Enhancement Boost Campaign: March 1st ~

Grind Great Success +40% and Special Ability Success Rate +5% for All Weapons and Units!

Global 3rd Anniversary: March 8th ~

Receive 10 [Special Scratch Tickets] and Grinding Support Items to commemorate the 3rd Anniversary of Global PSO2.Furthermore there will be a Salon Free-For-All campaign and more!

Boost Campaign: March 15th ~

Boost Event with Rare Drop Rate +25%, Seasonal Point Acquisition Rate +50% and Preset Skill Drop Rate +150% for Limited Quests
JAPAN: Satellite Information
100 Hours Curry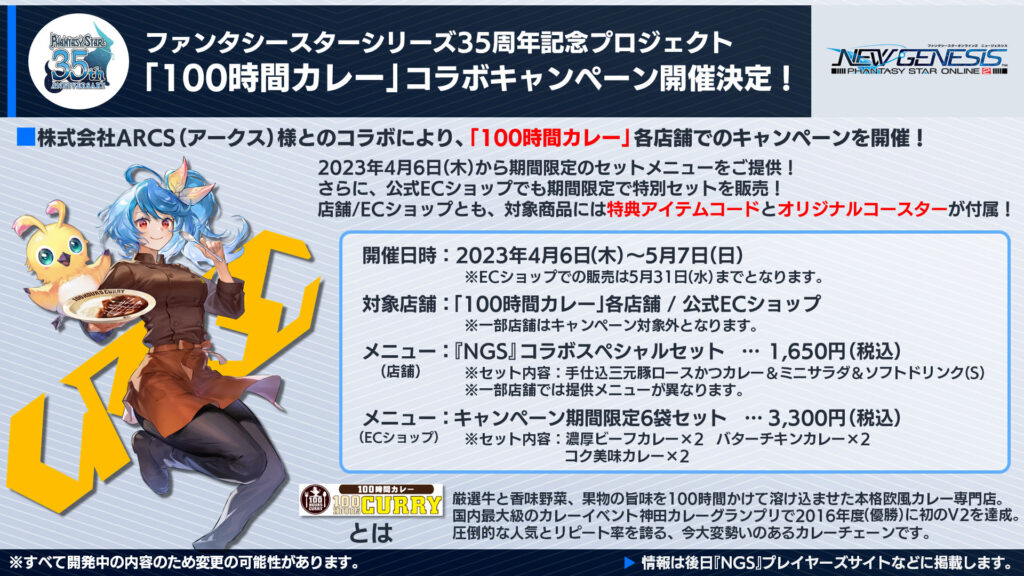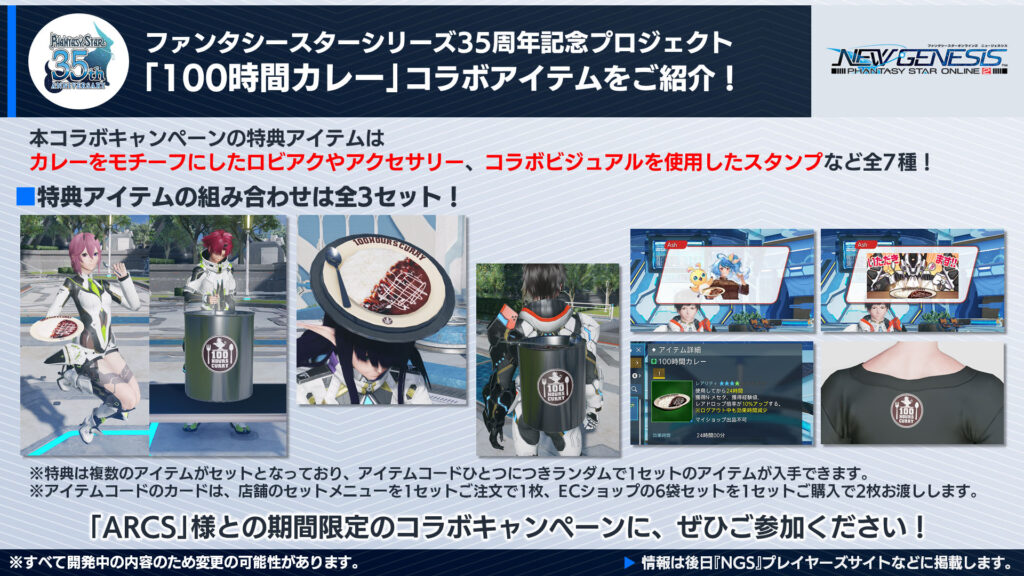 100 HOURS CURRY COLLABORATION
This is a collaboration with [ARCS Co. Ltd.] Get it?
Purchasing the qualifying Curry Sets will give you an Item Code that contains a set of items.
Participating Stores:

100 HOURS CURRY Shop (April 6 ~ May 7th)
Official EC Shop (April 6 ~ May 31st)

Possible Item Rewards Based on Which Random Set You Get

100 HOURS Curry (24hr: +10% Meseta / EXP / Rare Drop Boost)

Surprisingly they missed the opportunity to make it 100 hours.

100 HOURS Curry Sticker
100 HOURS Curry Stamps (Two)
100 HOURS Curry Pot Accessory
100 HOURS Curry Plate Accessory
100 HOURS Curry Lobby Action