Early October Update
Bouncer, Battledia, Mission Pass
New Class: Bouncer
Bouncers wield Jet Boots and Dual Blades.
It's a highly mobile class.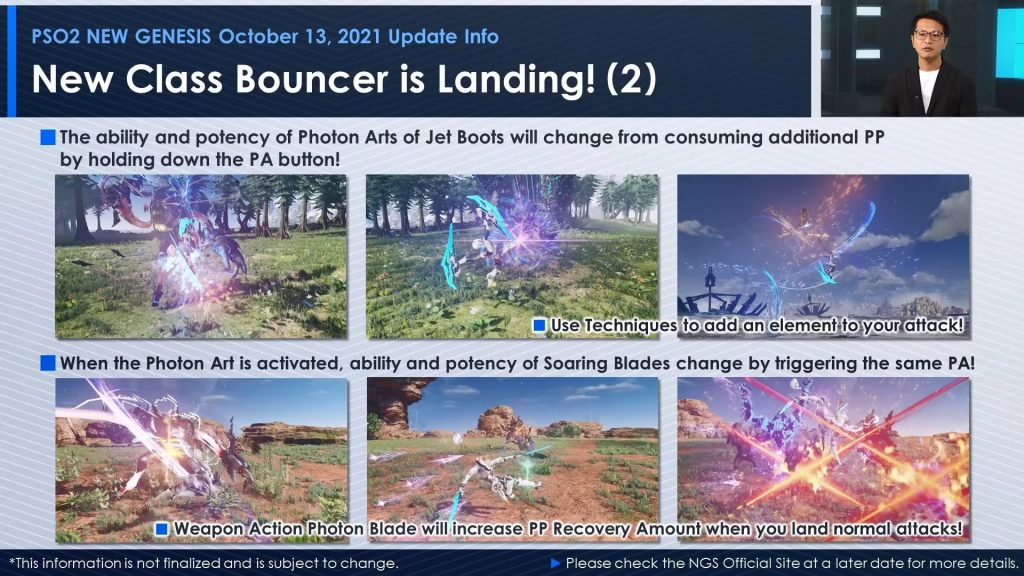 Jet Boot Features
Holding down the PA button will use additional PP to change the Power and Ability of Jet boots.
Using Techniques will trigger an additional attack of the same element when a PA hits an enemy.
The class skill "Jet Intensity" lets you perform a powerful series of attacks whenever there's an enemy within a certain range. This is activated by holding down the normal attack button.
Dual Blade Features
Their power and ability will change when using the same PA during a Photon Art.
The weapon Action "Photon Blade" increases the PP recovery amount for normal attacks.
The class skill "Photon Blade PP Recovery" will make the Photon Blade weapon action deal damage to enemies and increase PP recovery when an enemy is hit.
The class skill "Fanatic Blade" will temporarily increase the power and attack speed of the Photon Blade.
The class skill "Fanatic Blade"
Bouncer Features
Learning the class skills "Elemental Decline" and "Physical Decline" will make enemies hit by Photon Arts to experience Elemental and Physical downs.
MelTech Dualble
This special ability Meltech Dualble / (Dahou Diable in JP) increases striking and tech power.

Meltech Dualble I = 0.75% Str/Tech Weapon Power.
Bouncer Class Skills
Defeat PP Gain
Defeat Amplifier
Partial Destroy Advantage
Physical Decline
Elemental Decline
Decline amplifier
Barta Blot
Zonde-Clad
Fanatic Blade
Jet Attack
Jet Boots Element Set
Jetsweep Jolt
Fanatic Blade Augment
Photon Blade PP recovery
Jet Intensity
Boot Trick Bounce Counter
Thrust Drive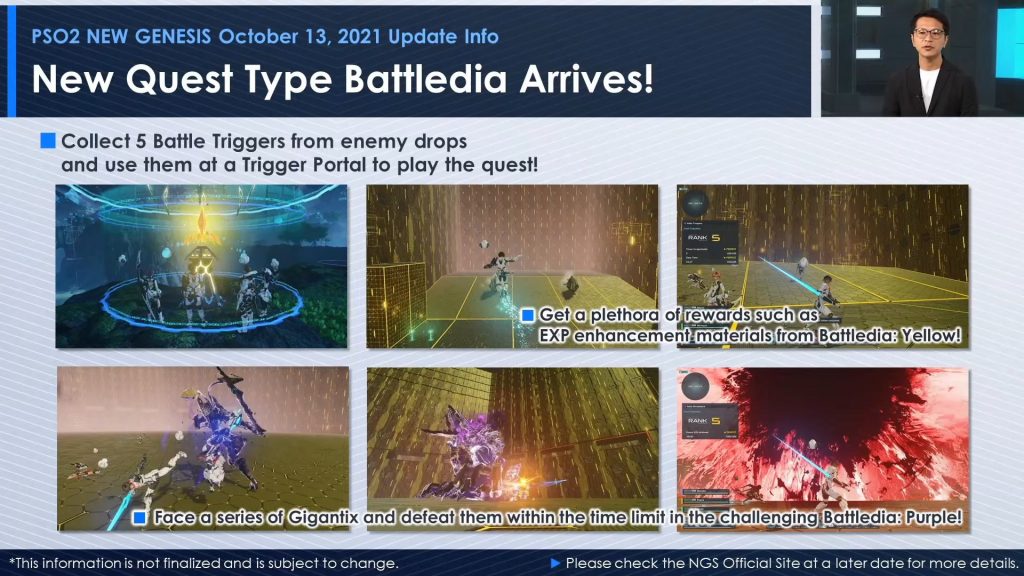 October 13th Update
Battledia are a new quest type that can be accessed from "Trigger Portals" found in the open field.
You'll have to collect 5 Battle Triggers which can be obtained from rare drops.

You can also sell the Battle Triggers in your Player Shop.

Battledia: Yellow rewards large amount of EXP and Enhancement Materials!

Expect to find items like Gold Prim Swords and enhanced to +20.

Battledia: Purple is very challenging and has Gigantix enemies within. H

Here you can get Straga weapons and Gigas-type special abilities.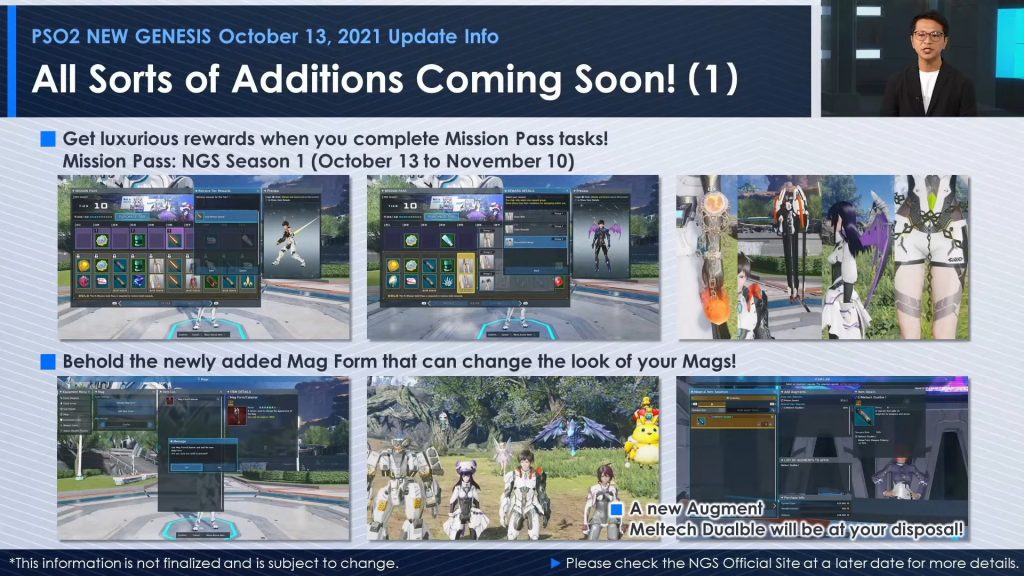 October 13th Update
Mission Passes are back! You can receive various rewards like boost items and different color variations.

Players must earn stars by completing various tasks.
Rewards may include stamps, color variations of existing outfits, mag forms, accessories, and 3 Days Personal Shop Ticket.

Changing your Mag's appearance is finally here. You can change the look of your mag form items.
In addition, you can use Evo Device appearances registered from PSO2 Classic.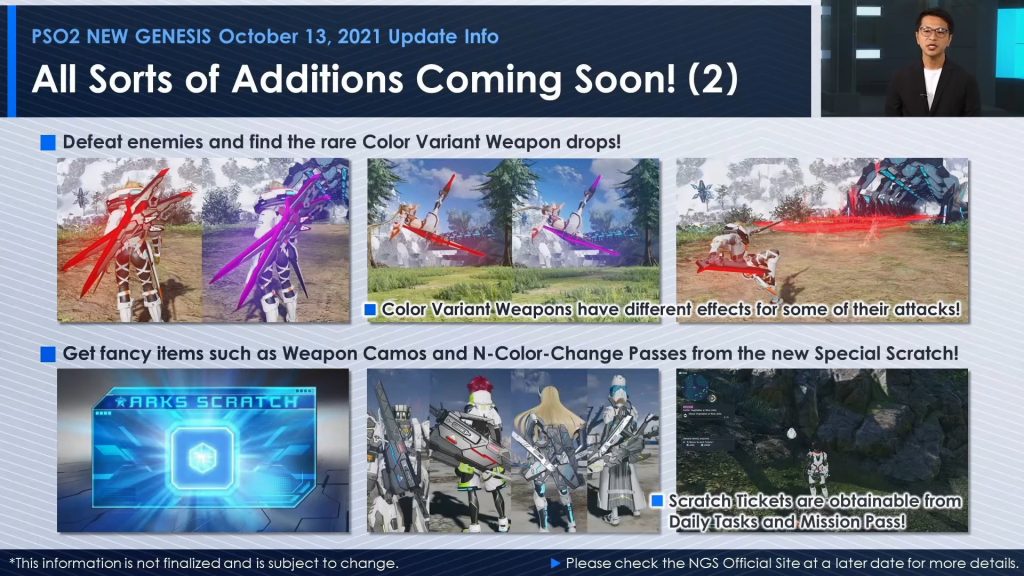 October 13th Update
Color variant weapons will drop from enemies.
You can see the color effects while using PAs.
October 13th Update
Additional Waves will be coming to Mining Rig Defense.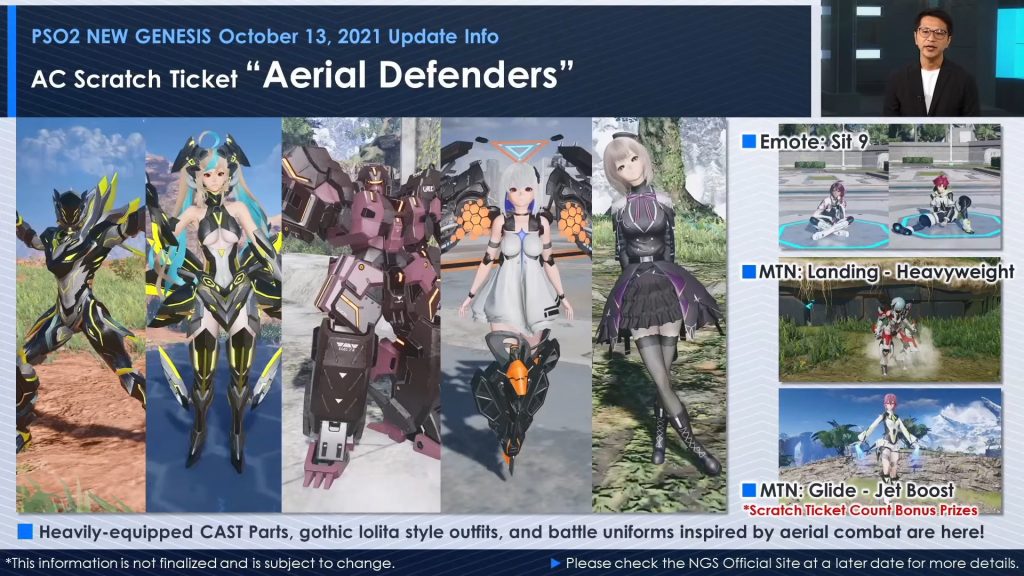 October 13th Update
Aerial Defenders (AC Scratch)
Heavily-equipped Cast Parts, Gothic Lolita Outfits, and Battle uniforms.
LA: Sit 9, Motion: Landing – Heavyweight, and the Scratch Bonus: Motion: Glide -Jet Boots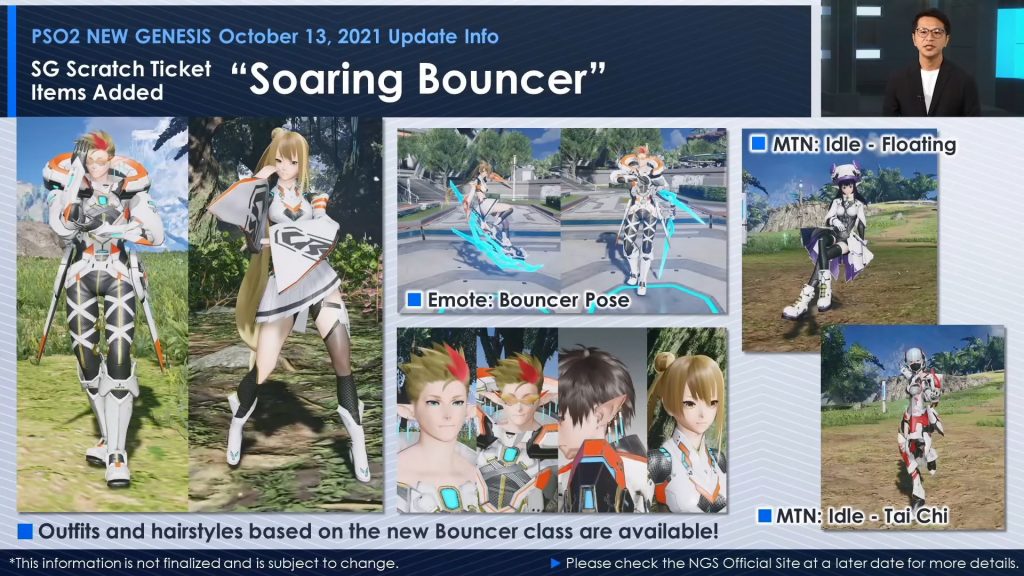 October 13th Update
Soaring Bouncer (SG Scratch)
Here you can obtain outfits and hairstyles based on the Bouncer class.
New Lobby Action: Bouncer Pose. New Motions: Idle – Floating and Idle – Tai Chi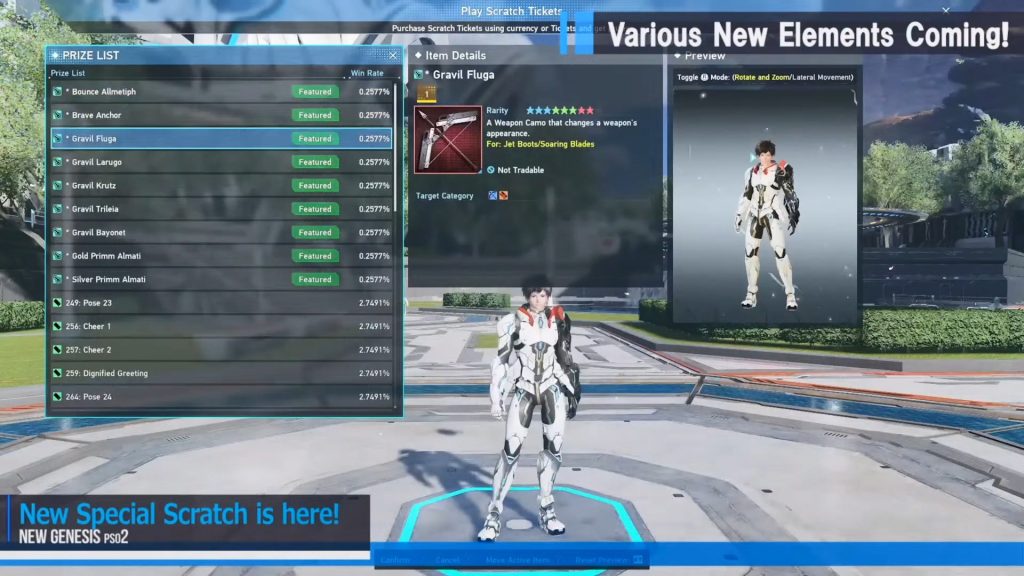 October 13th Update
Special Scratch contains weapon camos, hard to obtain items from PSO2, along with the N-Color Change Pass and N-Ability Success Boosters.
Special Scratch Tickets can be obtained in the following ways:

Task Rewards
Mission Pass Rewards
Battledia: Purple (Occasionally)
Late October Update
Halloween, Seasonal Enemies, Flamel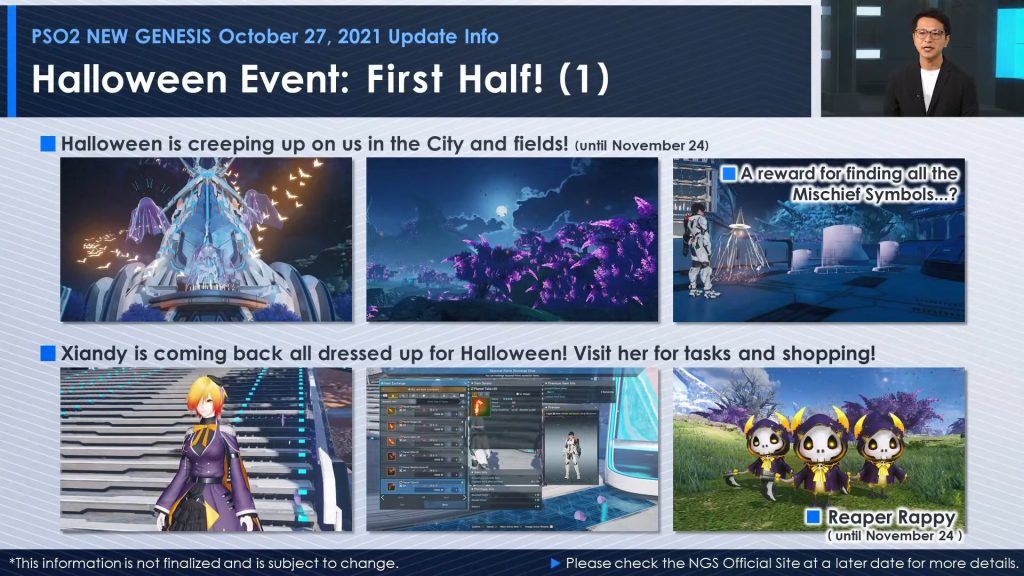 October 27th Update
The Halloween event unfolds in the City and Lobby.
Scythe Rappy (aka Reaper Rappy in Global) will appear.
Xiandy returns with new tasks and a shop

Mag Form / Autumn Minimo
Rappy Halloween Stamp
Flamel Weapon Series
Autumn Branch Accessory
And more!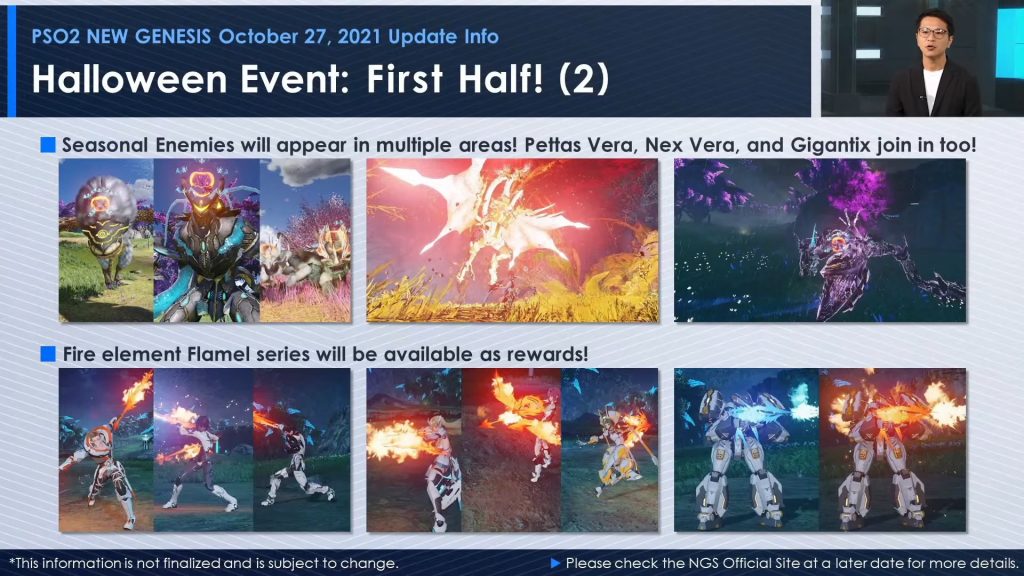 October 27th Update
Seasonal enemies will appear in multiple areas. These enemies will be weak to fire.
Fire elemental Flamel weapons will be available as rewards.
Halloween themed Region Mags and Vegetables will appear!
October 27 Update
Monster Masquerade (AC Scratch)
Dark Hero and Wizard-inspired outfits.
LA: Suspended 2 and Cook 2 and Scratch Bonus: Motion Glide – Powerful

Cook 2 is the Salt Bae LA
Arks Operation Report
Question and Answer Session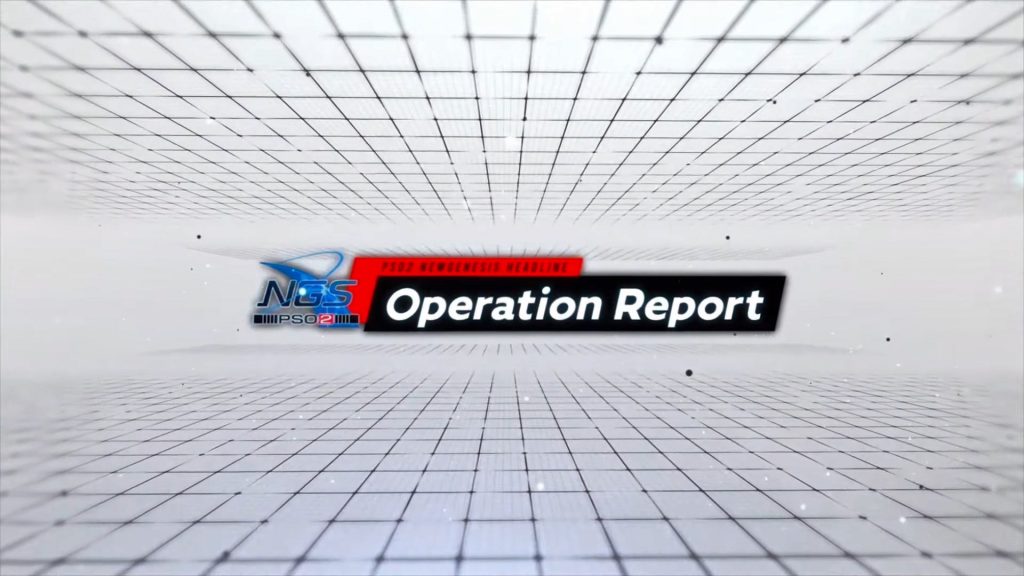 Please Tell us about the roadmap from here on out.
We had released the roadmap in the information program before the game launched. However, since we didn't show it in this program after launch, it seems that there are quite a few people who didn't know about it. That is something we should have considered. Furthermore, we have not provided sufficient information regarding the direction of upcoming PSO2 NGS updates, causing some of our players to feel uncertain. We sincerely apologize. There is one major update approximately every six months in NGS. During these updates, large fields called regions and new stories set in these regions are added. The next major update is scheduled for December. A new region as big as Aelio will be released along with Chapter 2 of the story… During the period between these major updates, our objective is to work on player-related expansions, new quests, seasonal events, and minor system improvements and additions.
There is not a lot of playable content.
Please update it more frequently like you did with PSO2.
The difference in the frequency in updates between NGS and PSO2 is as I described before. However, the dev team also thinks that the small range of playable content in PSO2 New Genesis is a big problem. They have taken your feedback and will make some significant changes based on that. Planning and production are already underway for a higher volume of content to come in updates after December so that our players can enjoy the game even more. While we will need some time to solve this problem, we do plan to further enrich the game, so we ask for your patience.
Urgent Quests spawn spontaneously, so some times I don't make it in time.
Could you address this, such as by increasing the spawn rate?
PSO2 New Genesis was originally designed with the intention for players to play mainly in the open field and enjoy the spontaneous Urgent Quests and Gigantix fights. However, we have received a lot of feedback that this is inconvenient for players whose gaming time in limited, and that is true. Therefore, to test the change in objectives, there will be a campaign where Urgent Quests are announced ahead of time by one week, starting tomorrow. Additionally, when new Urgent Quests or expansions to current Urgent Quests are released in the future, they will randomly occur at a higher rate for about a week after release. We will decide how to move forward in the future based on the response to this as well.
I have a weapon/Armor I like but I won't enhance IT until there's a drop with a preset skill.
Are there any plans to implement a transfer function?
The dev team has a plan to implement a preset skills transfer function for weapons with the same name in a future update. The color variant weapons introduced earlier will be treated the same as the original color weapons of the same name. Therefore, there is no need to wait until you get a color variant weapon or until you get a drop with preset skills to enhance your weapon. Additionally, they said that they are also considering implementing it for multi-weapons. However, they will be rolling out these function in stages, so the support for multi-weapons might not become available until later on.
Some nice players tell others via Weak Bullet, but it would be nice if
Gathering Materials such as Minerals and Vegetables were easier to find.
[The dev team] plan[s] to include an expansion to the Mag Sonar function; an improvement that will make Gathering Materials easier to find in a future update. It will also be possible to filter the search to the Gathering Materials you are aiming for, such as Meat only, or Red Containers only, etc.
Discriminatory remarks appear in the chat or via Symbol Arts and make me very uncomfortable. Will we be able to fine-tune options for remarks made by other players?
We have confirmed that some users have made obscene Symbol Arts and have made discriminatory remarks in the chat. SEGA does not tolerate this kind of behavior and we are working daily to counter these toxic players. As a countermeasure, options to toggle display for each chat category will be implemented in the October 13th update. Additionally, you will also be able to toggle display for Symbol Arts for each category as well. Please give it a try. We apologize for the late response. We will continue to address these problems going forward.
Campaigns & Merchandise
Bouncer Celebration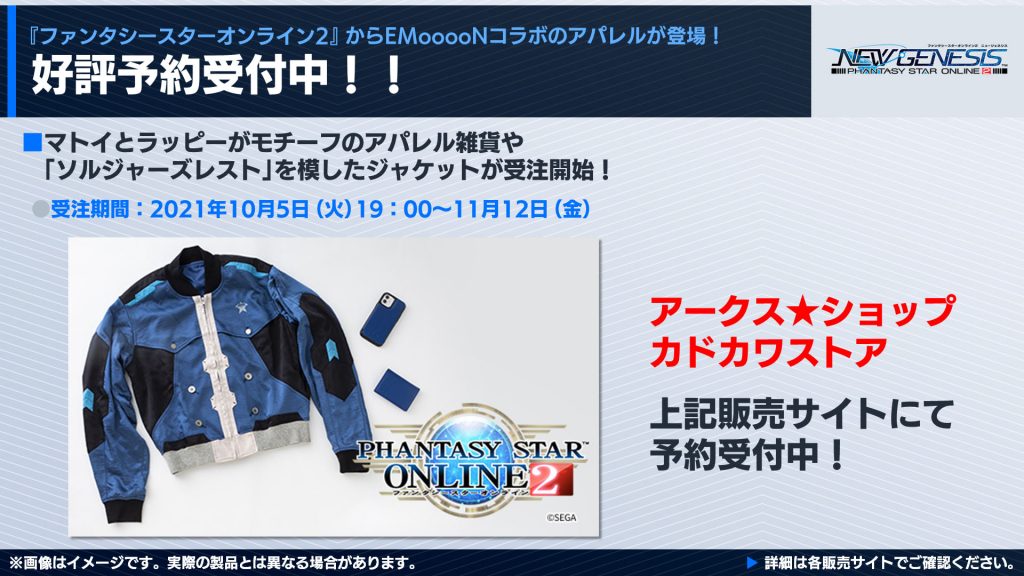 New Jacket And Apparel (JP Only)
New physical items will be available online to purchase.
The Arks Shop will begin selling the "Soldier's Rest" Jacket and other apparel!
This is a collaboration between EMooooN and PSO2!
Order deadline is November 12th.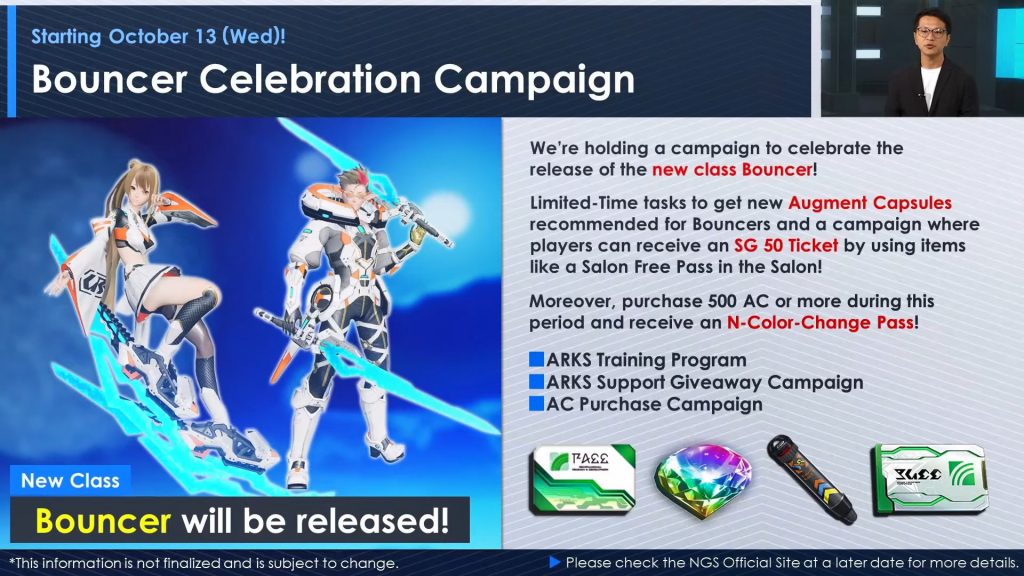 Bouncer Celebration Campaign (Oct 13~)
Limited-Time Tasks will reward an ability capsule that increases power to Striking and Tech.
The Arks Support Giveaway Campaign will reward you with items such as a Free Salon Pass.

Using the Free Salon Pass will net you a SG 50 Ticket.

The AC Purchase Campaign will reward you with the N-Color Change Pass.
9 Million ARKS Campaign
Say the following phrase, (based on your version), using the in-game chat to receive a 100 SG Ticket

Gアークスおめでとう

Congrats_9M_ARKS
Mission Pass Release Campaign
Receive a N-Mission Pass Gold when you log in between maintenances from Oct 13 ~ Nov 03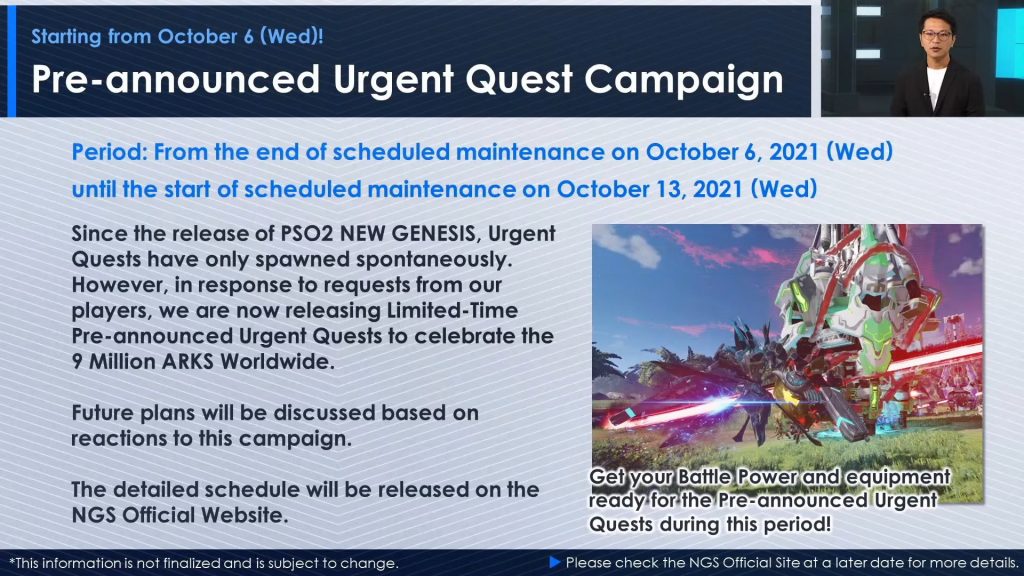 Pre-Scheduled Emergency Quests
Emergency Quests will be announced ahead of time for a limited time.
Future plans for EQ Schedules will be discussed based on player feedback from this campaign.
The schedule will be posted on the official website and on Google Calendar format on this website.
New Region: Retem 「リテム」
Desert Region