Notice
This post is updating in real time. Contents are subject to change.
November Update
Halloween Update #2, Attack on Titan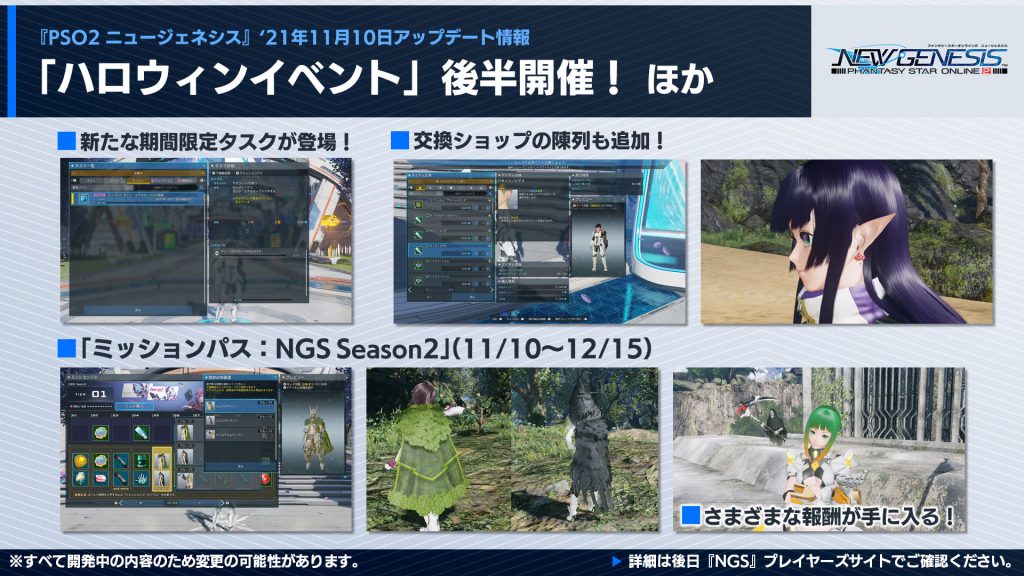 Halloween Event Part 2 (11.10)
Seasonal Enemies appear on Mt Magnus or Vanford Ruins.
Updated Exchange Shop lineup.
Season 2 (November 10th ~ December 15th)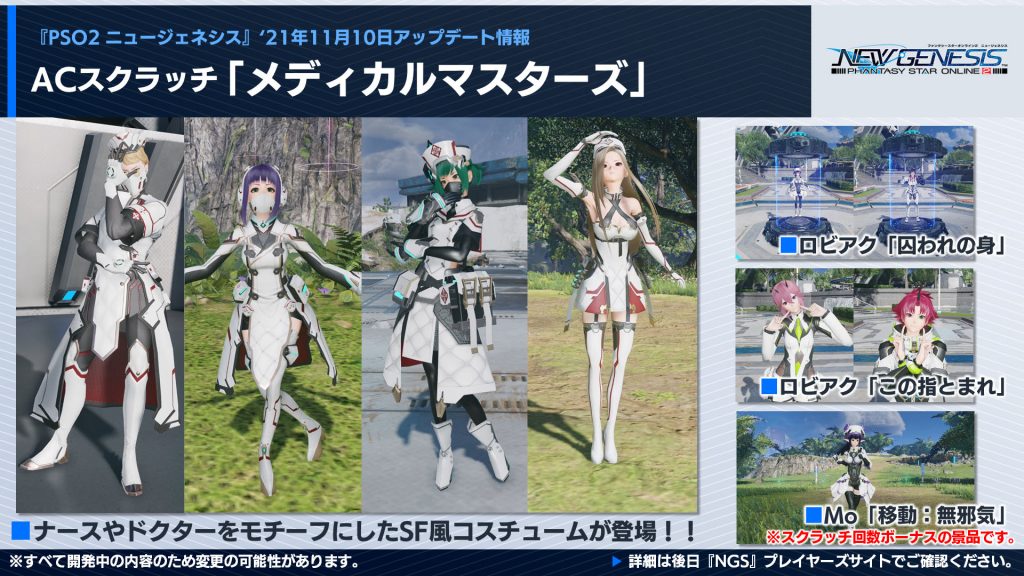 AC Scratch Medical Masters (11.10)
Nurse and Doctor sci-fi themed outfits.
Lobby Actions: Captured, Wait a Minute.
Motion: Move – Innocent (Scratch Bonus)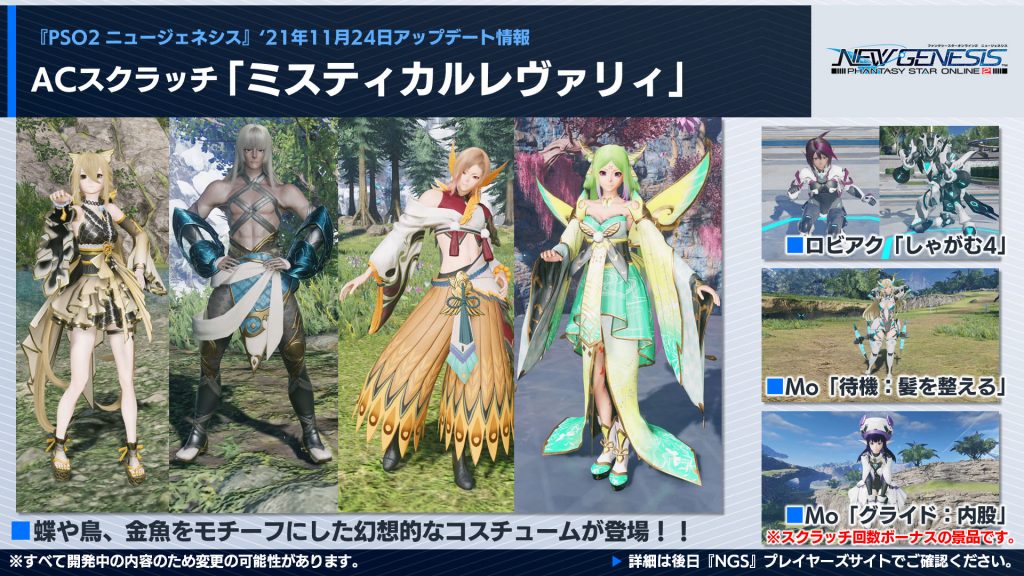 AC Scratch Mystical Revelry (11.24)
Butterfly, bird, and goldfish phantastical themed outfits.
Lobby actions: Crouch 4. Motion: Idle -Fixing Hair
Motion: Glide – Dainty Drift (Scratch Bonus)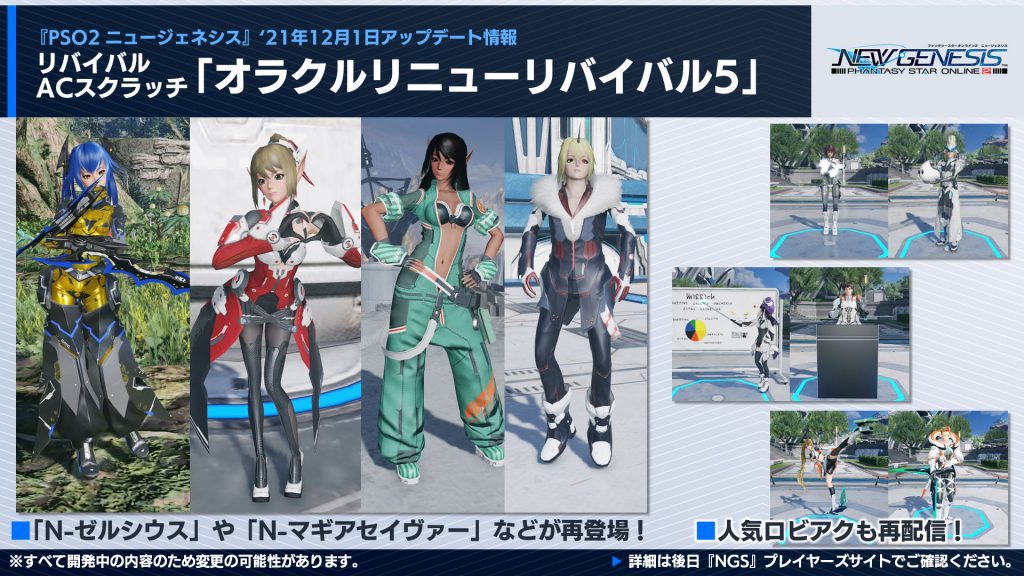 AC Scratch: Oracle Renewal Revival 5 (12.01)
N-Zelsius and N-Magia Savior themed.
New Lobby Actions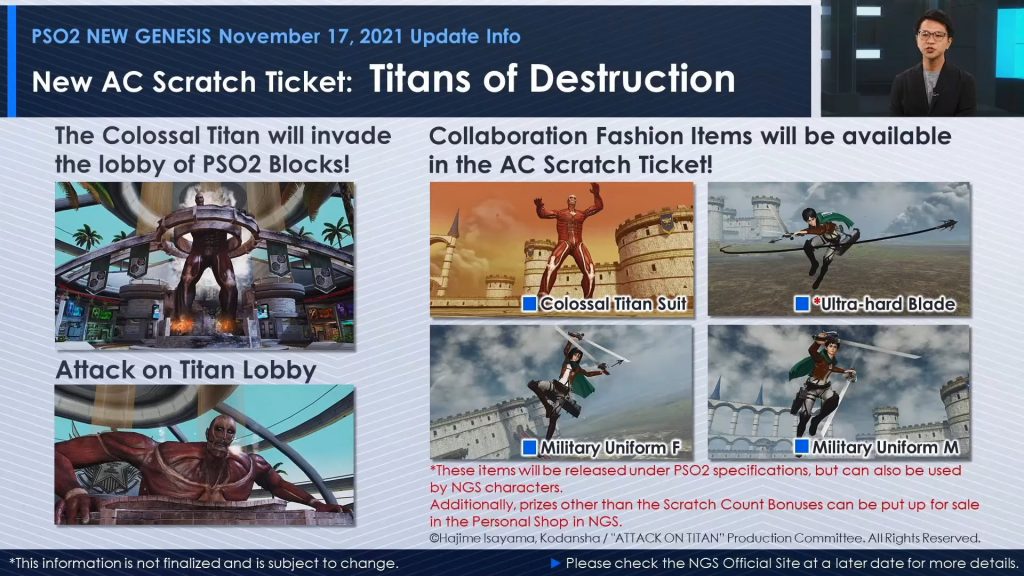 AC Scratch: Titans of Destruction (11.17)
Attack on Titan collaboration will appear!
Attack on Titan Lobby in PSO2 Blocks.
Collaboration Outfits in AC Scratch. (All PSO2 Spec)

Colossal Titan Suit
*Ultra-Hard Blade
Military Uniform F and M
December Update
Retem Region, New Characters, Skills, & Elements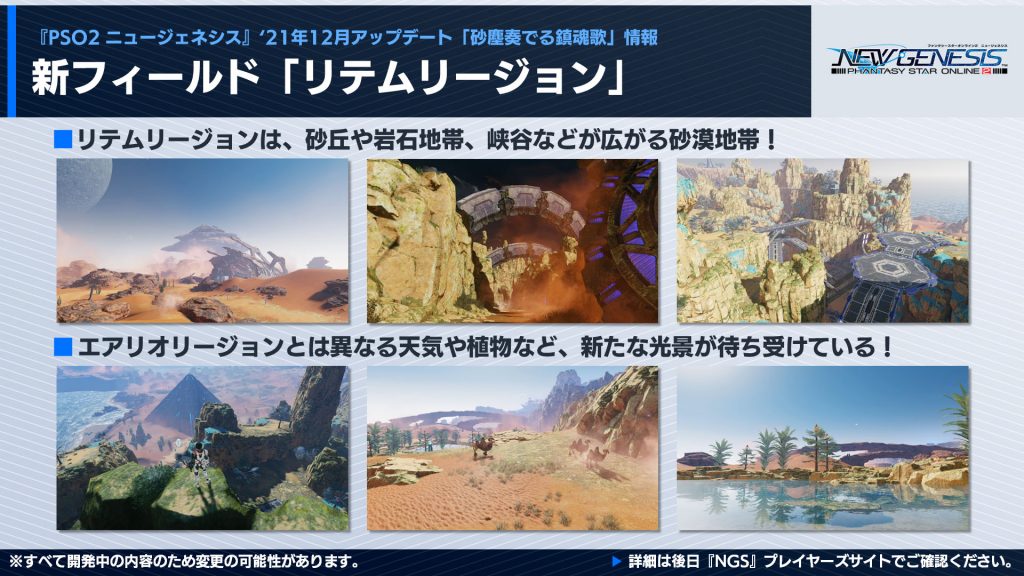 New Region: Retem
Retem Region is a desert region with sand dunes, rocky terrains, and canyons.
It features different weather and plants from the Aelio region.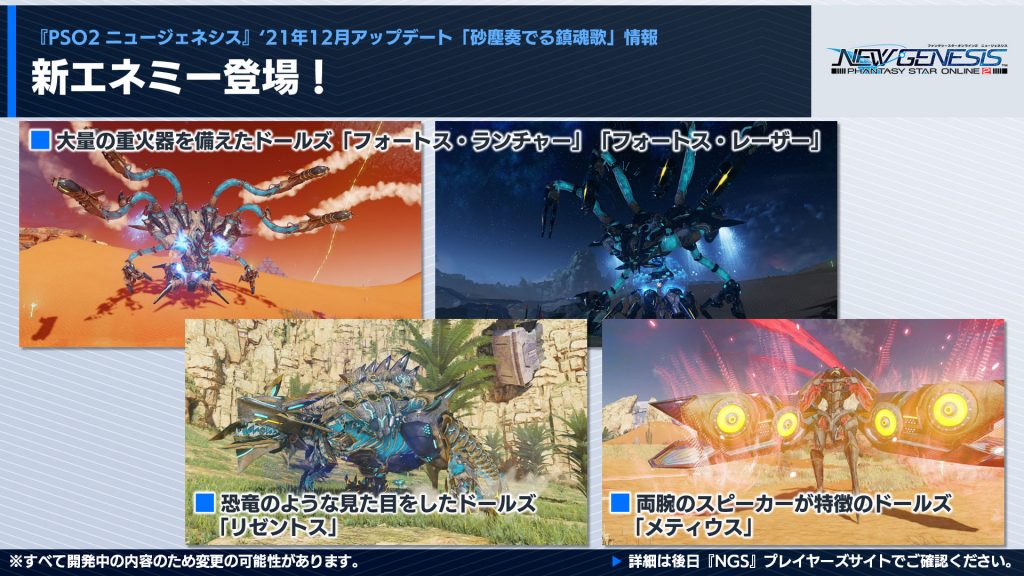 New Enemies
Fortos Launcher and Fortos Laser are new Dolls bosses with heavy artillery.
Fortos Launcher launches missiles while Fortos Laser shoots lasers.
Lizentos is a dinosaur Dolls boss.
Metius launches sonar wave attacks and has speakers on both arms to cheer on allies.
Story Chapter 2
Crawford will request the Player, Aina, and Manon to head to the Retem Region.
ARKS in this region live in Retem City where the story will unfold.
You must complete Chapter 1 of the story to proceed to the Retem Region!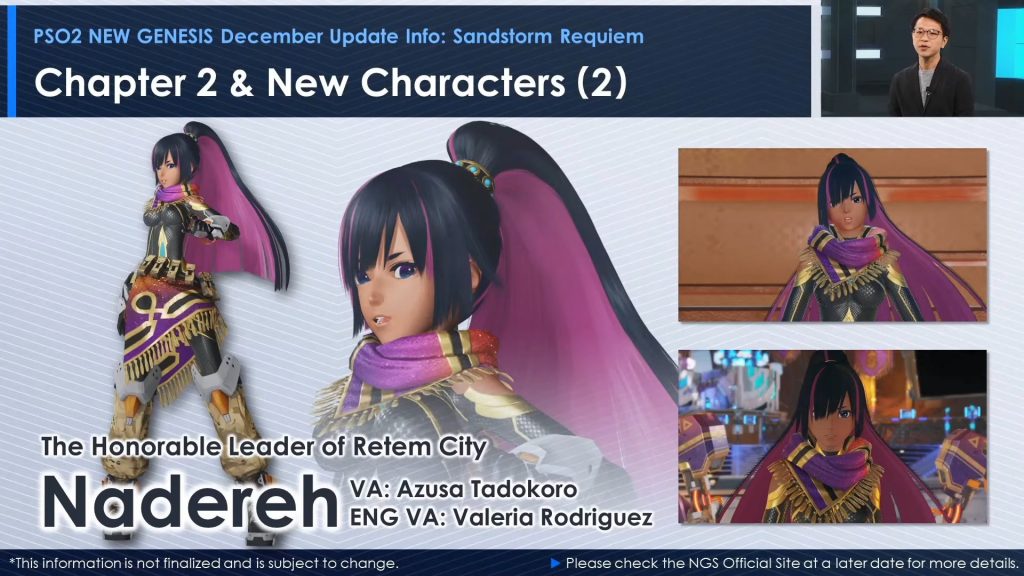 New Character
Nadereh ナーデレフ is voiced by: Azusa Tadokoro / Valeria Rodriguez
Nadereh is the honorable leader of Retem City.
She has a stoic personality and is the most proficient warrior.
She is self disciplined and always continuing to improve herself.
She is a 24 year old human.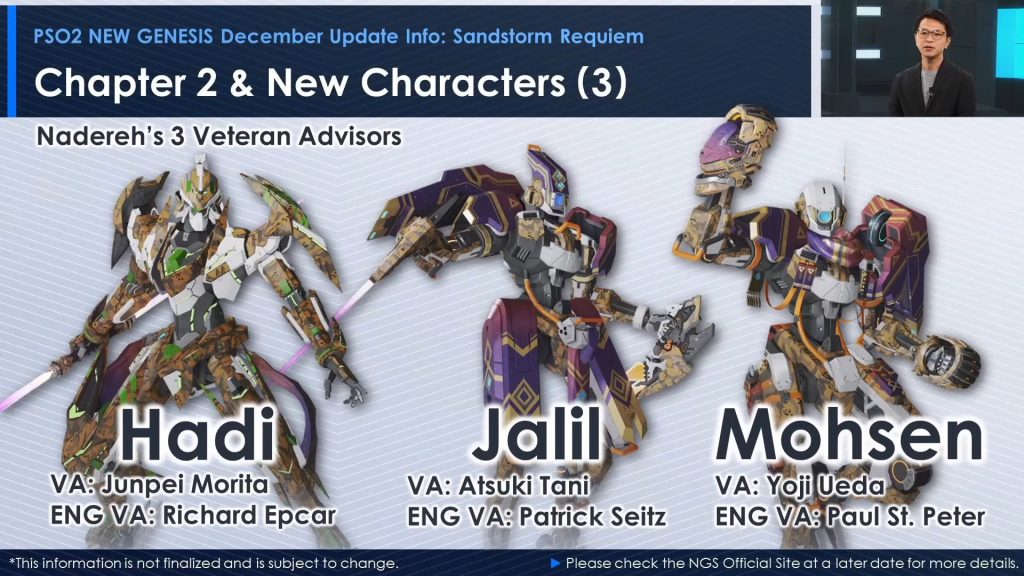 New Characters
Nadereh's 3 Veteran Advisors.

Hadi ハーディ(Junpei Morita / Richard Epcar)
Jalil ジャリル (Atsuki Tani / Patrick Seitz)
Mohsen モフセン (Yoji Ueda / Paul St. Peter)

The three are veteran ARKS who've protected Retem City for a long time.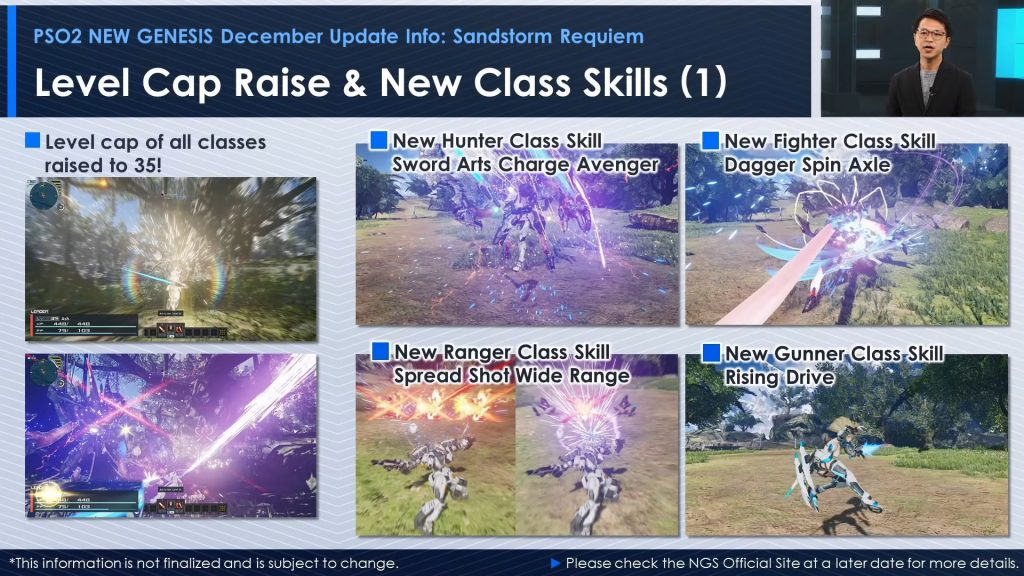 Level Cap Increase
The Level Cap will be raised to 35!
New Class Skills
Hunter: Sword Arts Charge Avenger

If an enemy attacks you while you're further charging the attack after the sword's PA is completely charged, the PA will automatically activate in response to the attack.

Fighter: Dagger Spin Axle

Enables the usage of Twin Dagger's skill "Acceleration Drive" to activate even after using a weapon action.

Ranger: Spread Shot Wide Range

Enables the Assault Rifle's skill "Spread Shot" to hit as an AoE attack.

Gunner: Rising Drive

Performing a normal attack after the TMG's weapon action will cause you to rise while attacking.
More Class Skills
Force: Technique Domination

Increases damage dealt to Downed enemies.

Techter: Overemphasis

Recovers both HP & PP for both you and your party.
It also temporarily rasises the max PP.

Braver: Brave Spirit

Successfully [Gaurding] with a Katana or [Evading] with a Bullet Bow will cause you to temporarily experience increased power for normal attacks / weapon action counters, with increased amount of PP recovery.

Bouncer: Blade Arts Parry

Performing a weapon action during a Dual Blade PA will allow you to guard against enemy attacks without interrupting the PA.
New Tranias
Various Trania quests will be scattered across the region.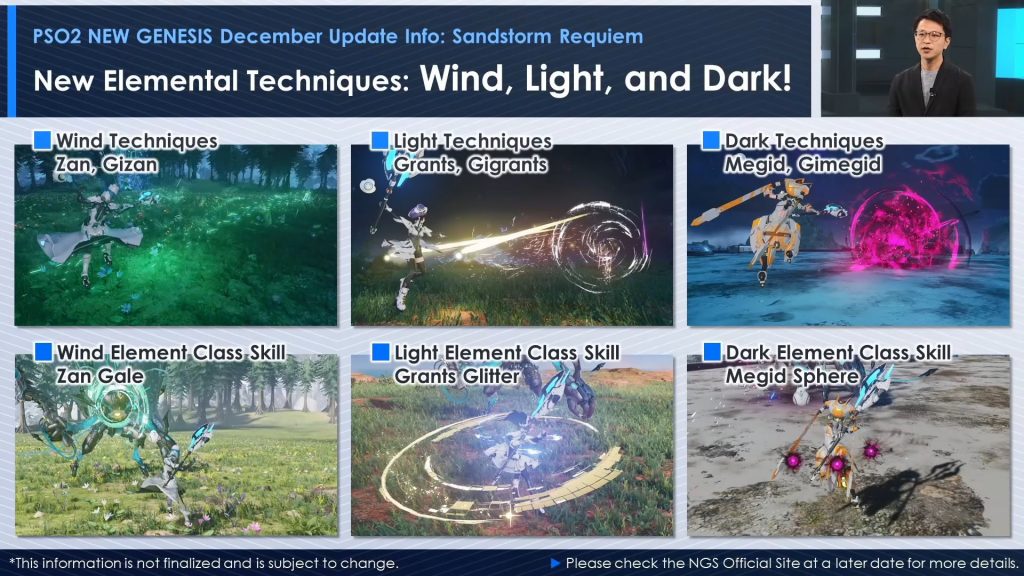 Wind Techs (Zan, Gizan) & Skill: Zan Gale
Hitting an enemy with an uncharged Wind Tech will result in a wind effect on the enemy. Hitting them with a charged Wind Tech will result in different follow-up attacks based on which Wind tech was used.
Light Techs (Grants, Gigrants) & Skill: Grants Glitter
Hitting an enemy with Light Techs multiple times will activate a temporary boost effect on your character. During this effect, using a Light Technic will trigger a follow-up attack.
Dark Techs (Megid, Gimegid) & Skill Megid Sphere
Hitting an enemy with uncharged Dark Techs will stock up to three Dark element effects behind you. Using a charged Dark Technique will consume all of the stock, and boost the power of that tech accordingly.
Title System
Release and Changes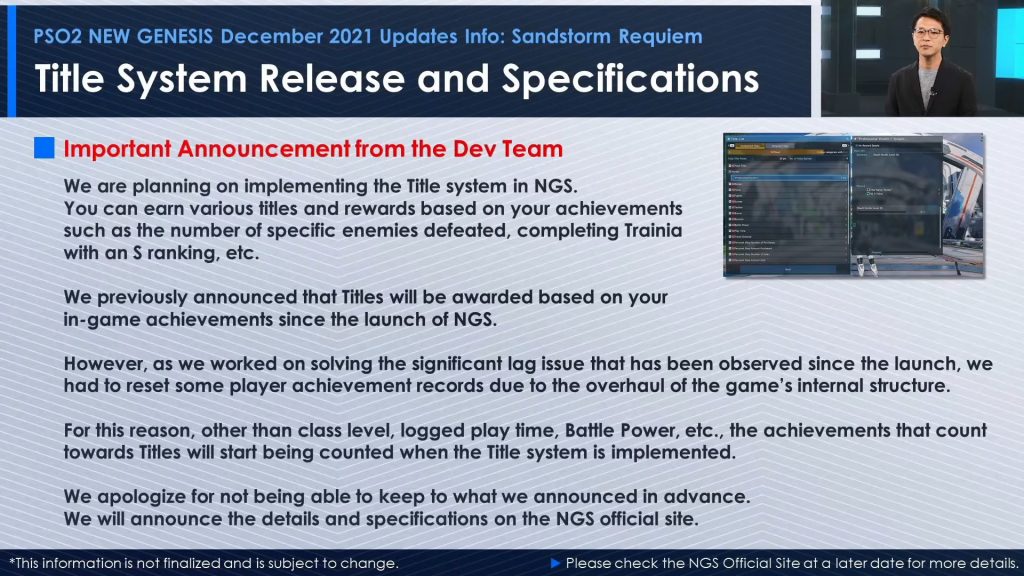 The Title System will finally be implemented into New Genesis. You can earn various Titles and rewards by completing objectives such as the number of specific enemies defeated, or by completing a Trania quest with an S rank, among other things.
Unfortunately, while working on solving the lag issue that's been observed since the launch of the game, they had to reset the player achievement records due to an overhaul of the game's internal structure.
Therefore, other than class level, play time, and battle power, etc., player achievements that count towards Titles will start being counted when the Title system is implemented.
They apologize for not being able to keep what was announced beforehand.
Arks Operation Report
Question and Answer Session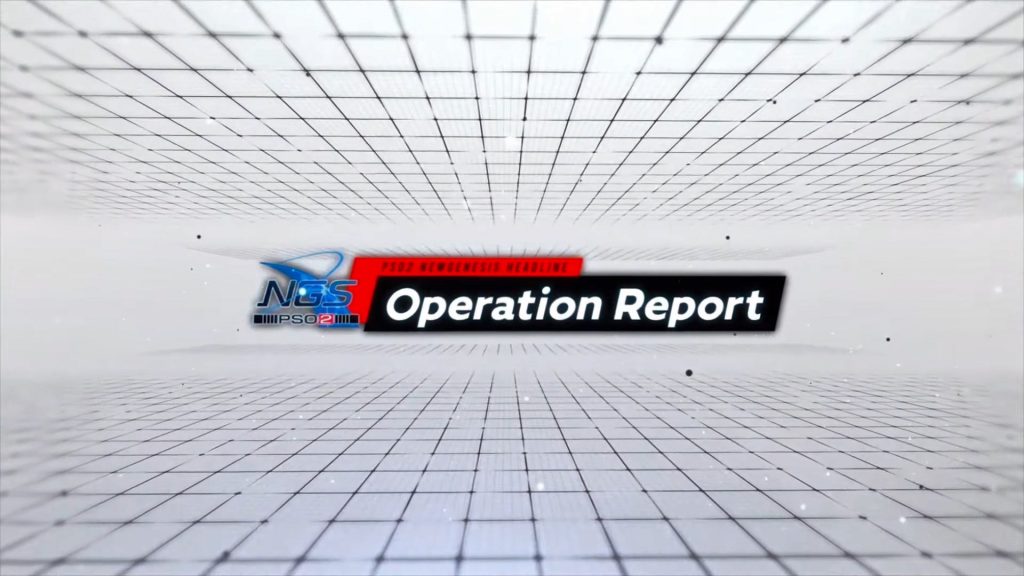 Due to bugs, some Outfits have visual issues when equipped. When will this be fixed?
The dev team apologizes for the inconvenience caused by this bug. We also want to apologize for the amount of time it has taken to handle it. In the October 13th update, we fixed the issue where outfits released in PSO2 looked different to the other players when worn. If a new bug is discovered in the future, the dev team will make an announcement before proceeding with fixing the issue. In a case like this where a bug only occurs under very specific circumstances, it can be difficult for the team to reproduce the bug and narrow down the conditions under which it occurs. That is why it can take a while for the fix to rollout. It would be a great help for the dev team if everyone who encounters an issue in game could write a detailed message to Customer Support, including how and when it occurred. We appreciate your help with this as it helps us resolve issues faster.
How are improvements to lag coming along?
The dev team sincerely apologizes to anyone who is experiencing lag. We made improvements to this issue during the update on September 29th. That being said, there may still be instances in which lag occurs for a short time. The dev team will continue to investigate and address this issue.
The PSe Gauge is hard to build up. Please improve this.
The dev team agrees that the PSE Gauge currently has some balancing issues. Therefore, the balance will be adjusted in the December update so that the PSE Burst will be easier to achieve. Since it will be easier to fill the PSE Gauge, you'll be able to enjoy a higher rate of PSE Bursts than before.
Please include all of the Urgent Quests in the schedule
when you have Pre-announced Urgent Quests.
Live Ops has received a lot of feedback from you on the pre-announcement Urgent Quests that were rolled out as part of the campaign on October 6th. Since opinions were split on whether or not we should keep pre-announced Urgent Quests, we decided to roll them out in limited-time campaigns rather than having them regularly. In the future, we're planning campaigns that include multiple pre-announced Urgent Quests. We will announce the dates and times on the official site and other platforms.
Why did you implement a cost system for Motion Changes?
We sincerely apologize for not announcing this in advance and for any trouble that this has caused. We implemented this system to prevent issues with memory capacity that could occur when combinations are made with future motion changes that will have even more spectacular graphics. We understand that this is inconvenient, but the ultimate goal is to improve the game experience, so we ask for your understanding. Let me add, that the cost of two or higher for motion changes that were released before this spec change was determined to be too high and the cost was changed to one. They plan to address the memory capacity issue caused by this change by adjusting the content of future motion changes.
Please increase the Premium Set perks.
The dev team also feels that the limited number of perks in the Premium Set is a problem. Starting with Mission Pass NGS – Season 3, which will be released in an update in December, having an active Premium Set means you will also have the benefits of N-Mission Pass Gold. We will continue reviewing and improving the Premium Set perks.
I want to see ARKS IDs from PSO2 implemented in NGS.
The dev team plans to implement ARKS IDs in NGS as well. We are considering what specifications to use so that our players can enjoy the game even more. We're aiming to release it in a February update. ARKS IDs are likely to be linked with the Title system, which will be released in December.
Merchandise and Campaigns
Retem Campaign, Survey, Secret Phrase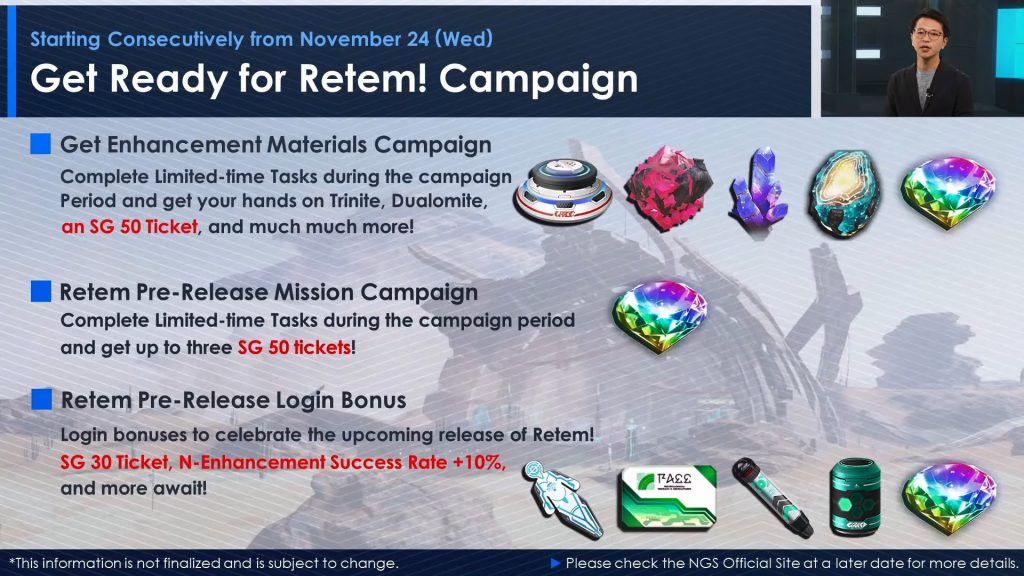 Let's Get Ready for Retem! Campaign (11.24~)
Get Grinding Materials Campaign
Complete Limited-time tasks to receive Trinite, Dualomite, and a 50 Star Gem Ticket
Retem Pre-Release Mission Campaign
Complete Limited-Time tasks during the campaign period to receive up to three 50 Star Gem Tickets!
Retem Pre-Release Login Bonus
Login bonuses will deliver 30 Star Gem Ticket, N-Grind Success +10% and more!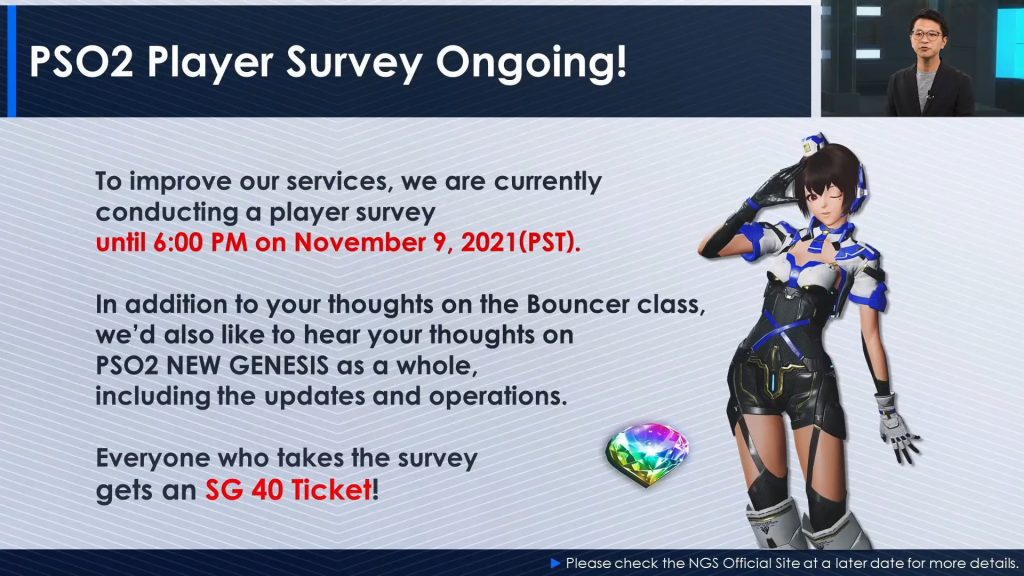 PSO2 Player Survey
Did you know you can doompost in the survey and get 40 Star Gems?
There's a survey for both Japan and Global servers!
ZUTOMAYO × PSO2 Collaboration
Enter the secret phrase in chat to receive the [775: No Border] Lobby Action!
Japan Players:

NOBORDER

Global Players:

NOBORDER
You have until December 31st @ 00:00 AM JST to complete this task!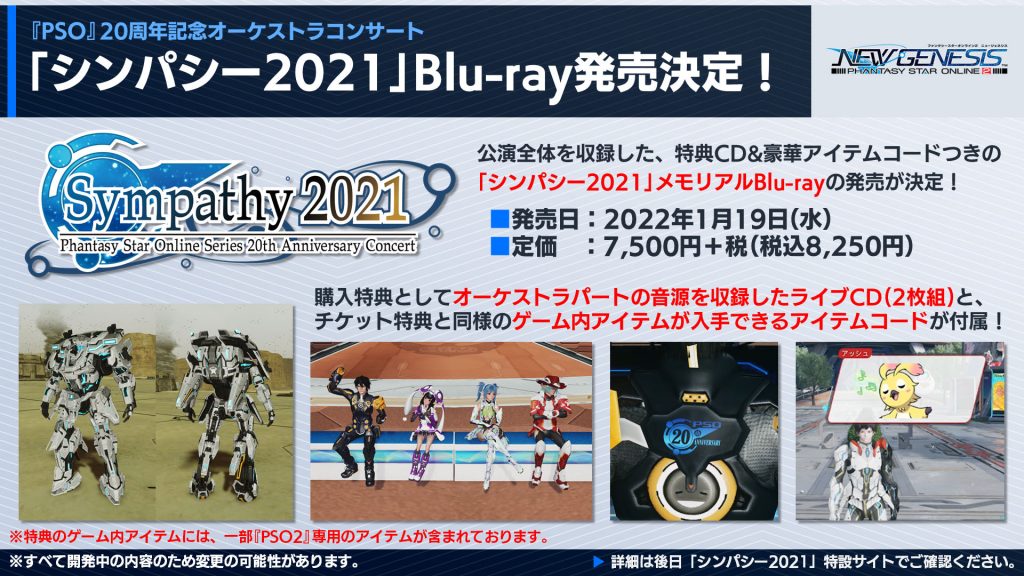 Sympathy 2021 Blu-Ray
Sympathy 2021 Blu-Ray [JP Only]
Release Date: Jan 19 2022
Price: 7,500 Yen
Contents: 2 CD Set With Item Code Bonuses
Next NGS Headline
December 7th