Notice
This post is updating in real time. Contents are subject to change.
December 15th Update
Retem Desert, QoL Changes, Emergency Quest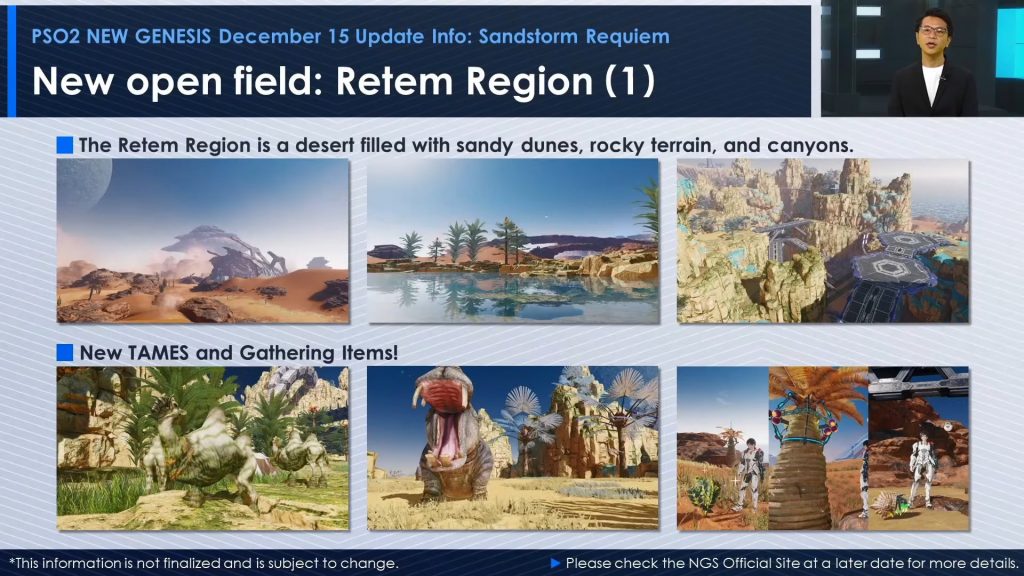 Retem Region
The Retem Region is filled with sandy dunes, rocky terrains, and canyons.
There will be new Tames and Gathering items.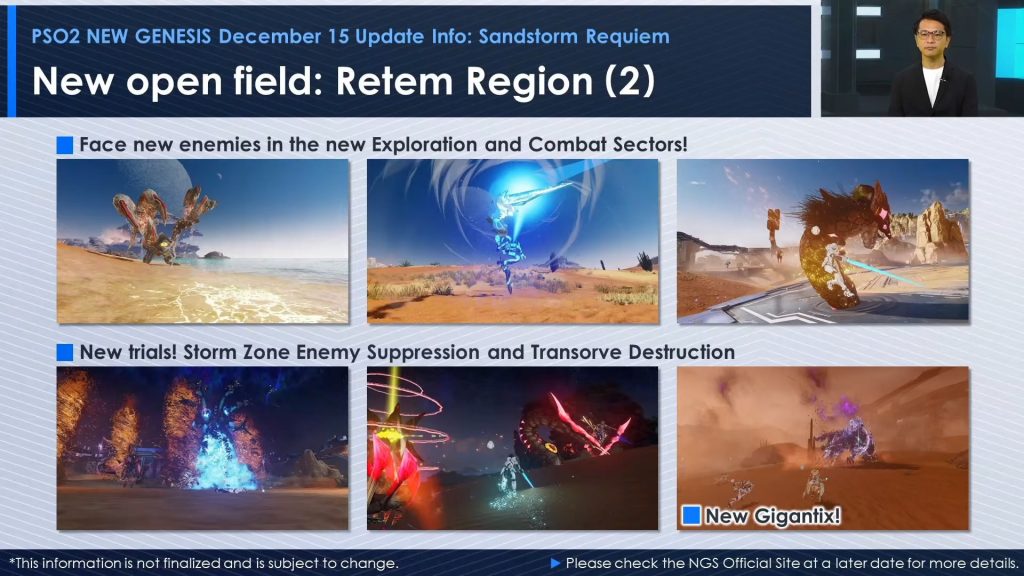 Retem Region
New Enemies will appear in Exploration and Combat sectors.
New Trial: Storm Zone Enemy Suppression

Arks will fight during many tornadoes

New Trial: Transorve Destruction
General Changes
PSE Level is less likely to go down in Combat Sectors
Timing of thunderstorms in Exploration Sectors will be adjusted. This will reduce cases where there are no thunderstorms for long periods of time.
New Features
Level Cap 35
New Skills for all Classes
New Wind, Light, and Dark Technics
New ★5 Rarity Weapons

Three new weapon series will drop in the Retem Region, plus a series of weapons will drop from certain enemies. Color variations will also be available. Potentials for these weapons will be unlocked by gathering materials found in Retem.

New ★5 Rarity Armors

Some will drop from enemies in Retem Region, and some from protected containers.

New Special Abilities

Special Abilities in Retem will make it easier to increase your HP.
Some Special Abilities can be found at the Capsule exchange in the Item lab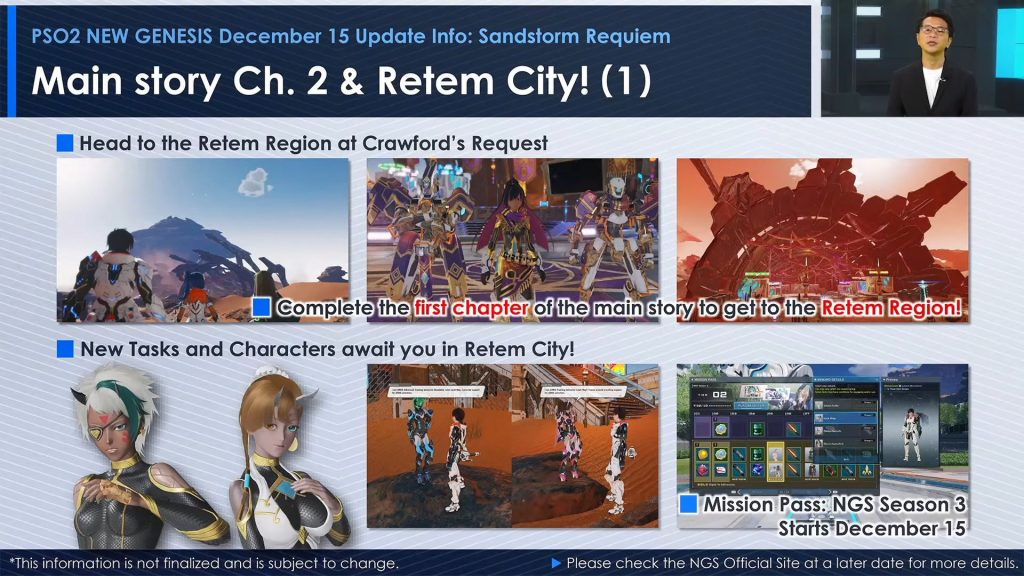 Story Chapter 2
Complete the first chapter of the story to get access to Retem
New Tasks will be available from Retem City NPCs.
Two Instructor NPCs will give new types of Tasks

Leah May: Good for leveling up your character. (Repeatable every week)
Ronaldine: Good for Advanced Users. Unlocks alongside the high rank sectors in Retem. These get more difficult as you go along. (Only available for a short time.)

Third Mission Pass

New Mag Form, Stamp, Accessories
Personal Shop 3 Days, N-Color Change Pass
General Changes
N-Mission Pass Gold will apply automatically while Premium Set is active.
Premium Set will allow up to 40 Side Tasks.
Story Chapter 2
Nadereh and her 3 advisors: Hadi, Jalil, and Mohsen.
The key to this second chapter is a song.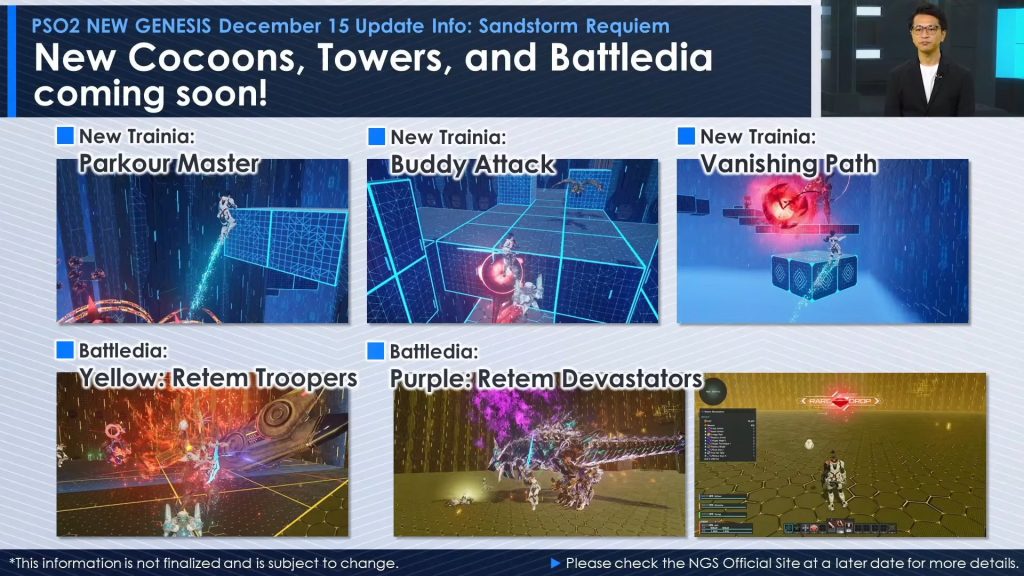 New Cocoons, Towers, and Battledia
Complete Trania to earn Skill Points!
New Trania: Parkour Master, Buddy Attack, Vanishing Path
Battledia Yellow: Retem Troopers

Gain grinding materials and large amounts of EXP!

Battledia Purple: Retem Devastators

Test skills against a series of Gigantix.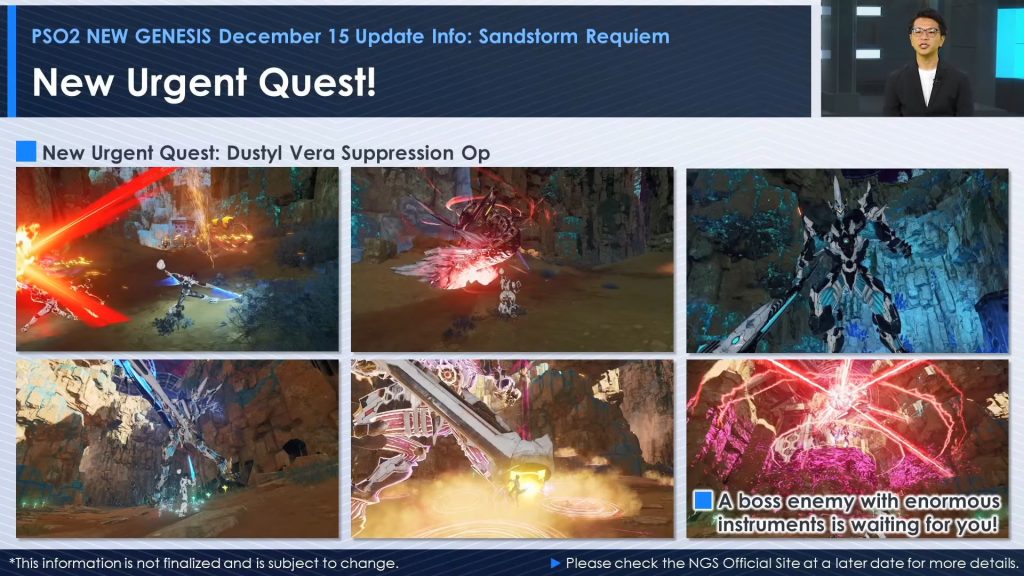 New Urgent Quest
Dustyl Vera Suppression Op

Battle through hordes of enemies attacking through the canyon.
Get the upperhand in battle with the Omega Punisher which explodes once you hit it.
General Info
With the release of Retem, Emergency Quests will occur simultaneously in both Retem and Aelio.

You can only complete one Emergency Quest at a time, so choose wisely.

You'll need to transfer to the Region for the EQ you wish to play.
In a future update, they'll add the ability to accept an EQ in other regions.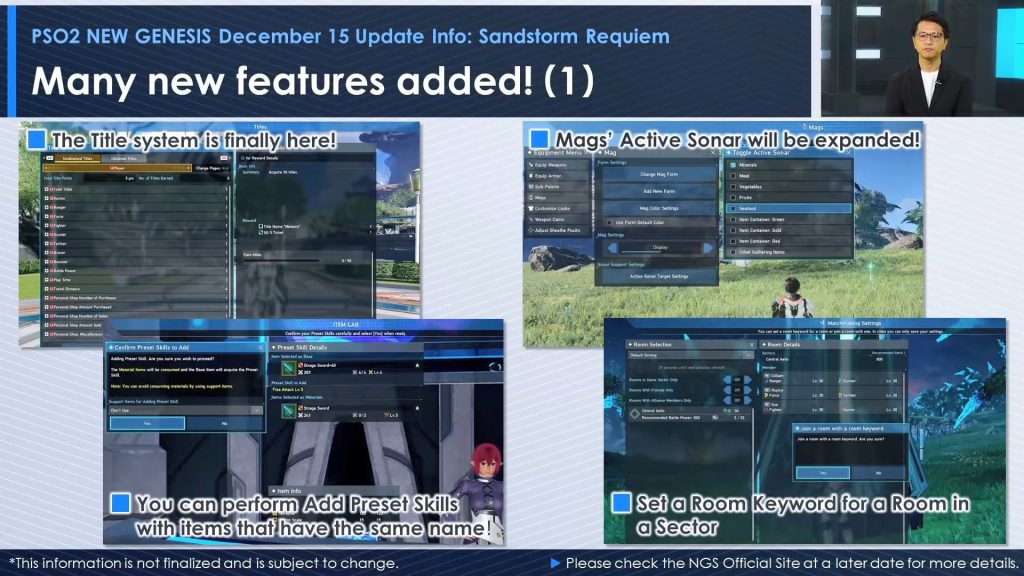 New Features
Title System will be implemented. You'll get star gems and sometimes other items.
Mag Sonar Support will allow you to discover items and materials.

Meat, Vegetables, Fruit, Seafood.
Item Container: Green, Gold, Red.
Other Gathering Materials.

You can add Preset Skills with items that have the same name.

This feature will add or overwrite preset skills.
An item of the same name with a Preset Skill will be used as material.
Room Matchmaking Settings
You can make rooms that have a keyword (password) to limit who can enter.
At the Ryuker Device, you can enter the keyword for the room you wish to enter.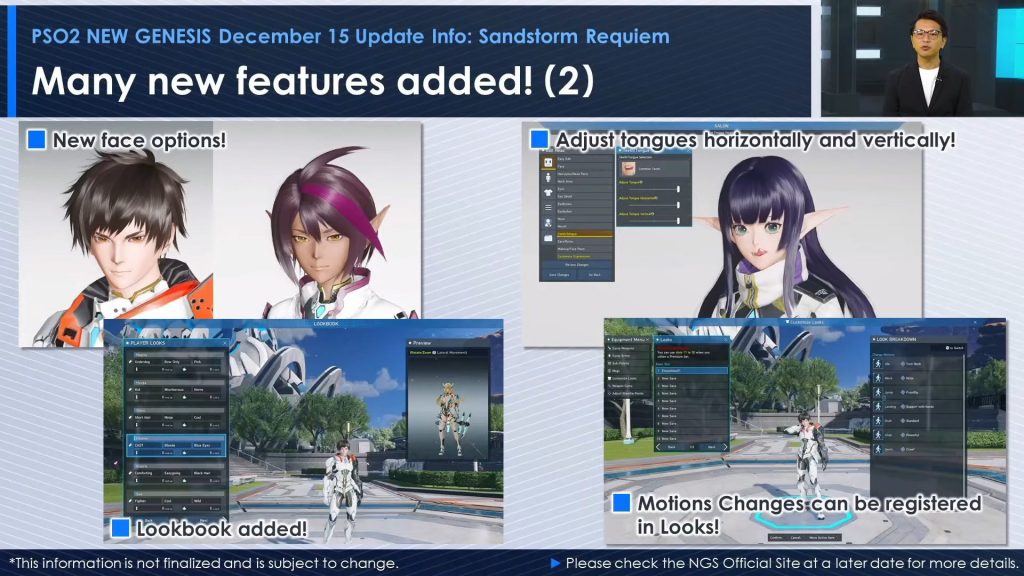 New Features
Two new face options will be added and are available at the start of the game.
You can now adjust the tongue horizontally and vertically.
The Fashion Catalogue from Base PSO2 will be coming to NGS.
You can register your looks and bookmark other players.
Motion Changes can also be registered!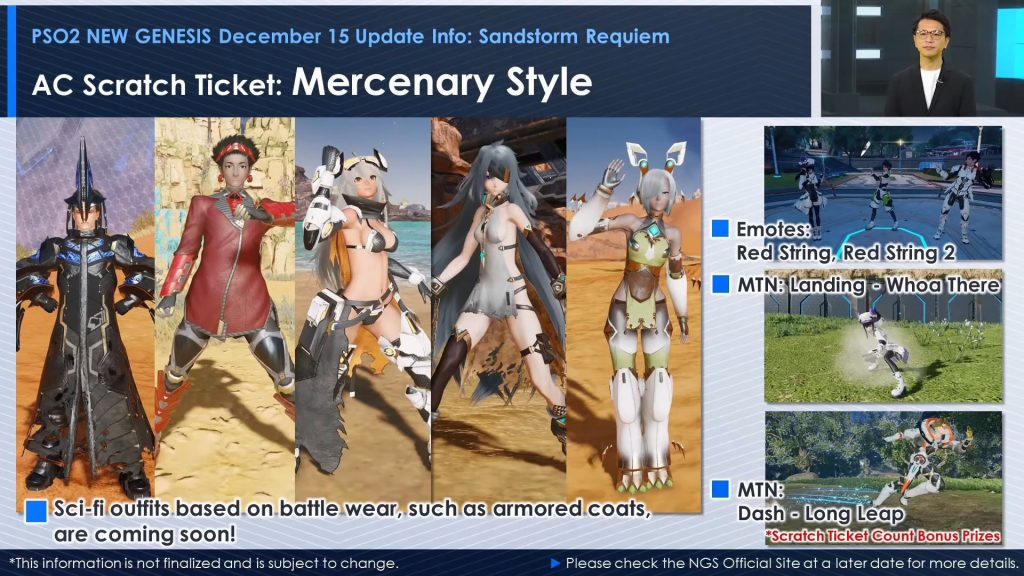 AC Scratch: Mercenary Style
Sci-fi outfits such as bikini armor and armored coats based on battlegear.
Lobby Actions: Red String 1 & 2, Motion: Landing – Woah There
Scratch Bonus: Motion: Dash – Long Leap
December 22nd Update
Christmas Update, World Trials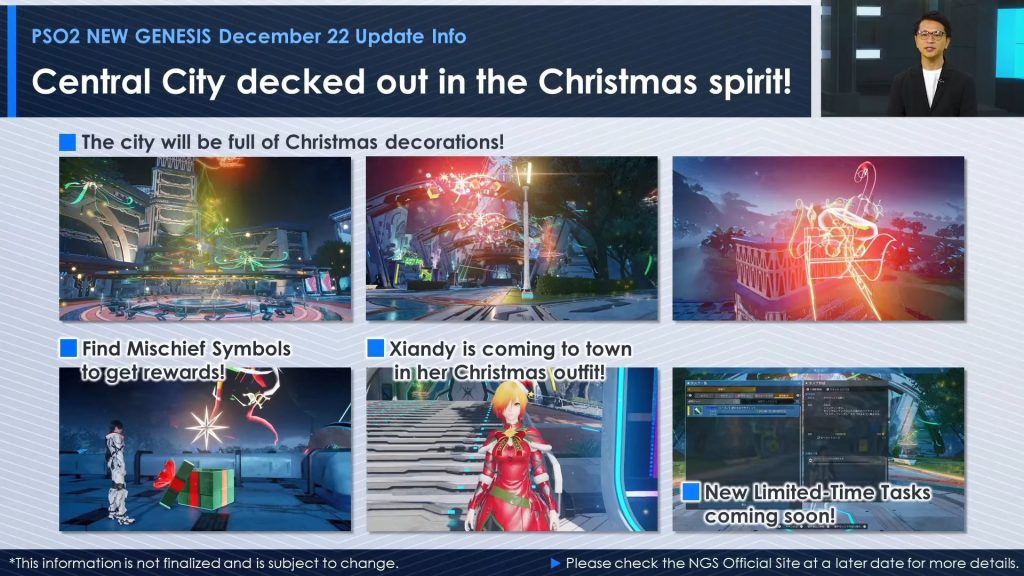 Christmas Event
Central City will be decorated with Christmas decorations.
Find the Mischief Symbols to receive rewards
Xiandy will wear her Christmas Outfit.
New Limited-Tasks will be available.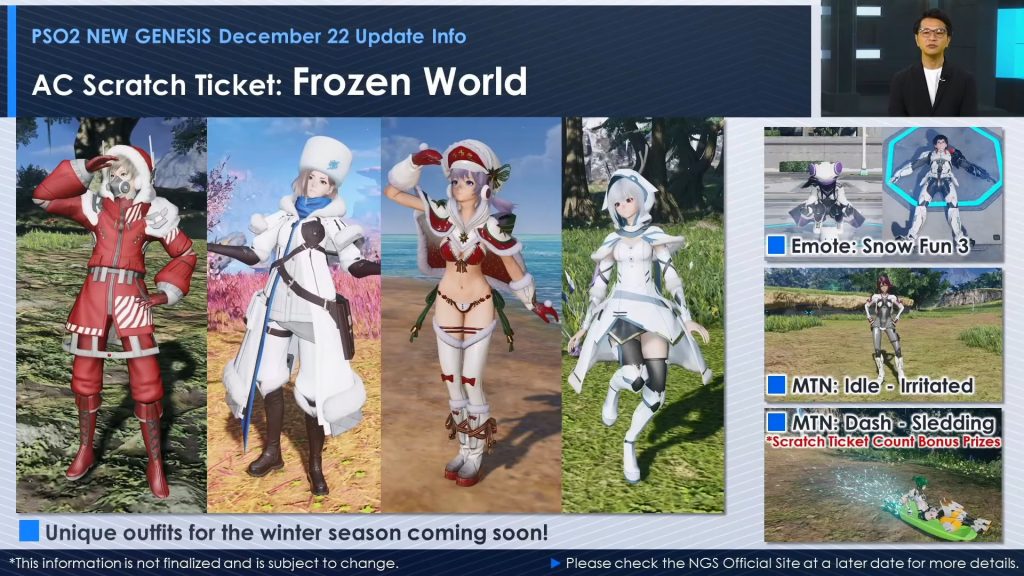 Frozen World (AC Scratch)
Winter themed outfits and Christmas themed sexy swimwear.
Lobby Actions: Snow Fun 3, Motion: Idle – Irritated
Scratch Bonus: Motion: Dash – Sledding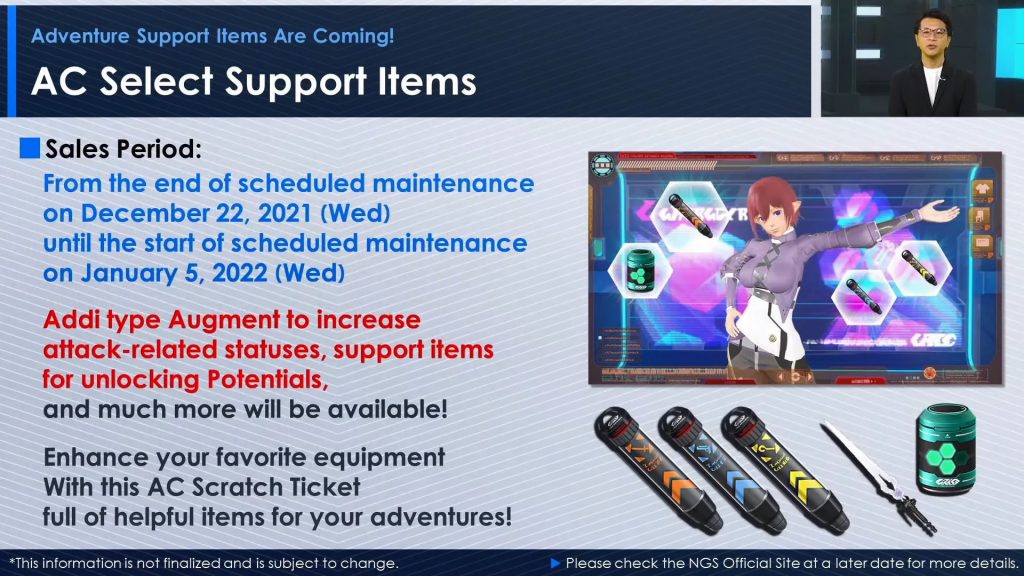 AC Support Item Selection Scratch
Period: Dec 22 ~ Jan 5
New [Addi] type abilities will increase attack-related stats.
In addition, there's also support items used for unlocking Potentials.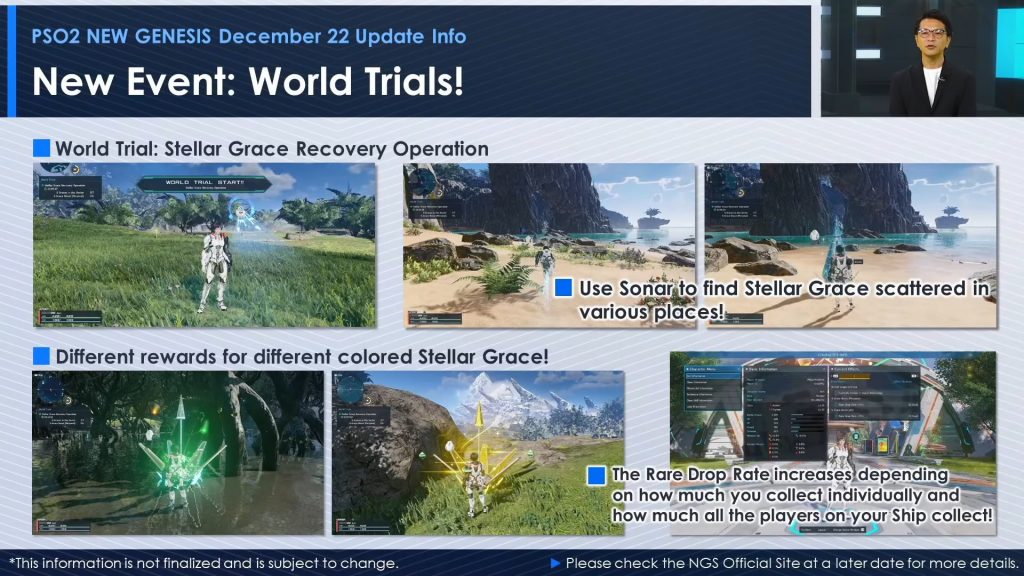 New Event: World Trial
These are large-scale interrupt events that occur on all ships!
World Trials span multiple sectors for an extended period of time.
World Trial: Stellar Grace Recovery Operation

Collect as many Stellar Grace within the time limit.
Stellar Grace comes in 3 different colors, the gold and silver ones have better rewards.

Rare Drop Boosts will apply based on the amount of items collected individually, as well as, the amount of items collected by the entire ship.
Personal boosts will activate during the World Trial, and will stay in effect for 24 hours after the Trial ends.
Overall boosts will activate after the World Trial ends and stay active for 24 hours.
World Trials will be held according to a schedule announced in advance.
Emergency Quests will still occur during World Trials.
Campaigns & Merch
Prescheduled EQs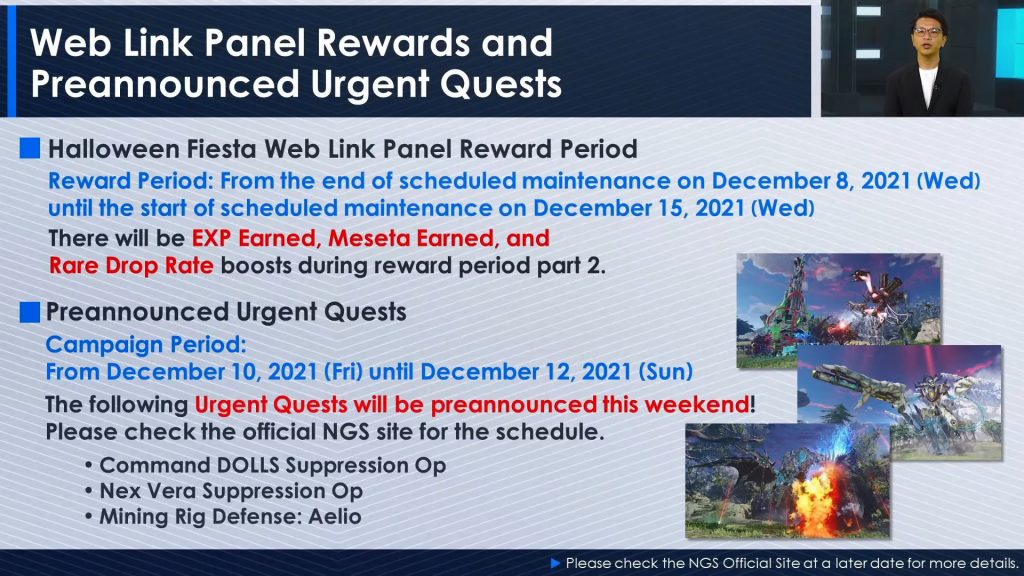 Preannounced Emergency Quests
December 10th ~ December 12th
Emergency Quests To Occur over the weekend

Command Dolls Suppression
Nex Vera Suppression
Mining Rig Defense

Schedule will be announced in the future.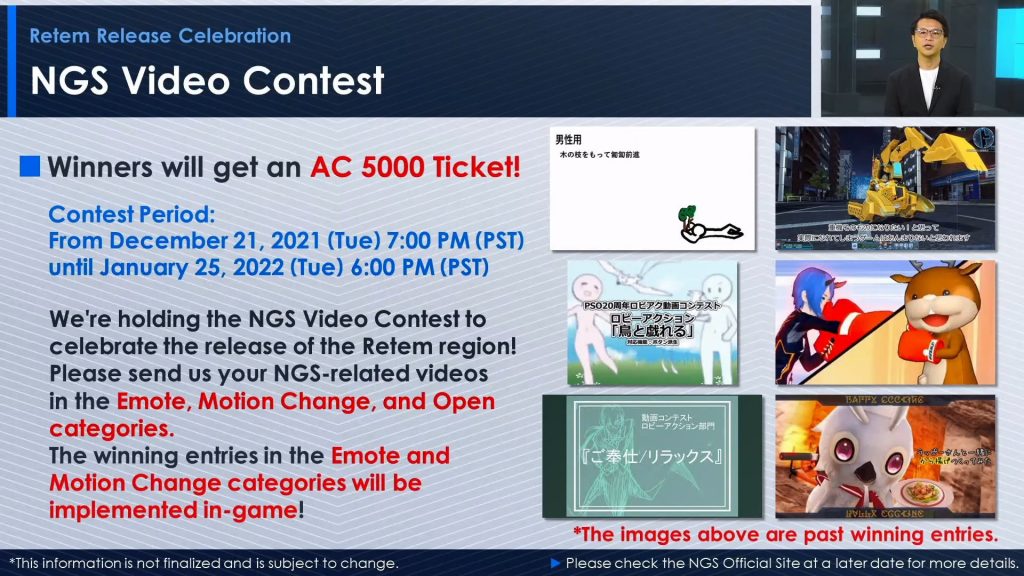 NGS Video Contest (Dec 21 ~ Jan 25)
Submit NGS-related video in the Lobby Action, Motion, and Open categories.
Winners get a 5000 AC Ticket, and have their Lobby Action / Motion implemented into the game!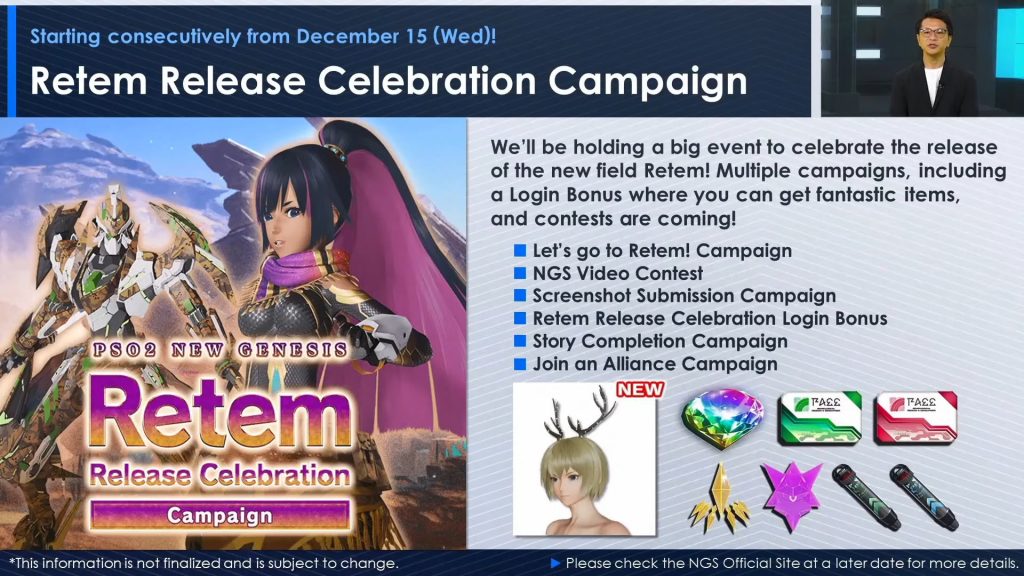 Retem Release Celebration (Dec 15~ )
Let's Go Retem! Campaign

Obtain SG and Battle Triggers by completing Limited Time Tasks.

NGS Video Contest
Screenshot Submission Campaign
Retem Release Celebration Login Bonus

Obtain Special Scratch Tickets and SG

Story Completion Campaign
Join an Team Campaign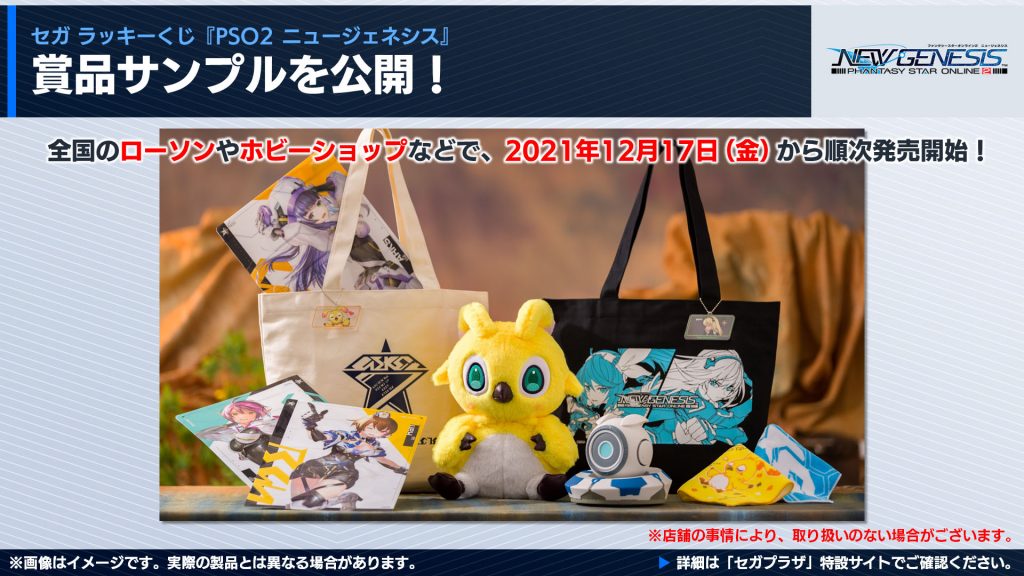 Sega Lucky Lottery [Japan Only]
Starting Dec 17th, Lawson and Hobby Shop will begin offering Sega Lucky Lottery New Genesis Prizes.
A: Rappy Plush
B: Region Mag Piggy Bank
C: Tote Bag
D: Acrylic Key Chain
E: Hand Towels
F: Plastic Sleeve & Mini Book Set
Lucky: Rappy Plush Goodnight ver
Sega Lucky Lottery [Japan Only]
Each prize comes with in-game items!
Fiery Dunes Retem Pack
熱砂のリテムパック
Fiery Dunes Retem (熱砂のリテムパック)
The pack will be sold as separate Type 1 and Type 2 content.

Type 1 (1,980 Yen / 1980 AC / $19.99)

Type 2 (1,980 Yen / 1980 AC / $19.99)

Each pack can be purchased once per store.

Global: Microsoft Store, Steam, Epic Games Store, AC Shop
Japan: PlayStation Store, Nintendo eShop, AC Shop

Pack contains useful items such as Premium Set 15 Days and more!
Beginner's Rappy Pack (初心者入門!ラッピーパック)
Contains Rappy themed cosmetic items, battle triggers, and N-Item Pack Expansion +10
General Info
The Start Dash Rappy Pack will be discontinued upon the release of the Beginner's Rappy Pack.
2022 Roadmap
High Rank Sectors, Super Challenging Quests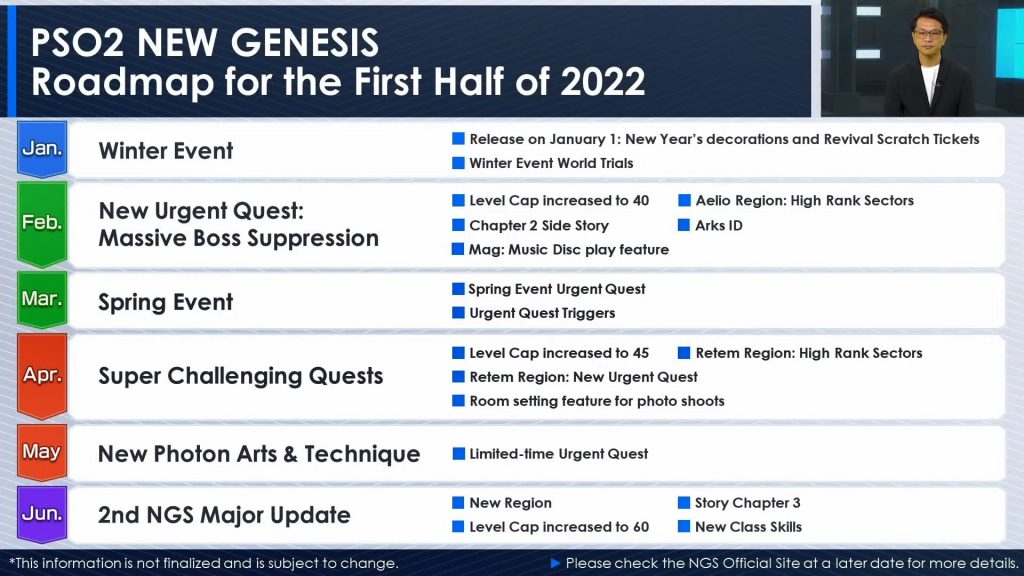 January Update
New Year's decorations and Revival Scratch Tickets
Winter Event World Trials
February Update
New Emergency Quest: Massive Boss
Level Cap Lv 40
Chapter 2: Side Story
Mag Music Disc Play Feature
Aelio Region: High Rank Sectors
ARKS ID
March Update
Spring event Urgent Quest
Emergency Quest Triggers
April Update
New Super Challenging Quests
Level Cap: Lv 45
Retem Region: New EQ
Retem Region: High Rank Sectors
Room Setting Feature for screenshots.
May Update
New Photon Arts and Techiques
New Limited-Time Emergency Quests
June Update
2nd Major NGS Update
New Region
Level Cap: Lv 60
Story Chapter 3
New Skills
Arks Operation Report
Question and Answer Session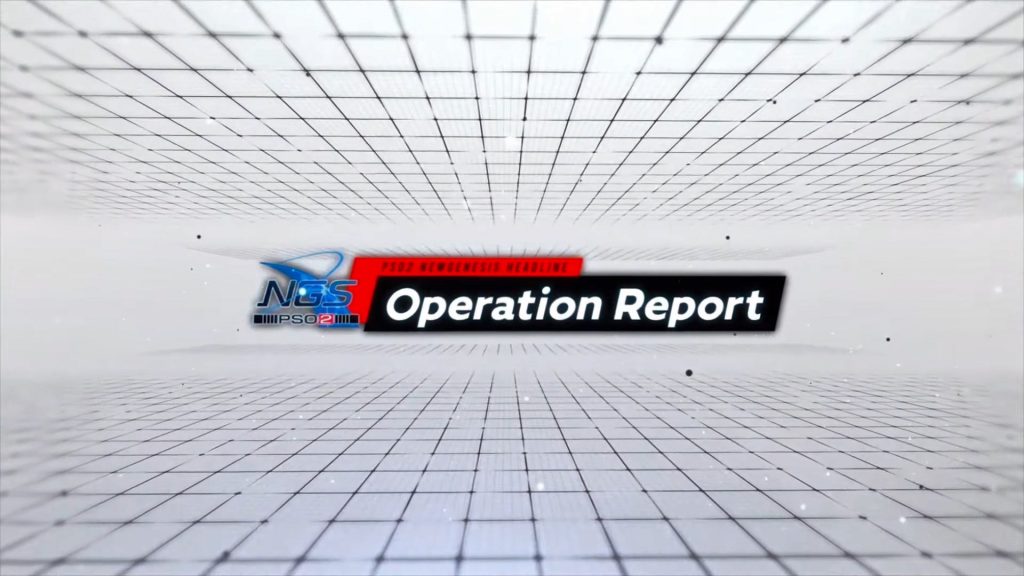 Please add more type-1 costumes and cast parts.
The ratio of avatar items we release is decided by the ratio of character types being used. Currently, there are more players using body Type-2 than Type-1, as well as more players using wears and outfits than CAST parts. Please be aware that unless there is a change in the ratio of character types being used, we will continue to release items in the current ratio for this reason. Due to the development schedule, there is a limit to the number of items that can be released in each update, so they have to consider and match the demand ratio when releasing items.
Please provide a place with a fixed light source for taking screenshots.
We're planning to add useful features for taking screenshots in a future update. One of the features will allow you to change the appearance of sunshine and weather. In the December 15th update, the password room feature will be expanded to allow you to create rooms where enemies don't spawn and the time and weather can be changed.
Please make more updated versions of PSO2 outfits.
We have already released popular outfits from PSO2 remade for NGS in five previous scratch tickets. Please rest assured that we plan to gradually release more outfits updated with NGS specs again from March 2022, starting with the more popular items.
Please improve braver's katana.
Regarding the offensive capabilities of Katanas, a new Brave Spirit class skill will be added in the December 15th update. It will increase the potency of normal attacks and counters, including counters dealt by Fearless Attitude, as well as increased PP recovery. At the same time, we will also adjust the range of counter attacks to make the Guard Counter event more important. As for mobility, there is a new Photon Art planned for a future update that will be great for closing the distance between you and the enemy.
Please implement personal quarters in NGS.
The dev team thinks that expanding communication elements like the personal quarters from PSO2 is important and is considering the content to add in future updates. However, there is an urgent need to increase the volume of extra battle and adventure related content, so we predict it will be a while before it is included in an update.
Will Music Discs for the PSO2 jukebox also be usable in NGS?
We are planning to release a new feature that allows Mags to play music in a future update. This feature will be different from PSO2. In NGS, you'll be able to play Music Discs that have been registered on your Mag when you are in the field. We think it would be preferable to make this feature support Music Discs added in PSO2, but more details will be announced when the specifications are decided.
Next NGS Headline
December 28th