Notice
This post is updating in real time. Contents are subject to change.
Please manually refresh to see latest updates.
May 31st
Rewind Collection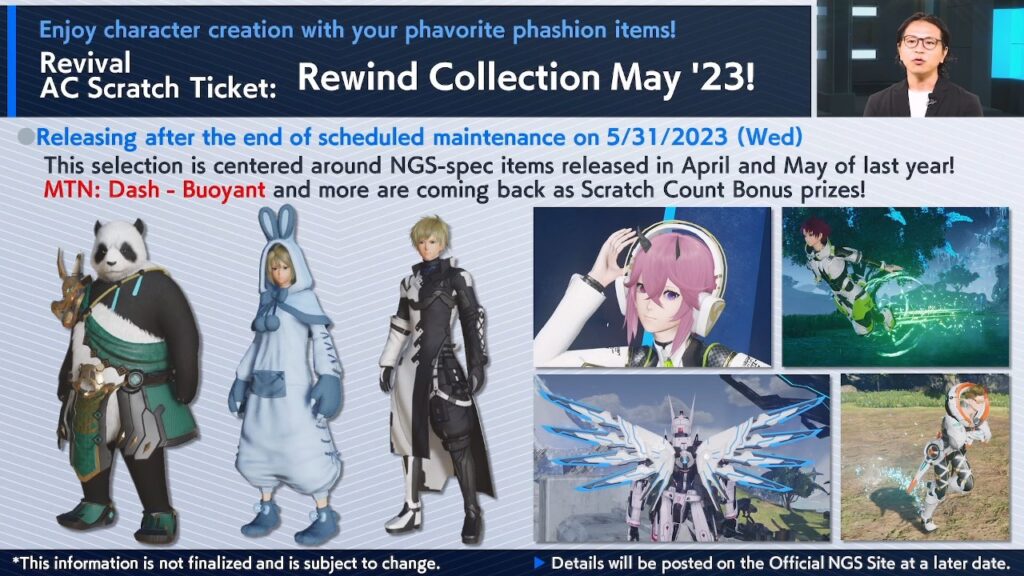 Revival AC Scratch: Rewind Collection May'23
Revival AC Scratch centered on NGS-spec items released in April and May of last year. Motion Dash – Buoyant will be coming back as a Scratch Count bonus.
June 7th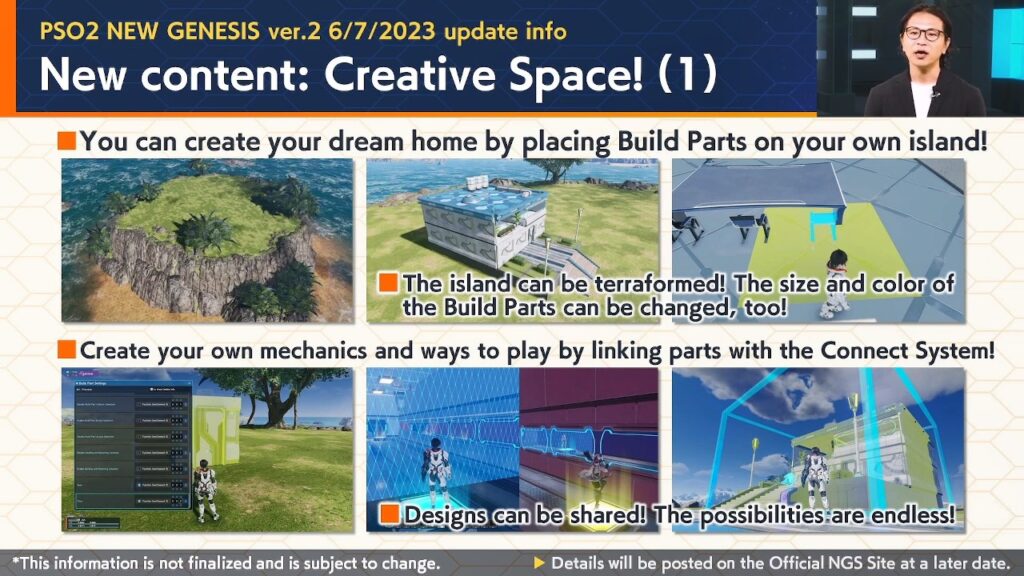 Creative Space
Creative Space allows you to build a variety of designs on your own island.
The island can be terraformed, and the size and color of parts can be changed.
Using the Connect System, you can link parts together so that they perform certain actions. With this, you could create simple things like doors or complex things like mazes, quiz shows, and more!
You can download designs and share them with other players.
However, you must have the build parts used in the downloaded design. There is no cost to downloading designs.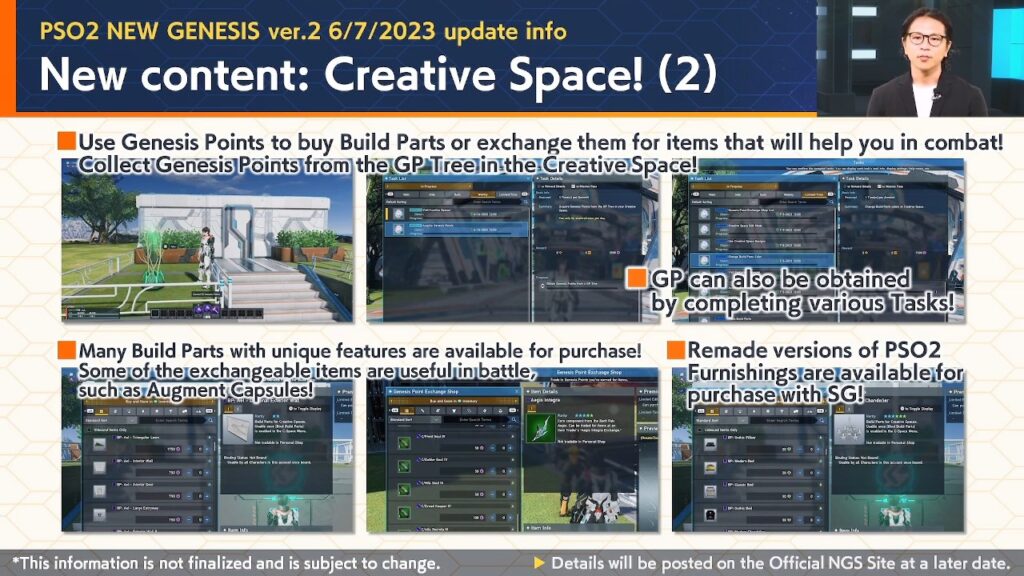 Creative Space
Genesis Points are a new currency that can be used to buy Build Parts.
You can also use these points to exchange for other items like Special Ability Capsules and more!

Ajax Armor, Aegis Integra, etc.

Genesis Points can be obtained from the GP Tree or from completing various Tasks!
At the Buy Build Parts store, you can purchase various parts such as:

ARKS Decoy: Place a clone of your character
Aelio hedges, potted plants, and trees.
Aelio tent, fountain, shop, and lighting.
Aelio shower, bathtub, and spiral staircase.

Some of the room items from PSO2 will be remade into NGS and can be purchased with Star Gems.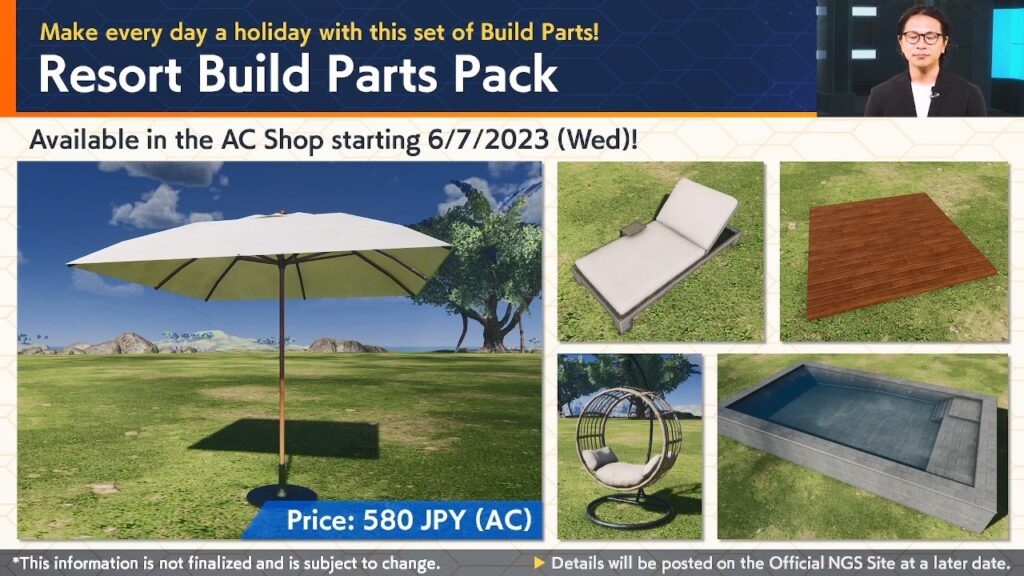 Resorts Build Parts Pack
Enjoy resort-themed build parts in a pack available at the AC Shop! (580 AC)
Sonic Collab: Suits/C-Space Pack
Paid DLC will include Sonic suits and Sonic-themed build parts for the Creative Space.

Sonic Costume [Se]
Sonic Head
Sonic Statues of Sonic, Tails, Amy, Knuckles, and Eggman.
15 Day Premium Set Ticket
Boost Items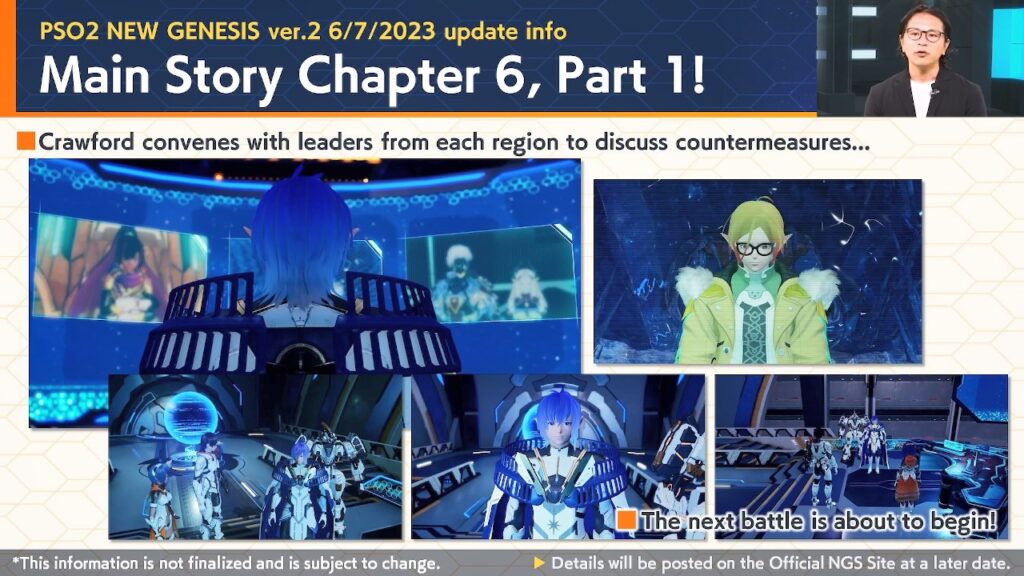 Chapter 6: Part 1
Starting with this, story chapters will be split up into multiple parts.
Now that Zephetto has revealed the truth about the planet, Crawford, and the leaders from each region, discuss how to handle the Starless threat.
Manon is nowhere to be found…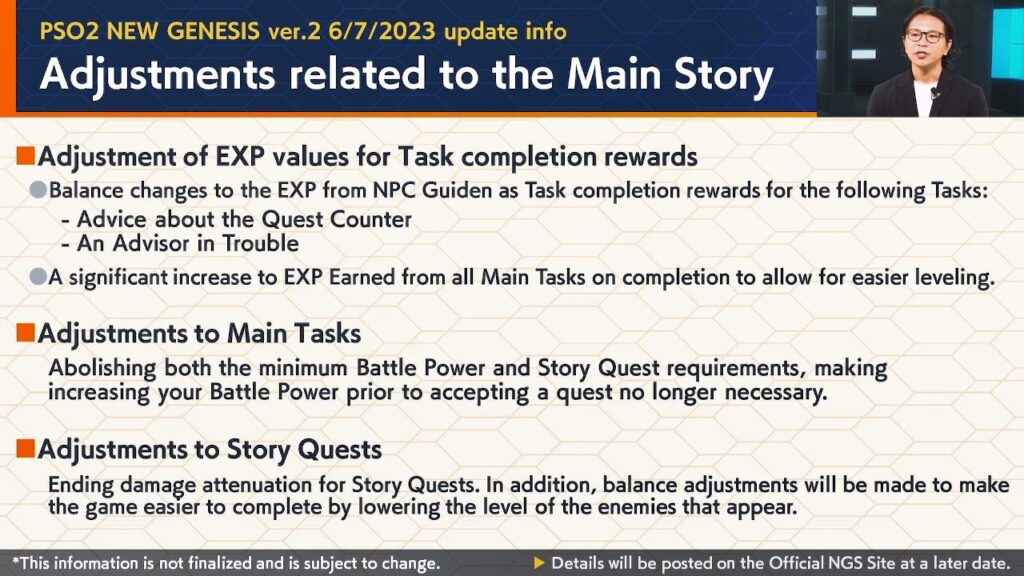 Adjustment of EXP values for Task Completion Rewards
Balance changes to the EXP from the NPC "Guiden" as Task completion rewards for the following Tasks:

Advice about the Quest Counter
An Advisor in Trouble

A significant increase to EXP earned from Main Tasks to allow for easier leveling.
Adjustments to Main Tasks
Removed the minimum Battle Power and Story Quest requirements making increasing your Battle Power prior to accepting a quest no longer necessary.
Adjustments to Story Quests
Damage attenuation for Story Quests has been eliminated.
Balance Adjustments will make the game easier to complete by lowering the level of the enemies that appear.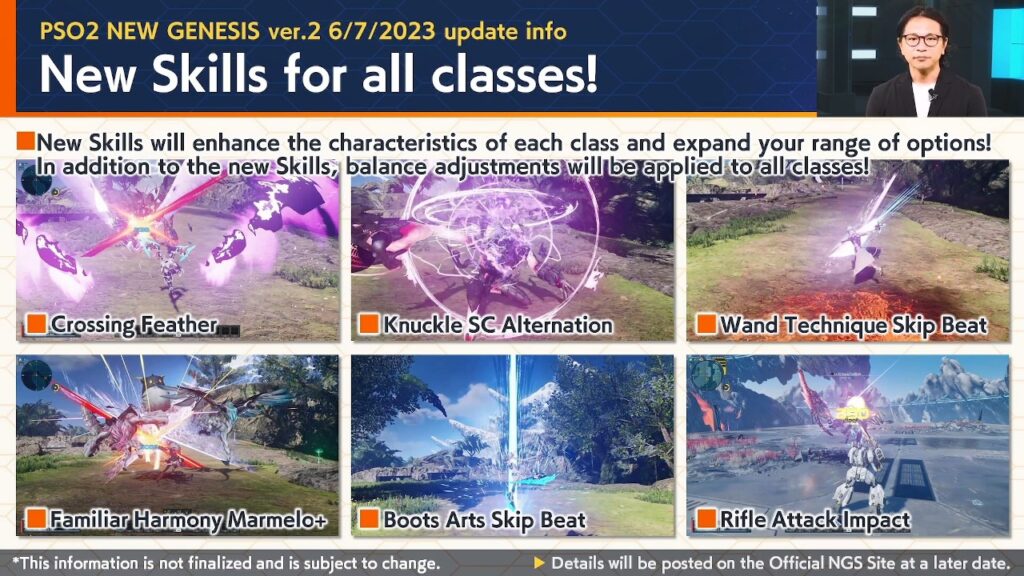 New Class Skills For All Classes
Class Skills
Sword SC Alternation

Changes the sidestep counter to an attack that quickly rushes at the enemy.

Crossing Feather

Unleashes a powerful forward slash by consuming a gauge built up via attacking.

Vol Graptor

Nullifying an attack with the weapon action will reduce the cooldown time until Vol Graptor can be used again. However, there is a limit to the number of times the cooldown can be reduced before it can be reused again.

Dagger Attack Impact

Hitting an enemy with a Photon Art several times will fill up a gauge. When the gauge is maxed, a shockwave attack will be released with normal attacks for a set number of times.

Saber Wind Amplify

After activating "Deadly Archer" or "Spiral Drive," it will become easier to increase the level of the [Kamaitachi (Whirlwind)] for a limited time.

Knuckles SC Alternation

Changes the sidestep counter to an attack that quickly rushes at the enemy.

Rifle Attack Impact

A set number of normal attacks will become more powerful when an enemy is hit with a Photon Art and the gauge is maxed out.

Sticky Bomb Wide-Range

Expands the attack range and power of the Explosions from the Weapon Action.

Hail of Bullets Amplify

Increases the gauge accumulation rate for [Hail of Bullets] for a set period of time after performing a [Chain Finish].

Rod Attack Impact

A set number of normal attacks will become more powerful when an enemy is hit with a Technique and the gauge is maxed out.

Wand Technique Skip Beat

Performing a Charged Technique will turn a normal attack into a powerful attack treated as the third step.

Tricky Capacitor Bloom Flourish

During a PA deployed Talis, the attack for Tricky Capicitor changes based on the deployment state.

Katana SC Skip Arts

After activating a Step Counter, the PA used will turn into its third stage and the power will increase.

Photon Bow Attack Impact

When an enemy is hit with a Photon Art and the gauge is maxed out, one normal attack will become more powerful. Afterwards, the first charged PA (excluding dimensional ray) will have increased power.

Blade SC Alternation

Changes the sidestep counter to an attack that quickly rushes at the enemy.

Boots Arts Skip Beat

Performing different Photon Arts successively will turn a normal attack into a powerful attack treated as the third step.

Familiar Harmony Marmelo+

If Marmelo's gauge is at stage 1 or higher, Marmelo will perform an additional attack.

Gunslash Gear Quick Recharge

The Gunslash Gear accumulation rate will temporarily increase after the effects of [Gunslash Gear OverDrive] have ended.
Portable Holograms
Portable holograms are a new feature for communication.
You can put holograms in the cities and the fields.
You can place several holograms simultaneously but please be aware that there is a cost restriction to placing multiple of them.
Holograms disappear automatically when the character moves a set distance away from them. They are also reset when logging out or transferring to another block.
Three types of holograms can be placed objects, effects, and paint.

Paint can be applied to walls and floors.
Aside from the ones available at the start, you can also get additional holograms through AC scratch prizes.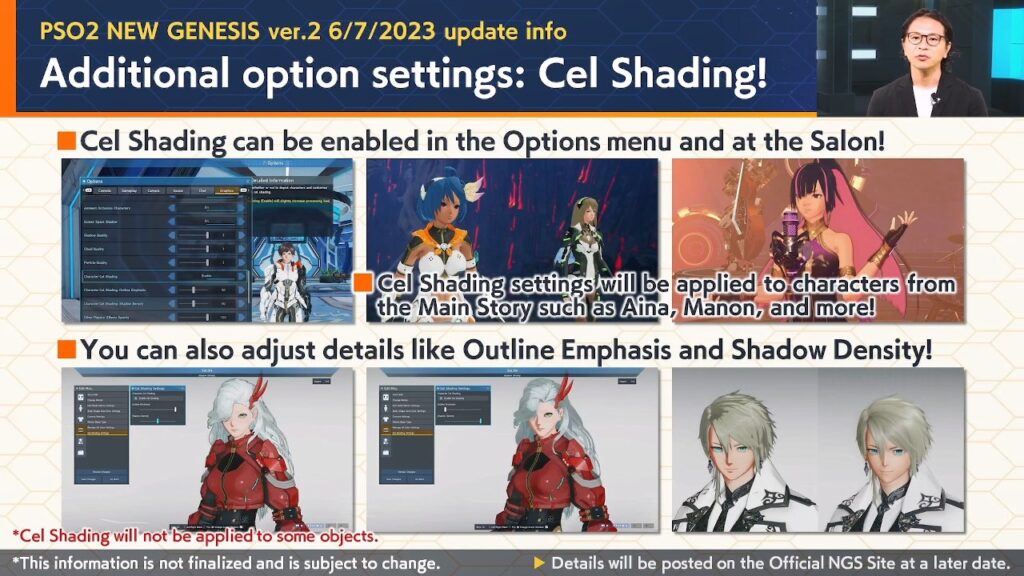 Cel Shading
You can enable cell shading in the options menu or at the salon.
Cell shading settings will apply to other story characters such as Aina or Manon.
You can even adjust the outline emphasis and the shadow density.
This feature is only available in NGS blocks and not PSO2 blocks.
Cell shading will not be applied to certain objects.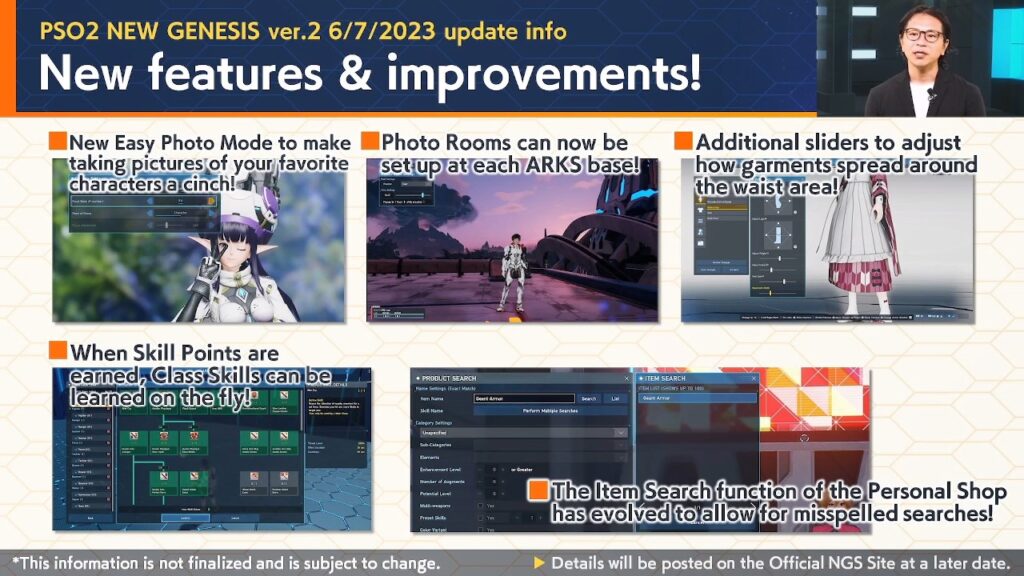 New Features
A new feature called Easy Photo Mode will make it easier for you to take pictures of characters.

You can enable depth of field, and change the expression, focal ratio, and focal point.

Photo rooms can now be set up at each ARKS base, however, you will not be able to move as a party and access NPCs.
Additional sliders will be available to adjust how garments are spread around the waist area.
When you complete a Coccoon or Tower and you earn a skill point, the Learn Skills window will appear, and you can assign skill points on the fly.
You can now reassign skill points freely, without using items, at the Skill Points counter.
The item search function of the Player Shop will allow for typos when searching items. A candidate item of similar spelling will be displayed.
You can use Scratch Ticket Slips in storage without having to move them to your inventory.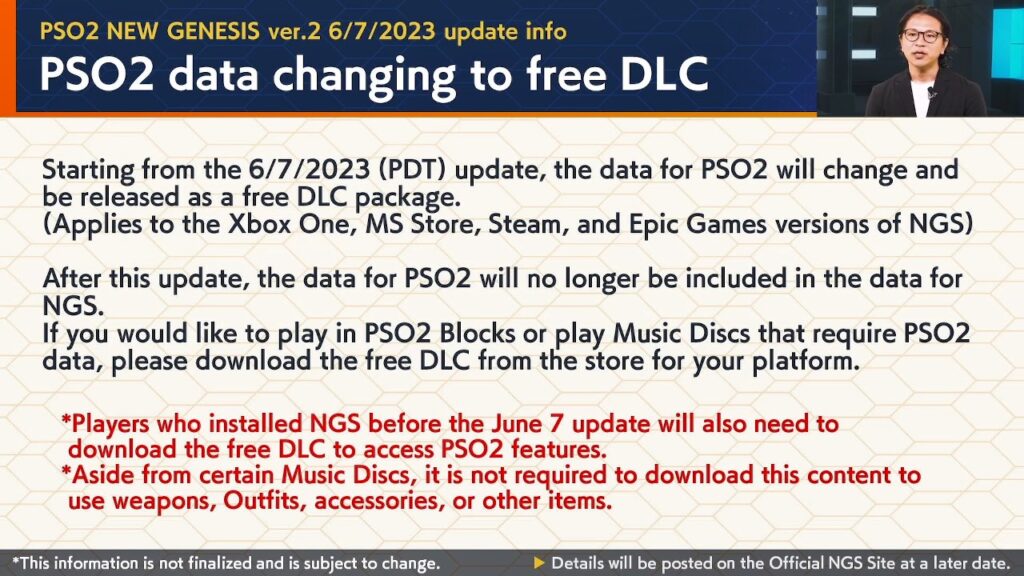 PSO2 Data Changes
For the Global version, since this is already implemented on the JP side, PSO2 Classic will release as a free DLC package for the Xbox One, Microsoft Store, Steam, and Epic Games versions of NGS.
After this update, the data for PSO2 Classic will no longer be included in NGS. If you'd like to play PSO2 Classic or music from it, please download the PSO2 Data DLC.
The PlayStation 4 version already has this feature implemented.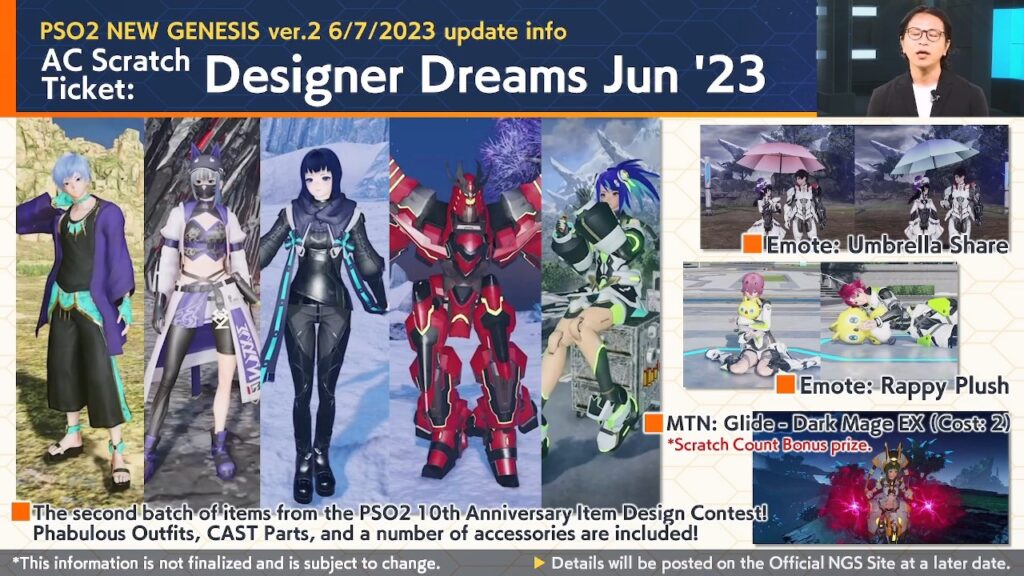 AC Scratch: Designer Dreams Jun '23
This is the second round of items from the PS 210th anniversary item design contest. This also includes new variations of portable holograms.
Lobby Actions: Umbrella Share, Rappy Plush
Scratch Bonus: MTN: Glie – Dark Mage EX
June 14th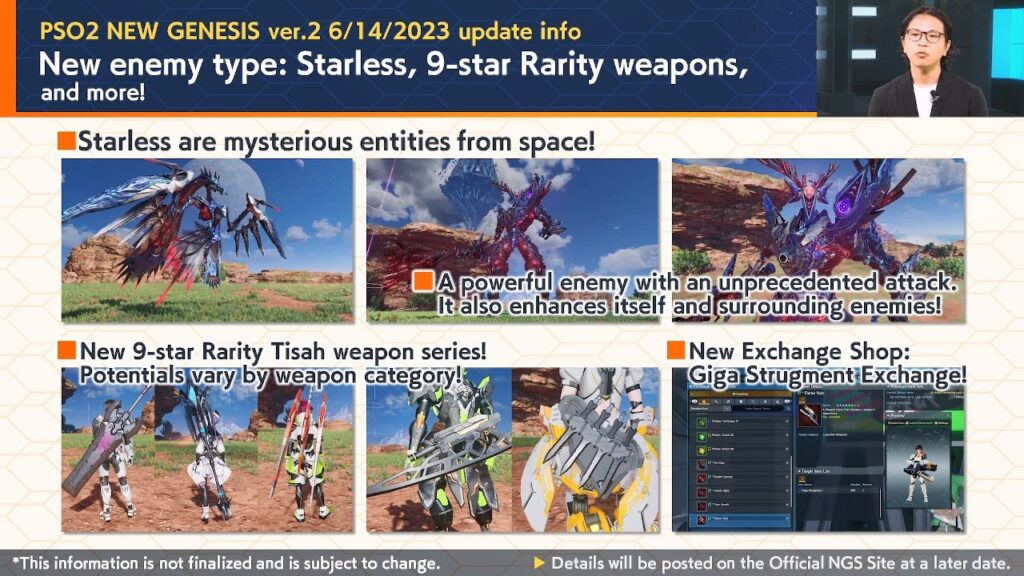 The Starless
The starless are mysterious entities that descended from space. They are a new type of enemy species that has the effect of enhancing itself and surrounding enemies.
New ★9 rarity weapons will appear in the Aelio region from Lv. 70+ enemies. Their potentials vary by weapon category. When multi-weaponized, the potential for the main weapon side is enabled allowing for a variety of combinations.
The Starless will drop the special ability C/Starl Soul.
Giga Strugment Exchange Shop

Acquired from Gigantix and Recon Gigants at Lv. 79+
Trade in Giga Strugments for:

Duel Quest Abilities
Gigas Abilities
Camos: *Fal Claw, *Double Cannon,
Camos: *Flame Visit, *Psycho Wand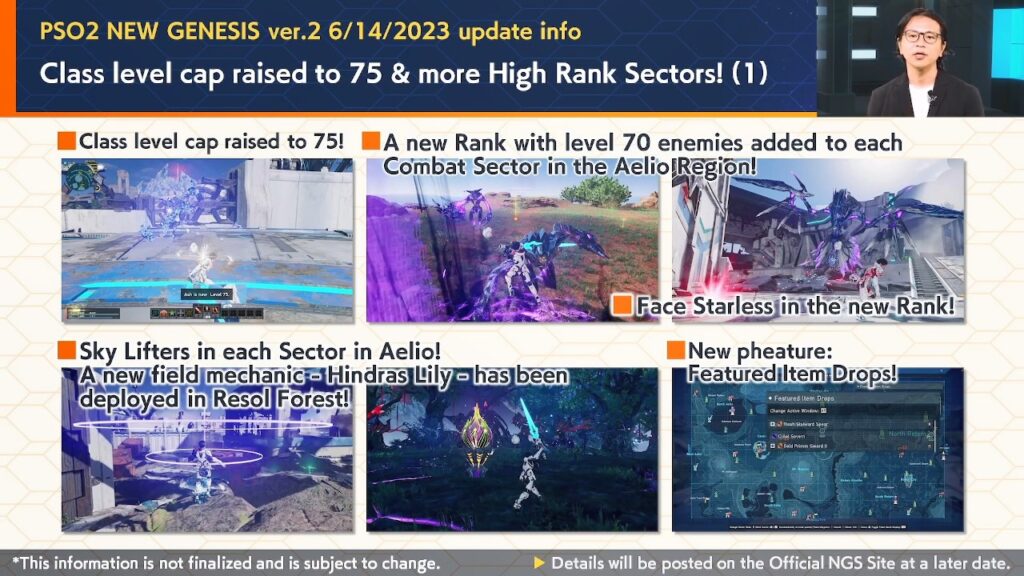 Level 75
The class level cap will be raised to level 75.
A new rank with level 70 enemies will be released to Aelio's Combat Sections. Starless will appear in this rank. Starless bosses may appear in Trials and PSE Climaxes.
New gameplay features will be added to Aelio such as Sky Lifters. Aelio exploration sectors and all ranks of Vanford Lab & Mt. Magnus will get Sky Lifters that make it easier to traverse through an area. Resol Forest will get Hindras Lily. It releases an AoE shockwave when it receives enough damage. New Side Tasks will be available requiring these new gameplay features.
Featured item drops will be displayed on the world map and in the quest acceptance menu.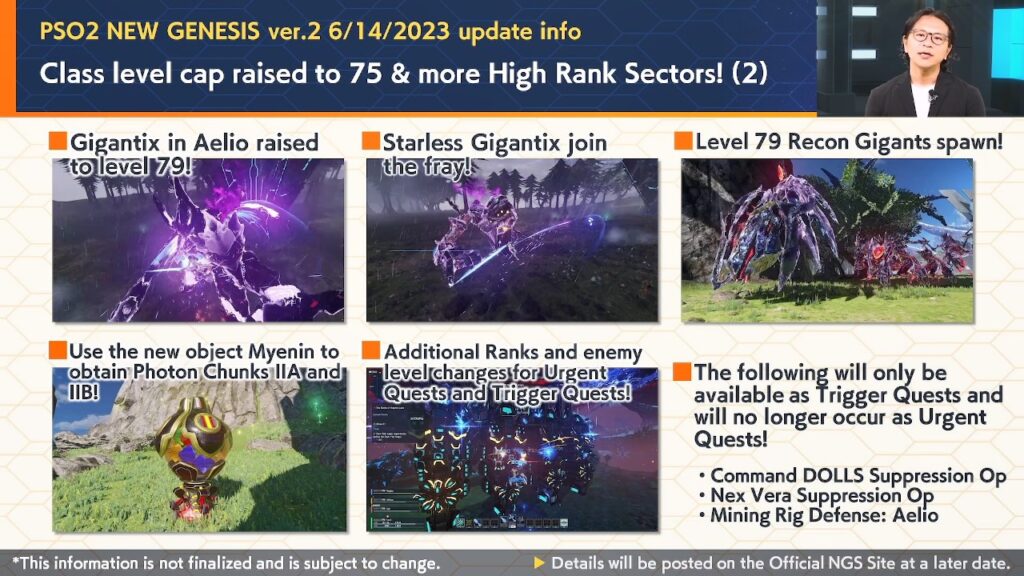 Level 75
Gigantix in Aelio will be raised to Lv. 79. Other regions will remain at 74 for now.
Aelio will also get Starless Gigantix.
Recon Gigants will spawn in North, West, and South Aelio.
Myenin will be added to Exploration Sections. They have Photon Chunk IIA and IIB.
Dark Falz Interception gets Rank 3 with Lv. 75 enemies.
Battle of Halphiria Lake: Rank 1 will be set to lv 75 enemies.
Titles will be available for these quests.
The following will no longer be available as Emergency Quests and instead will only be playable as Trigger Quests:

Command Dolls Suppression Op
Nex Vera Suppression OP
Mining Ri Defense: Aelio

All weapons and armor can be enhanced to +70 with increased special ability slots with LV. 61+ from 5 to 6. It is recommended to use Gold Prim Sword II and Gold Prim Armor II as materials. Those two items drop in the Combat sections of Aelio and Emergency Quests.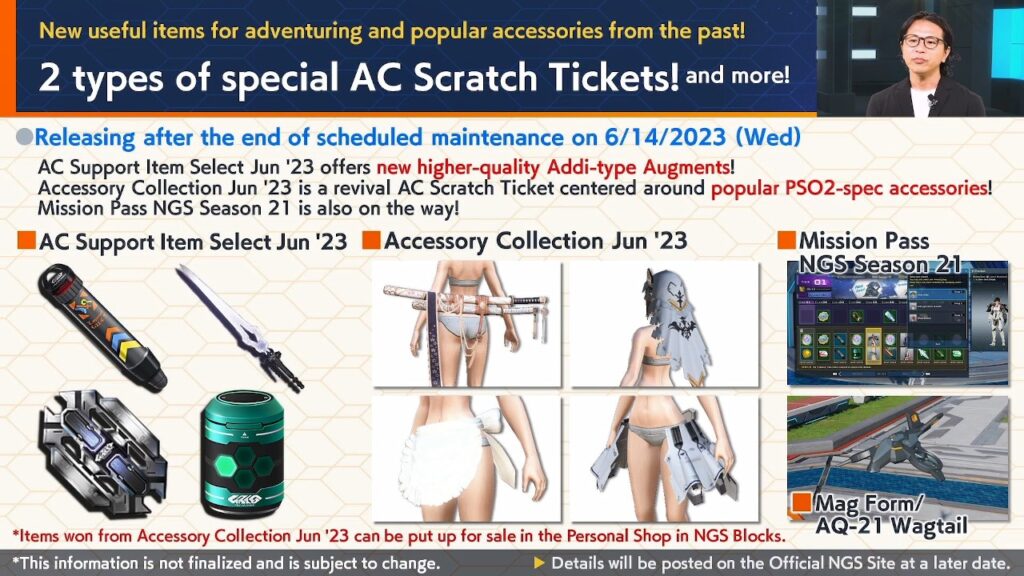 Revivals
AC Support Item Selection Jun'23 contains the new higher quality Addi-type Abilities called [Eddi].
Accessory Collection Jun '23 contains PSO2-spec accessories.
NGS Mission Pass Season 3:
New accessories based on PSO2 Classic Units.
Mag Form / AQ-21 Wagtail modeled after an airplane-shaped drone.
Landing Whirlwind Color Variation.
June 21st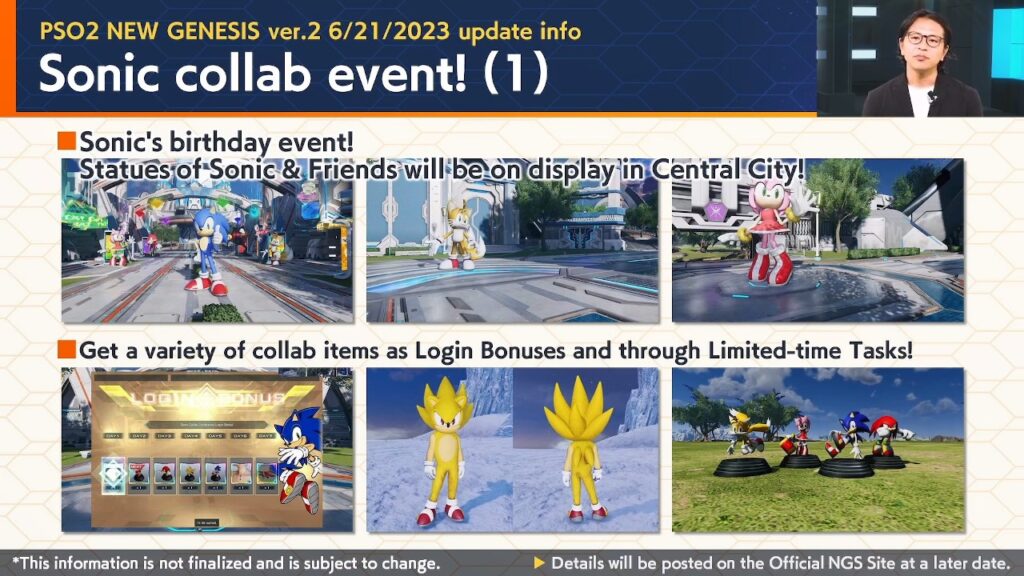 Sonic Collab Event
Let's celebrate Sonic's birthday with Sonic and character statues appearing in Central City. There'll be a variety of collaboration items from login bonuses and limited tasks.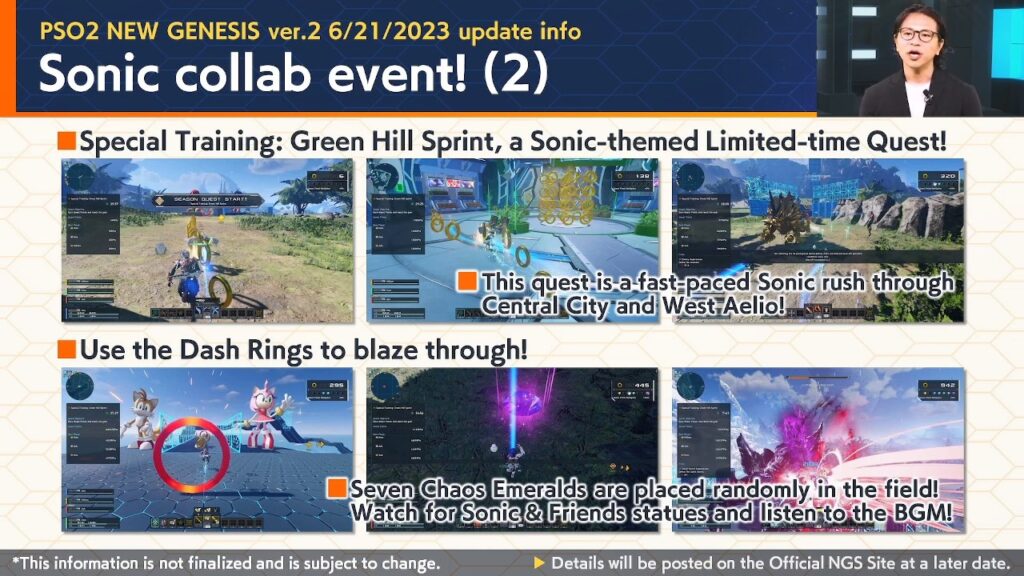 Sonic Collab Event
A Sonic-themed limited quest will be released called [Special Training: Green Hill Sprint]. This is a fast pace Sonic rush through Central City and West Aelio.
Quest points can be earned by collecting chaos emeralds and rings scattered throughout the quest. Players will be progressively enhanced based on the total number of rings and chaos emeralds acquired.
There are limited-time tasks and Title Tasks where you can acquire collaboration items such as music discs, accessories, and stamps.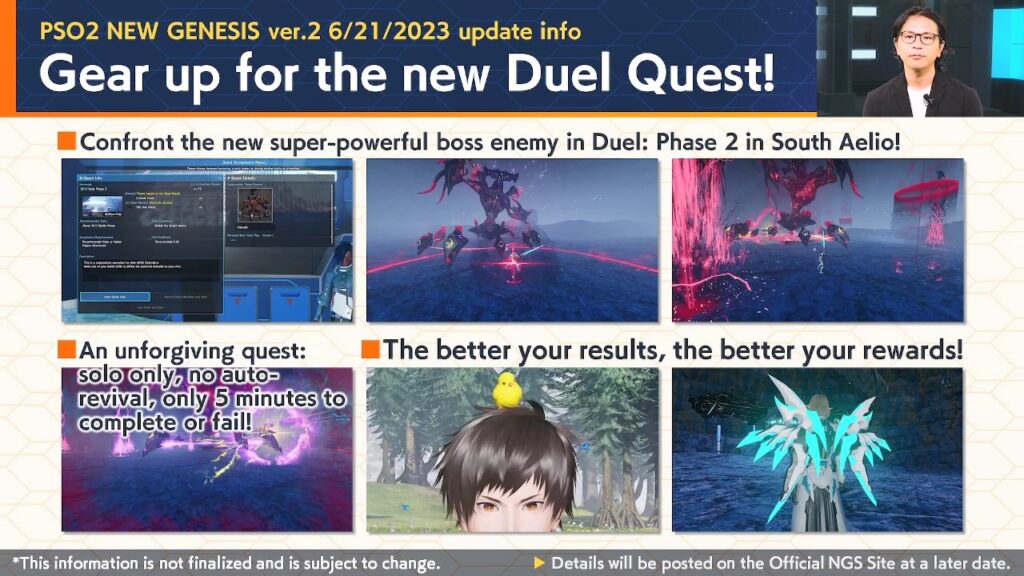 Duel: Phase 2
This is a new duel quest where you'll fight a new super-powerful boss in South Aelio. This is a solo quest with no revivals that must be cleared within 5 minutes.
Clearing this quest will offer exclusive accessories and Titles.
There are also special abilities that give you an advantage within the quest.
AC Scratch: Spiritual Conflict
This scratch contains Angel and Demon-themed outfits and sci-fi necromancer wear.
Lobby Action: Squeaky Hammer
Scratch Bonus: Motion Dash – Leg Wheels EX
June 28th
PSO2 NGS Collaborates with Ghost in The Shell
Outfits from Motoko Kusanagi and Batou from GITS: SAC_2045.

Weapon Camo: Seburo C-40A and other guns
Stamps, Mag Forms, and even Creative Space Build Parts!
Tachikoma Mag and lobby actions, plus idle and dash motions.

Within this scratch is a revival of previous items.
Ghost in the Shell SAC_2045 Collab Tribute Login Bonus
Log in to receive GITS outfit stickers and posters for your Creative Space.
Arks Operation Report
Question and Answer Session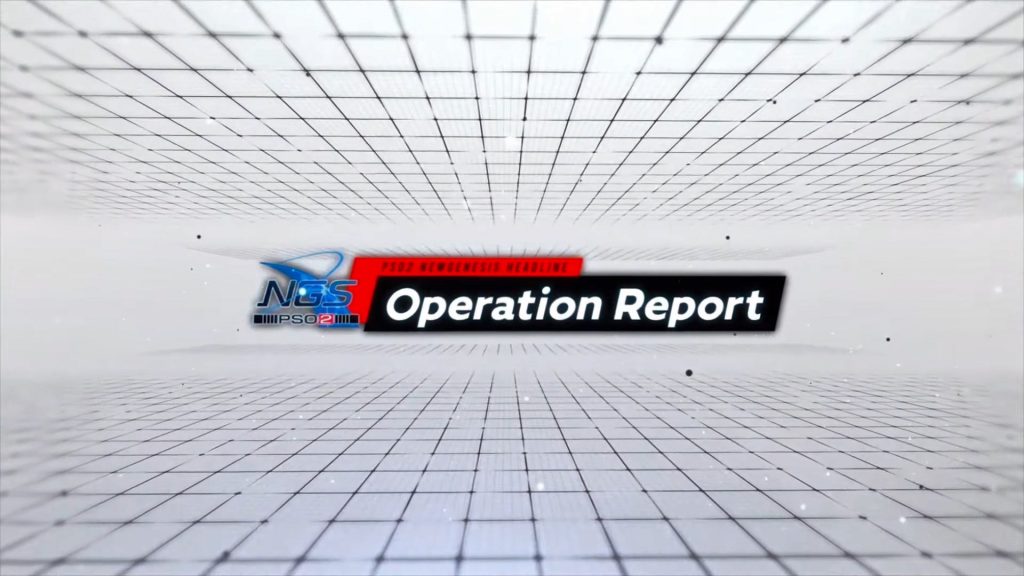 It was previously announced that we would be able to take on the prologue again, how is that coming along?
The prologue will be available from the quest counter under the ARKS Chronicles in an August update.
I would like to see higher-difficulty content that can be played in a party instead of solo.
In an August update, we plan to release a new type of highly difficult quest in which players will work together in parties to take on challenges. The strategies for this quest will not involve specialized equipment. There will also be a new boss enemy dedicated to this quest.
The general impression is that the strategy against the enemy tends to rely on guarding and stepping. Do you have any plans to address this?
In the future, we are considering making it so that some content will require different combat strategies than usual. We plan to implement a boss enemy with an attack that can't be guarded against or stepped but must be avoided by considering where to position yourself.
This seems to be about the boss enemy that appears in the high-difficulty quest that can be challenged as a party that was mentioned in the answer to the previous question.
The development team intends to consider future strategies based on the reactions of users after the release.
Could you implement a function to check DPS in-game?
We plan to implement an optional feature that allows the user to display the damage inflicted by the player per second.
Having active skills that cannot be used without switching weapons while using a multi-weapon is very inconvenient. Would it be possible to make them usable without needing to switch?
For some class skills, the multi-weapon mode is automatically changed upon activation. We plan to make changes so that they can be activated when switched. At this time, the class skills we plan to support are the finishing attacks Jet-sweep Jolt, Familiar Harmony, Unleashed Rage, Gunslash Gear Overdrive.
Satellite Information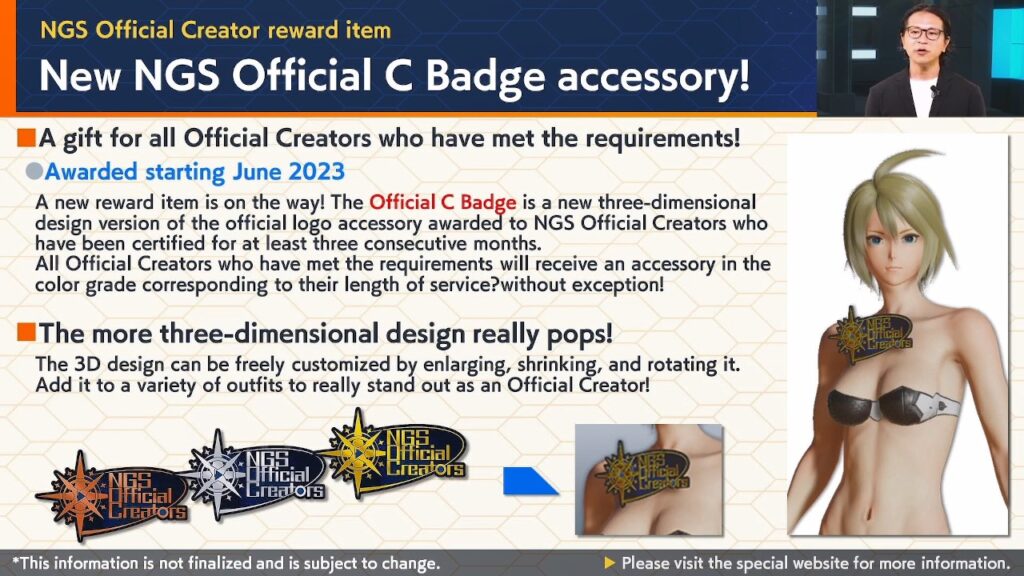 NGS Official Badge
A new 3-dimensional [Official C Bade] will be awarded to NGS Official Creators who have been certified for 3 consecutive months. The badge can be customized by enlarging, shrinking, and rotating.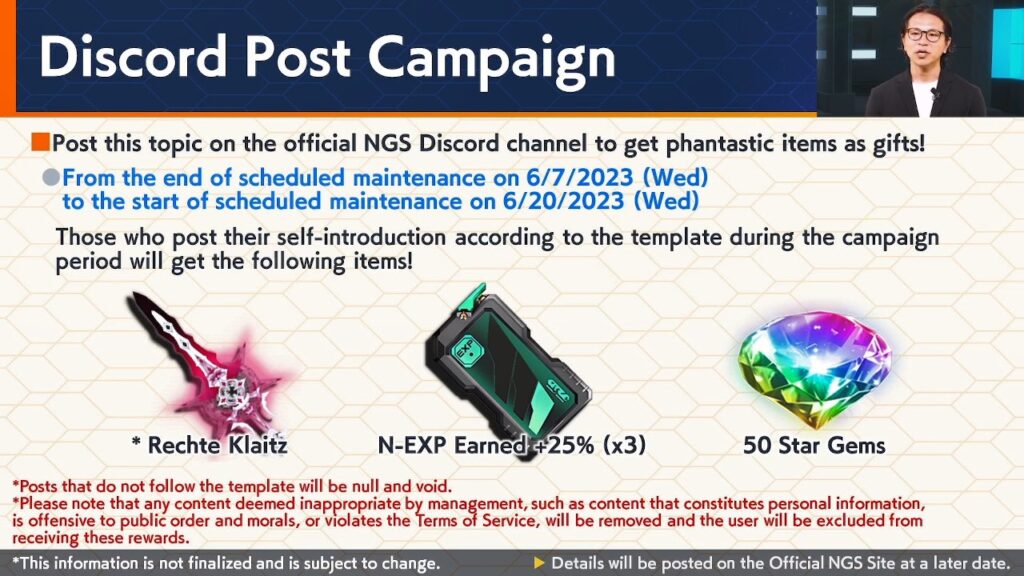 Global ONLY: Discord Campaign
Discord users on the official NGS Discord can receive items by posting a self-introduction based on the template provided.
NGS Ver 2 Release Limited Login Bonus (June 7th~)
Log into the game during the period to receive gifts for up to 7 days, including the Item Container: Gold, and NGS ver of Wedding Cake, Bamboo Tree, and more!
Training Support Boost Campaign (June 7th~)
EXP Boost +100%

Belugana Ruins / Lost Central (Rank 1)
Aelio Troopers / Retem Trooper / Resol Forest (Rank 1 & 2)
Mt. Manus / Vanford Lab Ruins / Retem Alnothe / Maqead Lower Level (Rank 1~3)

Also, get B-Trigger/Common Yellow by logging in.
Sonic Birthday Limited-time Login Bonus (June 21st~)
Acquire Sonic-themed accessories and Build Parts for the Creative Space.
Secret Phrase Present
A special keyword will be announced on PSO2 Official Twitter on Sonic's birthday.
Get official Sonic-themed Stamps and more!
Next NGS Headline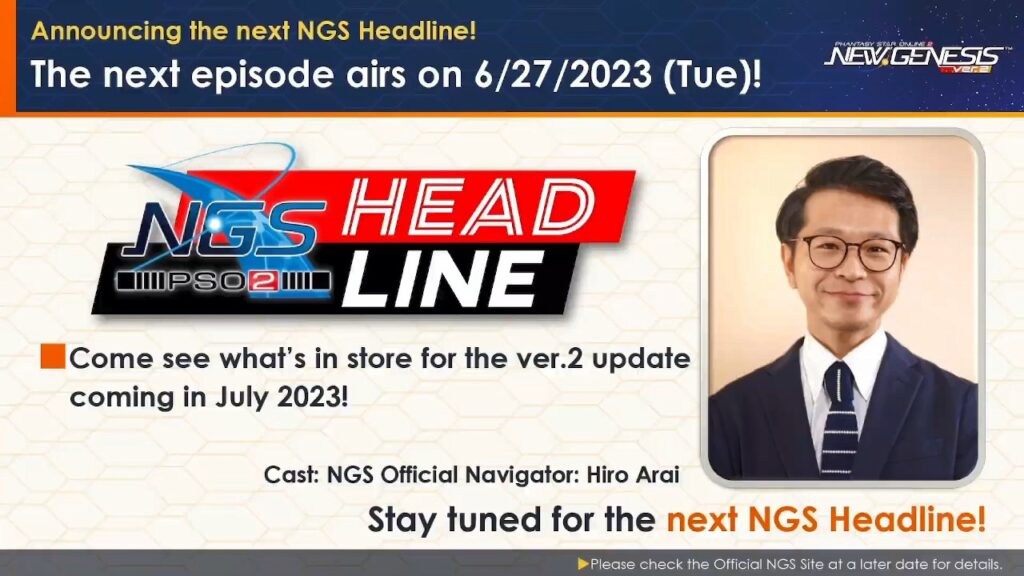 More Ver.2 update announcments revealed for July!