Overview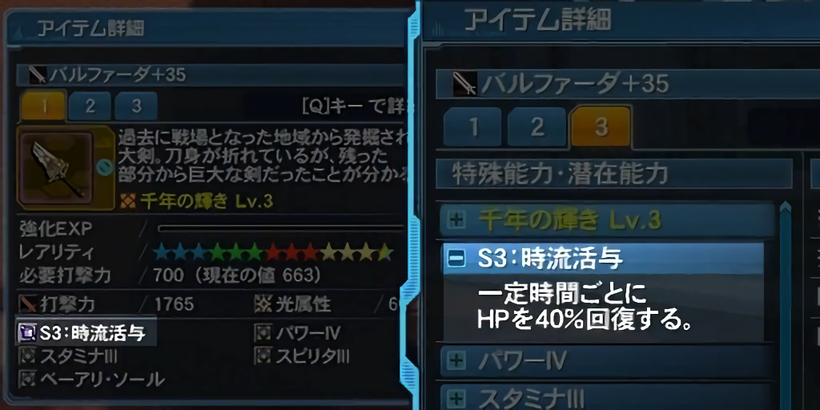 S-Class Abilities are Special Abilities which have effects similar to Potentials. S-Class Abilities can be found as Special Ability Factors on certain ★13 or higher weapons. These abilities can also be found on weapons that drop.
Weapons that support S-Class abilities have a purple border around the icon.
S-Class Ability Slots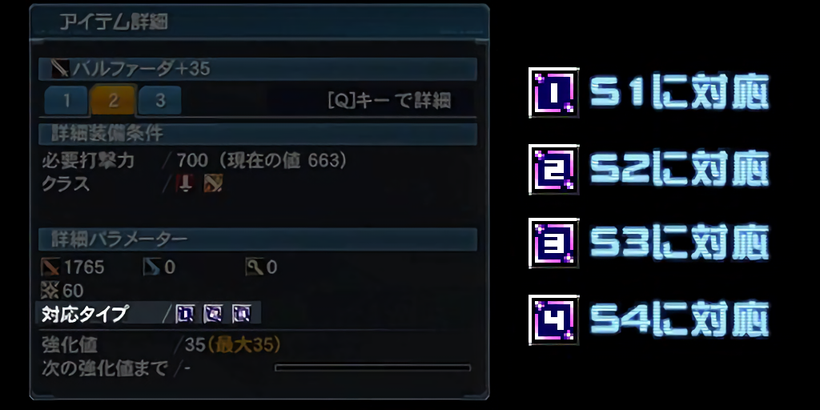 S-Class Abilities are classified into different types [S1] [S2] [S3] [S4] etc. It is not possible to put two or more of the same S-type ability onto a single weapon. For example, you can not put two [S1] types on the same weapon. 
In addition, the weapon itself needs to have a slot that supports the [S#] type. For example, if a weapon does not support [S1] types, then you can not attach an [S1] ability.
Affixing S-Class Abilities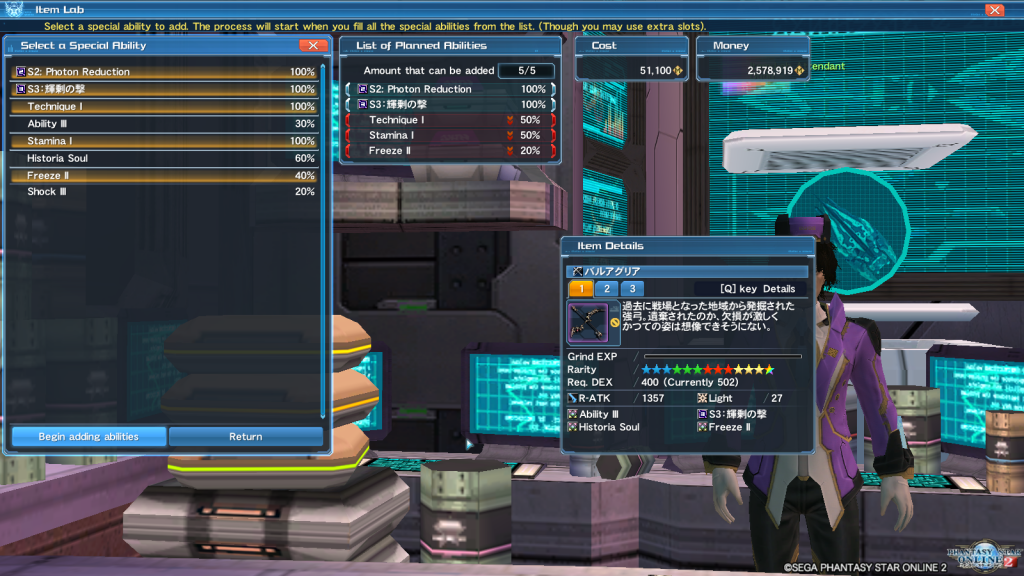 To affix an S-Class Ability, the ability must either be on the weapon or unlocked from a Special Ability Factor. S-Class Abilities will be affixed at 100% and will not be penalized when upslotting your weapon as you can see in the image above. This means you can move any of Atra's S4 SAFs to any of the Atra Weapons through Zieg's Conversion.
Example: You can acquire S4-Type Ability of Atra Farder(Sword) on Atra Weiss(Wired Lance) by doing the following:
Acquire Atra Farder through upgrading or converting at Zieg.
Affix the SAF of Atra Farder onto the weapon at the Item Lab.
Convert Atra Farder to Atra Weiss with the affix on it.
Afterwards, you can continue reaffixing the S4 at 100% as long as you do not remove it from your Weapon. This can be done with any of the Weapon Types.
S-Class Abilies & Weapons
Supported Weapons
| Weapons | S1 | S2 | S3 | S4 |
| --- | --- | --- | --- | --- |
| ★13 Strategeo Series | ✔️ | ✖️ | ✖️ | ✖️ |
| ★13 Tactio Series | ✖️ | ✔️ | ✖️ | ✖️ |
| ★13 Vades Series | ✖️ | ✔️ | ✖️ | ✖️ |
| ★13 Mars Series | ✖️ | ✔️ | ✖️ | ✖️ |
| ★13 Clawdem Series | ✖️ | ✖️ | ✔️ | ✖️ |
| ★13 Allure Series | ✖️ | ✖️ | ✔️ | ✖️ |
| ★13 Tridia Series | ✖️ | ✖️ | ✔️ | ✖️ |
| ★13 Calamity Series | ✖️ | ✖️ | ✔️ | ✖️ |
| ★13 Demon Advanced Series | ✖️ | ✖️ | ✔️ | ✖️ |
| ★13 Jutus Series | ✔️ | ✔️ | ✖️ | ✖️ |
| ★13 Dia Series | ✖️ | ✔️ | ✔️ | ✖️ |
| ★13 Val Series | ✔️ | ✔️ | ✔️ | ✖️ |
| ★13 Japanese-NT Series | ✔️ | ✔️ | ✔️ | ✖️ |
| ★13 Invade-NT Series | ✔️ | ✔️ | ✔️ | ✖️ |
| Weapons | S1 | S2 | S3 | S4 |
| --- | --- | --- | --- | --- |
| ★14 Phobos Series | ✖️ | ✔️ | ✖️ | ✖️ |
| ★14 Zirenheit-NT | ✔️ | ✖️ | ✔️ | ✖️ |
| ★14 Appress Grudge Omega | ✖️ | ✔️ | ✔️ | ✖️ |
| ★14 Shien Series | ✔️ | ✔️ | ✔️ | ✖️ |
| ★14 Lumiere Series | ✔️ | ✔️ | ✔️ | ✖️ |
| ★14 Atra Series | ✔️ | ✔️ | ✔️ | ✔️ |
S1 Types
S1: Name
Effect /

Obtaining

Damage

Skilled Brilliance




輝充の志

+3% Damage when PP is 40% or above.
[Val] Drop: The Beckoning Woods, The Menacing Castle, Guides of Creation, Campaign Quests
Double-Edged Sword
諸刃の撃
+4% Damage, but +8% Damage Taken.
[Val] Drop: T: The Beckoning Woods, The Menacing Castle,
Guides of Creation, Campaign Quests
Immediate Intent
瞬連の志
Successive Just Attacks will increase damage up to 3%
[Val] Drop: A Boisterous White Day 2018, In the Driving Rain 2018, Beach Wars 2018

Powering Intent
強闘の志

+4% Damage against formidable enemies
[Val] Drop: In the Driving Rain 2018, Beach Wars 2018
Rupturing Intent
裂砕の志

+4% damage when hitting breakable parts
[Val] Drop: Underground Nightmare

Offensive Intent




剛撃の志

+2% Damage
SAF: [Val Ars]  

Sturdy Intent
依属の志

+4% Damage, if your guard-type ring or the weapon's element matches the weak element
SAF: [Zirenheit-NT]
Flowing Intent
時流の志
Increases damage every second up to 4%
Capsule Drop: Endless: Beyond Memories

Lethal Intent
死中の志

Increases damage by 4%, but take 5% of your Max HP
as damage every 20 seconds.
Capsule Drop: Endless: Beyond Memories


 Critical

Wise Skill


妙技の巧
+15% Critical Rate
[Val] Drop: Crimson Castle Crusher, The Dark Demolisher, Beach Wars 2018

Skilled Strike
妙撃の志
+3% damage on Critical Hits
[Val] Drop: Enchanted Forest Exploration


Defensive

Flowing Exhilaration




時流活与

Recovers 60% HP at set intervals
[Val] Drop: Enchanted Forest Exploration, Underground Nightmare


Guardian Armor




守護の備

Reduces damage taken by 7%
[Val] Drop: Enchanted Forest Exploration, Underground Nightmare

PP Efficiency

Radiating Grace




輝勢の恵

+20% Natural PP Recovery Rate
[Val] Drop: Crimson Castle Crusher, The Dark Demolisher  

Radiant Strike
輝剰の撃
+17% PP Recovery on attacks
[Val] Drop: Enchanted Forest Exploration
Rupturing Excess
裂砕の剰

+40% PP Recovery on attack when hitting breakable parts
[Val] Drop: Campaign Quests, Underground Nightmare

Spirited Response
気輝応変
PP recovery speed changes when the weapon is sheathed / unsheathed.
[Val] Drop: Campaign Quests


Photon Reduction




光子縮減

7% PP Consumption Reduction
SAF: [Val Rache], [Val Volare], [Val Radda]  

Brilliant Ruin
滅域輝与
Recovery PP upon enemies being defeated near you
SAF: [Strategeo] Series

Brilliant Ruin 2
滅域輝与2

Recovery PP upon enemies being defeated near you
Capsule Drop: Endless: Beyond Memories

Photon Reduction 2
光子縮減2

10% PP Consumption Reduction
Capsule Drop: Endless: Beyond Memories


Combo

Red Petal Flash
花ノ赤閃

+3% Damage for 30 seconds after inflicting 450,000 damage.
(Red Aura = On)
[Val] Drop: Incarnation of Knowledge

Blue Ocean Flash
海ノ青閃
Recover 4% HP every second for 30 seconds after taking 600 damage.
(Blue Aura = On)
[Val] Drop: Incarnation of Knowledge

Green Leaf Flash
葉ノ緑閃

Every 20 seconds, a barrier will turn on/off. (Green Aura = On)
The barrier reduces damage by 8% and prevents flinching.
[Val] Drop: Incarnation of Knowledge

Yellow Moon Flash
月ノ黄閃

8% PP Consumption Reduction for 20 seconds upon Just Guarding. 
(Yellow Aura = On)
[Val] Drop: Incarnation of Knowledge

White Snow Flash
雪ノ白閃

+20% PP Recovery on attacks for 30 seconds after using 150 PP.
(White Aura = On)
[Val] Drop: Incarnation of Knowledge


Black Shadow Flash




影ノ黒閃

Increase Natural PP Recovery for 20 seconds after standing still for 5 seconds.
(Black Aura = On)
[Val] Drop: Incarnation of Knowledge

S2 Types
S2: Name
Effect /

Obtaining

Damage

Immediate Profusion




瞬撃繚乱

+3% Damage when Just Attacking different PAs/Technics.
[Val] Drop: The Chocolate Way 2018, In The Driving Rain 2018, Beach Wars 2018

Offensive Intent
剛撃の志
+2% Damage
[Val] Drop: Enchanted Forest Exploration

Double-Edged Sword
諸刃の撃
+3% Damage, but +6% Damage Taken.
[Val] Drop: Underground Nightmare
Rupturing Intent
裂砕の志
+3% Damage when hitting breakable parts


SAF: 

[Jutus] Series, [Lumiere] Series



Powering Intent
強闘の志

+3% Damage against formidable enemies
SAF: [Mars] Series


Critical

Wise Skill




妙技の巧

+12% Critical Rate
SAF: [Val Roake], [Val Vire],  [Val Body]  

Skilled Strike
妙撃の志
+3% Damage on Critical Hits
SAF: [

Vades] Sries




Wise Skill 2




妙技の巧2

+15% Critical Rate
Capsule Drop: Endless: Beyond Memories

Skilled Strike 2
妙撃の志2
+4% Damage on Critical Hits
Capsule Drop: Endless: Beyond Memories


Defense

Flowing Exhilaration




時流活与

Recovers 60% HP at set intervals
[Val] Drop: Crimson Castle Crusher, The Dark Demolisher

Sturdy Recovery




剛乱活与

1% of damage dealt is restored as HP. 

(Set chance to occur.) (Max: 300HP)
[Val] Drop: The Beckoning Woods, The Menacing Castle, Guides of Creation, Campaign Quests


Guardian Armor




守護の備

Reduces damage taken by 7%
SAF: [Tactio] Series 


PP Efficiency

Photon Reduction




光子縮減

10% PP Consumption Reduction
[Val] Drop: Crimson Castle Crusher, The Dark Demolisher


Cursed Radiance




災転輝与

Recovers PP by 15% when receiving damage.
[Val] Drop: T: The Beckoning Woods, The Menacing Castle,
Guides of Creation


Spirited Response




気輝応変

PP recovery speed changes when the weapon is sheathed / unsheathed.
[Val] Drop: The Chocolate Way 2018, Wild Easter 2018,
In The Driving Rain 2018, Beach Wars 2018


Flowing Grace




時流の恵

Recover 10PP every 4 seconds.
[Val] Drop: Campaign Quests  

Brilliant Ruin
滅域輝与
Recovery PP upon enemies being defeated near you
[Val] Drop: Enchanted Forest Exploration


Radiating Grace




輝勢の恵

+17% Natural PP Recovery Rate
[Val] Drop: Enchanted Forest Exploration, Underground Nightmare


Radiant Strike




輝剰の撃

+17% PP Recovery on attacks
SAF: [Val Varua], [Val Slecht], [Val Agria], [Val Exocet]

Radiant Strike 2
輝剰の撃2
+20% PP Recovery on attacks
Capsule Drop: Endless: Beyond Memories


Combo

Nature's Intent
花海雪の志

+3% Damage when [S1:Red Petal Flash], [S1:Blue Ocean Flash], or
[S1:White Snow Flash] are active.
[Val] Drop: Wild Easter 2018, In The Driving Rain 2018, Beach Wars 2018
Nature's Skill
花海雪の巧
+20% Critical Rate when [S1:Red Petal Flash], [S1:Blue Ocean Flash], or
[S1:White Snow Flash] are active.
[Val] Drop: Wild Easter 2018, In The Driving Rain 2018, Beach Wars 2018

Nature's Reduction
花海雪の縮減
Decrease PP Consumption by 12% when [S1:Red Petal Flash],
[S1:Blue Ocean Flash], or [S1:White Snow Flash] are active.
[Val] Drop: Arks Boost Rally

Nature's Exhilaration
花海雪の活与
Recover 2% HP every second when [S1:Red Petal Flash],
[S1:Blue Ocean Flash], or [S1:White Snow Flash] are active.
[Val] Drop: Arks Boost Rally, Underground Nightmare

Nature's Reduction 2
花海雪の縮減2
Decrease PP Consumption by 14% when [S1:Red Petal Flash],
[S1:Blue Ocean Flash], or [S1:White Snow Flash] are active.
Capsule Drop: Endless: Beyond Memories

Umbrageous Gleam
月葉影の輝勢
+25% Natural PP Recovery when [S1:Yellow Moon Flash],
[S1:Green Leaf Flash], or [S1:Black Shadow Flash] are active.
[Val] Drop: Arks Boost Rally
Umbrageous Guardian
月葉影の備
Reduces damage taken by 12% when [S1:Yellow Moon Flash],
[S1:Green Leaf Flash], or [S1:Black Shadow Flash] are active.
[Val] Drop: Arks Boost Rally

Umbrageous Radiance
月葉影の輝剰
+25% PP Recovery on attacks when [S1:Yellow Moon Flash],
[S1:Green Leaf Flash], or [S1:Black Shadow Flash] are active.
[Val] Drop: Campaign Quests

Umbrageous Radiance 2
月葉影の輝剰2

+28% PP Recovery on attacks when [S1:Yellow Moon Flash],
[S1:Green Leaf Flash], or [S1:Black Shadow Flash] are active.
Capsule Drop: Endless: Beyond Memories

Umbrageous Melody
月葉影の歌

Increases damage every second up to 5% [S1:Yellow Moon Flash],
[S1:Green Leaf Flash], or [S1:Black Shadow Flash] are active.
Capsule Drop: Endless: Beyond Memories

S3 Types
S3: Name
Effect /

Obtaining

Damage

Offensive Intent




剛撃の志

+2% Damage
[Val] Drop: The Beckoning Woods, The Menacing Castle,
Incarnation of Knowledge, Guides of Creation, Campaign Quests


Vital Intent




活実の志

+3% Damage when HP is above 80%
[Val] Drop: T: The Beckoning Woods, The Menacing Castle, Guides of Creation, Campaign Quests

Rupturing Intent
裂砕の志

+4% damage when hitting breakable parts
[Val] Drop: Campaign Quests
Furious Inspiration
猛威の奮激
Increases Damage and PP Recovery. Reduces PP Consumption.
Effect disappears upon taking damage.
SAF: [Dia] Series
Immediate Profusion
瞬撃繚乱

+3% Damage when Just Attacking different PAs/Technics.
SAF: [Appress Grudge Omega]

Critical

Skilled Strike




妙撃の志

+4% damage on Critical Hits
[Val] Drop: Crimson Castle Crusher, The Dark Demolisher

Wise Skill
妙技の巧
+12% Critical Rate
[Val] Drop: Enchanted Forest Exploration


Defense

Flowing Exhilaration




時流活与

Recovery 40% HP at intervals
SAF: [Val Farder], [Val Weiss], [Val Vict]
Guardian Armor
守護の備
Reduces damage taken by 7%
SAF: [Calamity Blazer], [Tridia Shooter]

Flowing Exhilaration 2
時流活与2
Recovery 60% HP at intervals
Capsule Drop: Endless: Beyond Memories


PP Efficiency

Radiant Strike




輝剰の撃

+20% PP Recovery on attacks
[Val] Drop: Crimson Castle Crusher, The Dark Demolisher


Photon Reduction




光子縮減

7% PP Consumption Reduction
[Val] Drop: Enchanted Forest Exploration, Beach Wars 2018

Brilliant Intent
滅域輝与

Recovery PP upon enemies being defeated near you
[Val] Drop: Underground Nightmare

Cursed Radiance




災転輝与

Recovers PP by 15% when receiving damage.
[Val] Drop: Underground Nightmare


Radiating Grace




輝勢の恵

+17% Natural PP Recovery Rate
SAF: [Val Zemus], [Val Retora], [Val Eyth]

Radiating Grace 2
輝勢の恵2
+20% Natural PP Recovery Rate
Capsule Drop: Endless: Beyond Memories

Flowing Grace
時流の恵

Recover 7PP every 4 seconds.
Capsule Drop: Endless: Beyond Memories


Combo

Nature's Radiance
花海雪の輝剰
+28% PP Recovery on attacks when [S1:Red Petal Flash],
[S1:Blue Ocean Flash], or [S1:White Snow Flash] are active.
[Val] Drop: Arks Boost Rally, Underground Nightmare

Nature's Guardian
花海雪の備

Reduce damage by 10% [S1:Red Petal Flash],
[S1:Blue Ocean Flash], or [S1:White Snow Flash] are active.
[Val] Drop: Campaign Quests

Nature's Gleam 2
花海雪の輝勢2
+25% Natural PP Recovery when [S1:Red Petal Flash],
[S1:Blue Ocean Flash], or [S1:White Snow Flash] are active.
Capsule Drop: Endless: Beyond Memories

Nature's Melody
花海雪の歌
Increases damage every second up to 5% when [S1:Red Petal Flash],
[S1:Blue Ocean Flash], or [S1:White Snow Flash] are active.
Capsule Drop: Endless: Beyond Memories

Umbrageous Intent
月葉影の志
+3% Damage when [S1:Yellow Moon Flash], [S1:Green Leaf Flash], or
[S1:Black Shadow Flash] are active.
[Val] Drop: Wild Easter 2018, In The Driving Rain 2018, Beach Wars 2018


Umbrageous Reduction




月葉影の縮減

Decrease PP Consumption by 14% when [S1:Yellow Moon Flash],
[S1:Green Leaf Flash], or [S1:Black Shadow Flash] are active.
[Val] Drop: Wild Easter 2018, In The Driving Rain 2018, Beach Wars 2018


Umbrageous Exhilaration




月葉影の活与

Recover 2% HP every second when [S1:Yellow Moon Flash],
[S1:Green Leaf Flash], or [S1:Black Shadow Flash] are active.
[Val] Drop: Arks Boost Rally

Umbrageous Skill
月葉影の巧
+20% Critical Rate when [S1:Yellow Moon Flash],
[S1:Green Leaf Flash], or [S1:Black Shadow Flash] are active.
[Val] Drop: Campaign Quests

S4 Types
S4: Name
Effect /

Obtaining

Marvelous Aegis
瞬護輝与
Recover PP upon Just Guarding
SAF: [Atra Farder]

Steel Resolve
鋼の決意
Once per quest, upon taking fatal damage you'll survive with 1HP
SAF: [Atra Weiss]

Radiant Resolve
輝器応変
PP Efficiency increases based on your Maximum PP
SAF: [Atra Vict]

Opposing Skill
正対の巧
During Brave Stance, +30% Critical Rate when attacking from the front
SAF: [Atra Roake]

Scything Wind
鎌風重吹
Extend the duration of Kamaitachi (whirlwind) by 4 seconds
SAF: [Atra Vire]

Cunning Strike
賢勇両撃
During Wise Stance, +15% damage when attacking from the front
SAF: [Atra Body]

Vampiric Strike
奪命の撃
1% of the damage dealt is absorbed into HP. (Max: 30HP)
SAF: [Atra Ars]

Gear Reduction
刃機放縮
During Katana Gear Release, decrease the amount that the gear empties
SAF: [Atra Varua]

Genesis Ring
変素応輪

Weapon Element changes based on equipped

Guard-type Ring
SAF: [Atra Slecht]

Motionless Courage
静の胆力
Prevents knockbacks and launches after standing still for a certain amount of time
SAF: [Atra Rache]

Lustrous Trap
輝剰の罠
+20% PP Recovery from Tactic Traps
SAF: [Atra Volare]

Dynamic Chain
鎖動強身
Upon activation of Chain Trigger, you'll become invincible for 5 seconds
SAF: [Atra Radda]

Rapid-fire Arrow
迅弓の撃
+3% damage during Rapid Shoot with Bullet Bows
SAF: [Atra Agria]

Refined Providence
摂理洗練
Enhances the effect of Element Conversion
SAF: [Atra Zemus]
Circuit Rotation
回路輪転
Reduces Photon Flare recast times by 20%
SAF: [Atra Retora]

Swift Strike
短杖強打
Improves the performance of Wand's Normal Attack
SAF: [Atra Eyth]

Support Extension
支援限長
Shifta and Deband duration extends to a max of 120 seconds
SAF: [Atra Exocet]

Saint Shield
聖者の盾

Generate a damage reducing barrier at set intervals.
Capsule Drop: Guides of Creation

Mysterious Strike
妙撃の秤

Reduce critical rate by 50% and increase critical power by 6%
Capsule Drop: Guides of Creation

Heavenly Protection
天輝の守護

While guarding, PP naturally recovers and PP recovery speed increases.
Capsule Drop: Guides of Creation

Calming Intent
静心の志

+13% Normal Attack Damage
Capsule Drop: Guides of Creation