Warning! This post is updating in real time!
Please take note as the information below is subject to change.
Post Livestream Update Part 1
I'm sorry but we needed some time to sleep.
Adding PSO2es Slides by Spin Cycle.
Also Spin Cycle will now be in charge of PSO2es!
Secret Phrase
Say the following phrase in chat to receive rewards

祝「ぷそ煮コミ」アニメ化

Prizes: 2018 Fun Ticket, 20 King's Crest, 1 Mil EXP Ticket
You have until Dec 26th Maintenance to claim the prize.
Prizes can be picked up at the Visiphone.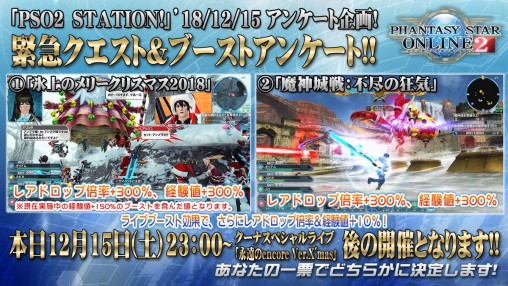 Emergency Quest Boost Poll
Merry Christmas on Ice (Quna Concert First)
December 15th @ 23:00 JST
Rare Drop & EXP Rate +300%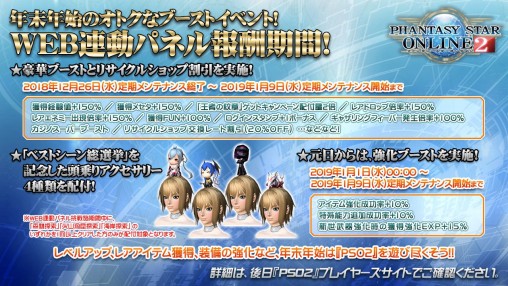 WEB Panel Rewards
December 26th ~ January 9th
New Years! Year of the Boar Accessory Select and Lucky Bag G
January 1st ~ January 9th
Popular Hairstyles Accessories and Lobby Action
Layered Wear and Grace Special Ability and Special Ability Protection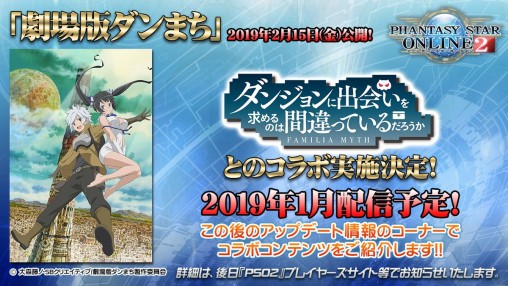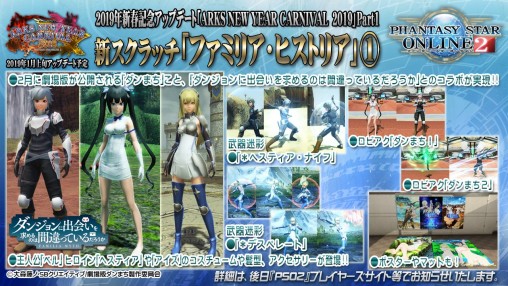 Is It Wrong to Try to Pick Up Girls in a Dungeon? Collab

Early January Update
Bell Cranel, Hestia, Ais Wallenstein, costumes, hairstyles, and accessories.
Hestia Knife and Desperate Weapon Camos
DanMachi Lobby 1 & 2 Actions
Posters and Mats too!
Login for Dan Machi Poster C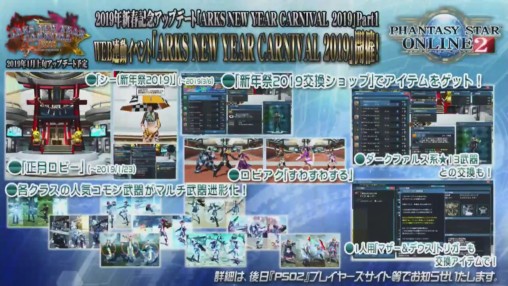 Early January Update
Arks New Year Carnival WEB Event
New Years Lobby, New Years Xie, New Years Exchange Shop
Trade in Weapons Badge 2019 for items.

Suwa Suwa Suru LA
Melon Balloon
Homura Weapons
Circu Ray Unit Series
Camos of Popular common weapons for each class.
Omega Dark Falz Series ★13 Weapons

Clawdem, Detonation, Allure, Chalyra

Mother & Deus Solo Trigger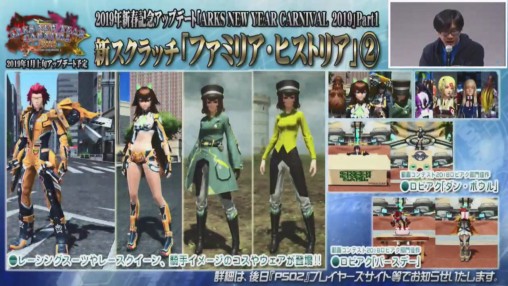 Early January Update
Familia Historia (AC Scratch)
Racing and Horse Jockey outfits
Video Contest Lobby Actions: Birthday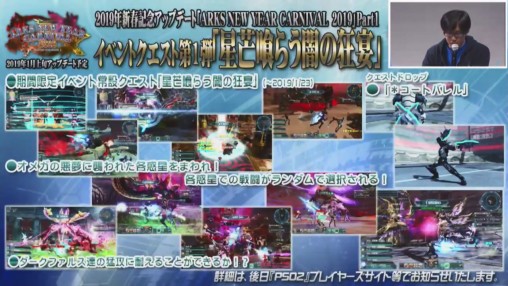 Early January Update
New Year Carnival Limited Quest
Visit each planet being attacked by Omega's nightmare
Battle Loser's forces on Wopal
Battle Double's forces on Harukotan
Battle Apprentice's forces on Lillipa
Battle Elder's forces on Naberius
Quest Drop: *Coat Barrel (Photon Color Changeable)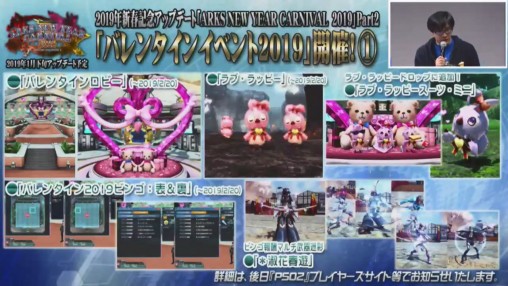 Late January Update
Valentine Lobby, Bingo (~2/20/2019)
Love Rappy Suit Mini (Drops from Love Rappies)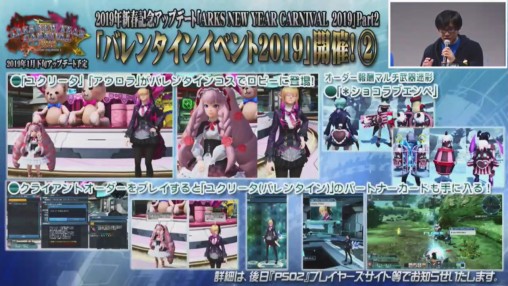 Late January Update
Aurora Valentine and Euclita Valentine
You can also get Euclita Valentine Partner Card
*Choco Love Empe (CO Reward)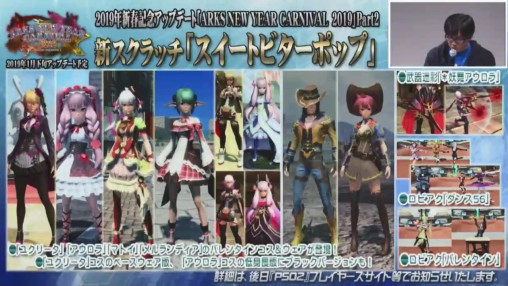 Late January Update
Sweet Bitter Pop (AC Scratch)
Euclita and Aurora Valentine Outfits
Matoi and Melrandia Valentine Costumes
Euclita Basewear Version and Aurora Short Height Version
Black versions of Euclita and Aurora's outfits.
Western Themed Outfits too
Lobby Actions: Dance 56 and Valentine
Late January Update
Added New Items to PS Zero Shop.
Trade in PSZero Memories for Items

Humar and HUmarl Outfits and Accessories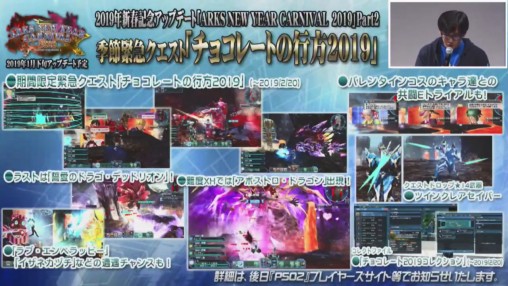 Late January Update
The Chocolate Way 2019 (~2/20/2019)
NPCs will appear in Valentine outfits.
Chocolate 2019 Collection
★14 Weapon Drop: Twin Crea Saber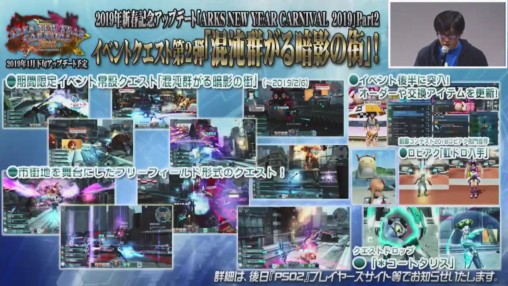 Late January Update
Arks New Year Carnival Part 2
Client Orders and Exchange Shop Updated

Maron Balloon
Lobby Action: Rainbow Drop

Limited Quest 2 (~2/06/2019)

A Free Field format quest in the city.
Quest Drop: *Coat Talis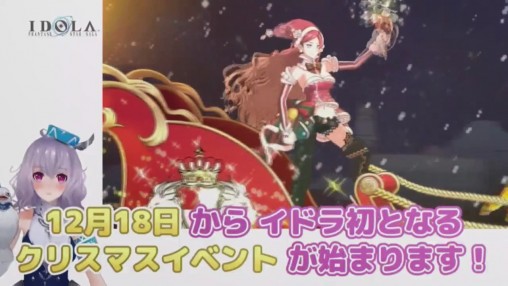 Idola Phantasy Star Saga
Idola's first Christmas event begins December 18th.
Christmas Rosalinde: EB: Royal Christmas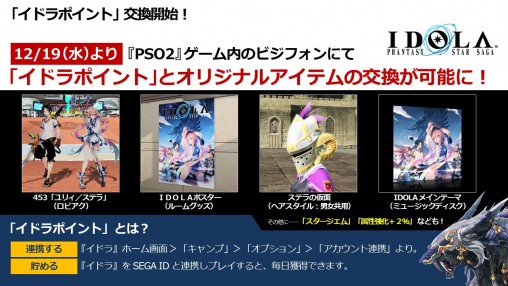 Idola Phantasy Star Saga
Link your PSO2 with Idola Phantasy Star Saga.
When linked, you'll earn [Idola Points] when playing Idola.
Beginning December 19th, you can use those Idola Points to purchase items in PSO2.

Uly / Stella (Lobby Action)
Idola Poster (Room Item)
Stella's Helm (Accessory)
Idola's Main Theme (Disc)
Star Gems
Element Enhance +2

The Menu Guide displays how to link your account in the Camp tab.
PSO2es Gene [Summer Vacation] Figure
Price: 13,800 Yen
Seller: Hobby Japan
Sales Period: Until January 16th
Release Date: June ~ July 2019
Phantasy Star Fest 2019
A series of offline events where you can meet up with fellow PSO2 players, take pictures, and buy Phantasy Star merchandise.
Each event will also hold an Arks Battle Tournament.

March 10th
April 21st
May 25th
June 8th
July 14th
August 17th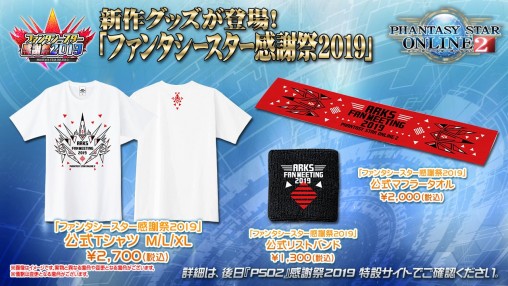 Phantasy Star Fest 2019
New Merchandise!

Official T-Shirt: 2,700 Yen
Official Wrist Band: 1,300 Yen
Official Scarf Towel: 2,000 Yen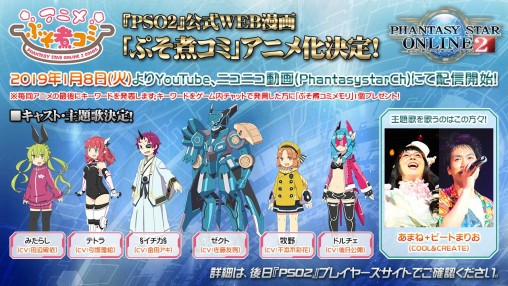 PSO2 Comic Anime
The anime begins Jan 8th 2019 on Youtube and Nico Nico
A secret phrase will be displayed each episode.
If you type in this phrase in chat, you'll get [PSO2 Comic Memory]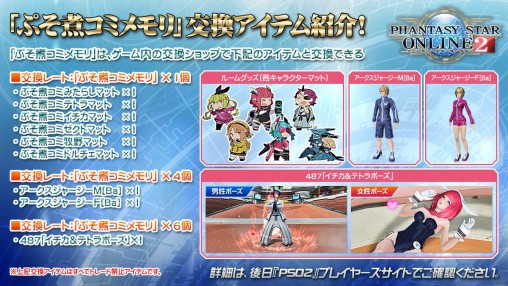 PSO2 Comic Items
Character Mats (1 PSO2 Comic Memory Each)
Arks Jersey M/F [Ba] (4 PSO2 Comic Memory Each)
Itica&Tetra Pose LA (6 PSO2 Comic Memory)
PSO2 Cloud PC Version
Starting 12/19, the PC ver will support PSO2 Cloud.
A new cloud button will be added to the launcher.
On this version you'll connect to the [Cloud Shared Block]
Phantom Class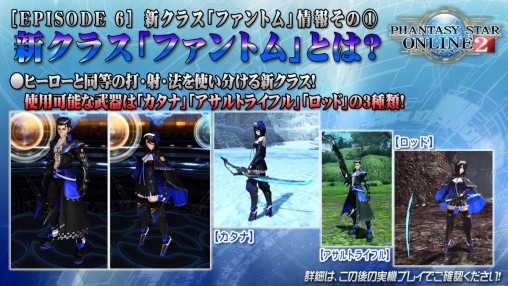 [Episode 6] New Class: Phantom
A new class that also utilizes S/R/T
Weapon Types: Katana / Assault Rifle / Rod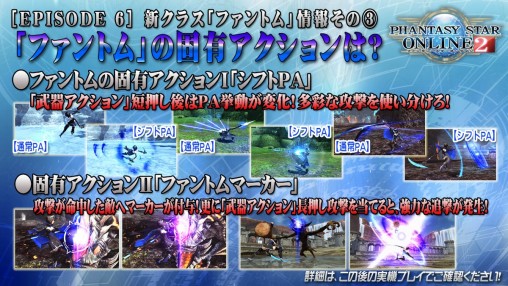 Phantom Native Action 1: Shift PA
PA behaviors change after tapping the weapon action.
Phantom Native Action 2: Phantom Marker
Applies a marker to the enemy hit by the attack.
When you long tap the weapon action, a follow-up attack can occur.
Technic Attack (Rods Only)
Activating a Technic causes an additional slash attack to occur.
This can also recover some PP.
Subclass Phantom
Phantoms do not support subclasses, however, you can set Phantom as a subclass for standard classes.
Advanced Class Name Change
The term [Advanced Class] will now be known as [Successor Class].
Successor Class Unlocking Changes
The condition to unlock a [Successor Class] will be revised.
This adjustment will make them easier to unlock.
Unlocking Conditions

OLD: Have a Striking, Range, and Tech Class at Lv75+
NEW: Have any 2 classes at Lv75+
Some information is taken from social media and might be incorrect or missing context.
Visitors who attended the Arks X-Mas party got their first look at the Phantom class which is expected to release Spring 2019!
Phantom Class
Can use Katanas / Assault Rifles / Rods
They can also use Technics and Gunslashes.
Each weapon type has 4 PAs.
Each PA has its own [Phantom Shift] version.
Phantom can be used as a subclass.
Phantom Shift
The Phantom Shift activates when you use the [weapon action].
The behavior for each PA changes when you use the PA during Shift.
Phantom Shift Specifications
Uncharged: Has a period of Invincibility when activated.
Uncharged: Leads to Shift PAs.
Uncharged: Maintains the current combo stage?
Charged: Used for Marker Detonation
Charged: Does not lead to Shift PAs.
Charged: Maintains the current combo stage?
Charged / Uncharged Katana Phantom Shift Example
Uncharged: Attacks a short-distance ahead while evading.
Charged: Releases a short-distance high speed slash, and detonates the marker.
Charged / Uncharged Rifle Phantom Shift Example
Uncharged: Performs a shooting attack with bits while allowing you to move freely.
Charged: Releases a penetrating shot and makes it possible to detonate the marker on the hit enemy.
Charged / Uncharged Rod Phantom Shift Example
Uncharged: Fires a photon bullet from the rod.
Charged: Detonates all the markers within range. Strong against a group of enemies.
Phantom Marker
A skill you can learn.
Markers will accumulate as you continue to attack the enemy.
With a charged weapon action, a powerful follow-up? attack will occur.
In addition to dealing heavy damage, it's also possible to greatly restore your PP.
Phantom Gear
Your Phantom Gear will rise as you're fighting.
You can activate the skill [Phantom Time] from your sub-palette.
Phantom Time
An active skill that consumes 50% of Phantom Gear.
You'll be invincible for 5 seconds from activation.
Extends the invincibility frames during step.
PP consumption reduced 20%.
Phantom Time Finish
If you activate Phantom Time again, you'll perform a finisher based on each weapon type.
Evasive Action / Dodge Counter Shot
Dodge Counter Shot activates when you perform an attack after evading an enemy's attack using [Step].
Attack Jellen
Provides a certain chance to apply Jellen to an enemy hit by an attack.
Phantom Time Jellen Plus
Provides a certain chance to apply Jellen when an attack hits during Phantom Time.
Stealth Tech Charge
For a certain time, from the start of charging a technic, you'll become invincible and your movement speed will increase.
Dodge PP Regain
Recovers PP when you evade an enemy's attack.
Marker Heal
Recovers HP when you accumulate the max amount of markers.
Sprint Tech Charge
Movement speed increases during charging technics.
Phantom PP Restorate
Increases the amount of PP automatically recovered.
Zero Range Mark Boost
Bonus is applied to the accumulated markers? when attacking enemies at close-range.
Long Range Mark Boost
Bonus is applied to the accumulated markers? when attacking enemies at long-range.
Photon Stream
Increases critical power, critical rate, and damage based on your max PP.
Mark PP Drain
Recovers PP when you accumulate the max amount of markers.
Full Drive
Increases gear accumulation
Quick Cut
While using a Katana, when you perform a weapon action at a specific time, the behavior will change.
Bullseye
While using Rifles, it accumulates markers through marker detonation.
Ambivalence
While using Rods, accumulates markers and gear by doing Technics.
Lord of Thorn
Decreases markers and increases marker detonation power.
Tech Short Charge
Reduces Technic charging time and PP consumption, but lowers the power.
Chase Mark Boost
A bonus is applied to the accumulated markers when attacking enemies suffering from Status Effects or Jellen.
Anyway, I'm not sure what "bonus" means exactly in regards to Markers, so we'll have to wait for more info.
Each Weapon Type has 4 PAs and each PA has a Shift version.
Katana PA: Schmetterling
Normal: A PA that quickly approaches an enemy. A dependable PA since you don't flinch as you approach.
Shift: Allows you to slip through the enemy's attack. Due to it's high performance in evasion, it's great for escaping groups of enemies.
Katana PA: Volterzeit
Normal: A simple PA that does consecutive attacks. Has a long JA ring.
Shift: Becomes an ultra high-speed slash attack that might be a bit difficult to handle. 
Rifle PA: Nacht Angriff
Normal: Fires a slow moving bit that can explode. You can adjust the distance of the explosion based on the timing you release the button.
Shift: Performs a dash while you're holding the button and shoots when you let go.
Rifle PA: Verbrechen
Normal: Lines up the bits and shoots lasers. The direction is based on your input.
Shift: The deployed bits will automatically fire bullets.
We're adding more stuff.
Episode 6
New Enemy Type: Kaleidomechs
Ultra Hard Difficulty
~ Arriving This Spring ~
Kaleidomechs is a temp name. You can suggest something better: 閃機種
Suggestions So Far:
We'll most likely use the internal name as a guidance as to what they could be called—whenever that gets datamined.
PSO2es Update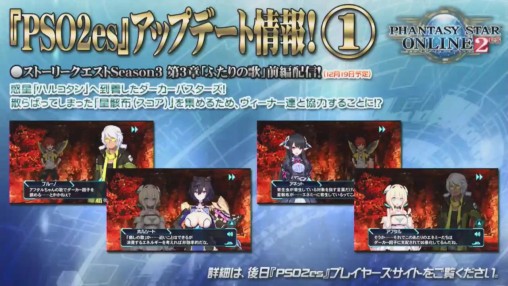 Story Quest Season 3 Chapter 3 (12/19)

Darker Busters crew joins forces with the Veiner group in search of the Score.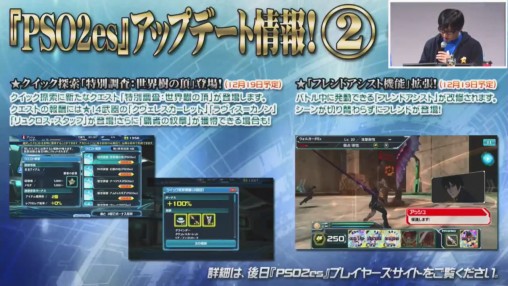 Quick Search Feature
New Quick Search area (12/19)
Find Quelle Scarlet, Lavis Canon, Rykros Staff, along with conqueror's crests
Friend Assist Expansion
Your friend will appear without going through that cutscene.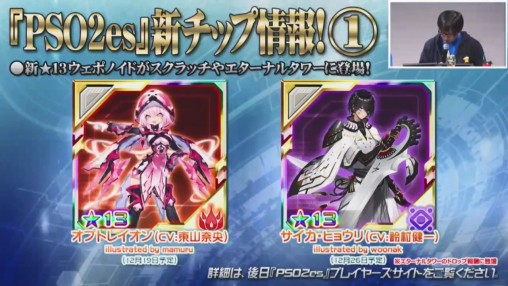 New Chips:
★13 Optreion (Dec. 19th)

★13 Saika Hyouri (Dec. 26th) – Eternal Tower Reward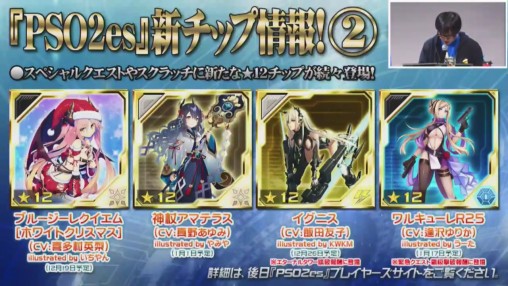 New Chips:
★12 Bluesy Requiem [White Christmas] (Dec. 19th)

★12 Divine Amaterasu (Jan. 1st)

★12 Ignis (Dec. 26th) – Eternal Tower Reward

★12 Valkyrie R25 (Jan. 17th) – Emergency Quest Reward
New Chips:
★12 Akhtar[New Year] (Jan. 1st ~ Jan. 4th)

★12 Alma [New Year] (Jan. 5th ~ Jan. 9th)

★11 Space Tuna [New Year] (Jan. 1st) – Login Campaign