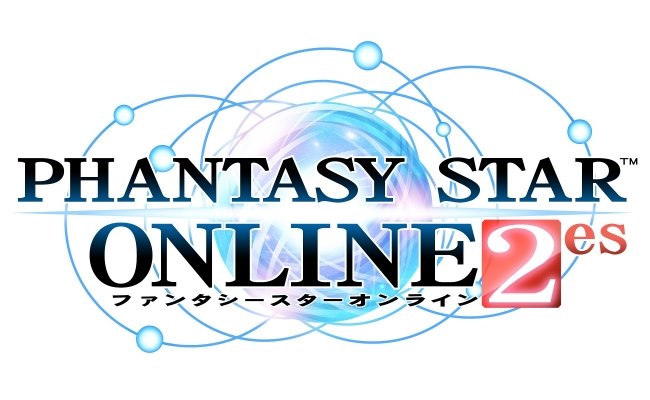 PSO2es Guide Navigator
Main Guide \ News & Updates \ Chip Database
Menu Guide \ Emergency Guide \ Eternal Tower \ Side Stories
Link Slots \ Rush Arts \ Photon Dice \ esAbilities
Phantasy Star Online 2es is the smartphone version of the popular online RPG Phantasy Star Online 2! Players utilize an arsenal of chips with various effects to fight against enemy forces.
PSO2es Download
PSO2es English Patch
July 18th Preview


Chip
Description

①Increases ATK to extreme levels.

②Recover HP slightly periodically.

③Extends the effect duration when a chip is activated if a light elemented chip is equipped in the Link Slot.

④Reduces chip costs of Light PA/Technics when this chip is equipped.

[Duration] Long

ネメシスキャリバー
Nemesis Calibur


Available until August 22nd

①Increases ATK tremendously when the weapon is Ice or Light.

②Increases the Ice elemental cap.

[Trigger Condition] Just Attacks
[Duration] Normal
[Link Skill] Increases equipped chip's Ice element by 20% and HP by 5%

アーレスブーツ
Ares Boots


Available until July 25th

①Increases damage towards Darkers

②Boosts ATK dramatically.

[Trigger Condition] Just Attacks
[Duration] Normal
[Link Skill] Increases equipped chip's HP by 25%.

ネメシスチェイン
Nemesis Chain
 

①Increases ATK tremendously

②Slightly boosts the power of Technics

[Duration] Long
[Link Skill] Increases damage by 4% towards enemies weak to Fire.

エリュシオン
Elysion

 

①Increases power dramatically for Fire/Ice/Wind PAs and Technics.

②Deals heavy supplemental damage to enemies.

[Trigger Condition] Just Attacks
[Duration] Normal
[Link Skill] Increases damage by 2% towards enemies weak to Fire.

新光鎧刀
Pristine Armor Blades

 
▼▼ AC version of this esScratch ▼▼

①Makes normal attack deal a random Status Effect.

②Heavily increases damage towards enemies with status effects.

[Duration] Long

旅立ちのジェネ[プレミアム]
Venturing Gene [Premium]
Available until August 29th

 
.
PSO2es Quick Search Expansion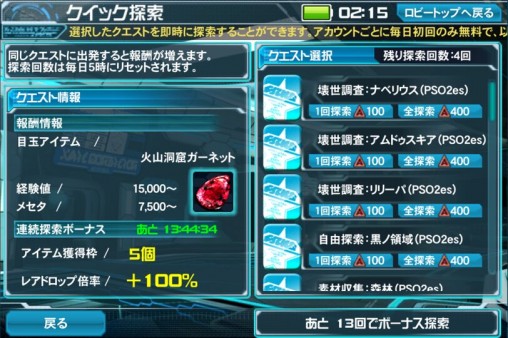 Quick Search is receiving a new [Bonus] mode that provides a complimentary (full) 5x search when certain conditions are achieved. This Bonus Mode activates after playing Quick Search a certain number of times. A counter will be provided at the lower right hand portion (as shown in the screenshot above), which will count down the number of Quick Searches you need to do in order to activate the Bonus.
New Feature Rush Arts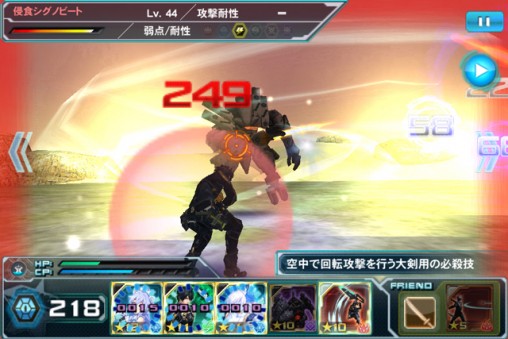 Link two Photon Art Chips to create an Apparition who helps you in battle!
Battle Camera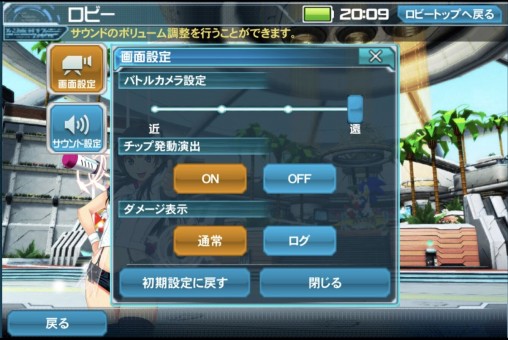 バトルカメラ設定 Battle Camera Settings
Quick Rundown
★ Bonus Features ★
Warning!
Keep a periodic backup of your 16-digit device transfer code.
You may not be able to log into the game if you lose this code!
Check "Device Transfer" tab in the guide for more details.
Getting Started
Hello and welcome to Phantasy Star Online 2es. Throughout the game you will be assisted by Seraphy who will be teaching you the ins and outs through various tutorials. After installing the game you will be given a menu with several choices. Click on the tabs below to see an explanation of the various functions.
Startup & Configurations
The Main Lobby
After completing the tutorial, you'll be transported to the main lobby. Similar to the start menu in PSO2, this lobby provides access to an assortment of features.
Large Main Buttons
緊急イベント Emergency Event

出発 Depart

クエスト Quest
外伝 Side Stories (aka Gaiden)
Four Small Buttons
Organize 編成 | Shop ショップ | Scratch スクラッチ | Link 連動
Left Green Buttons
Menu メニュー
Mail メール
Chip Library 研究室
Leisure レジャー
Info インフォ
The Lobby Menu
Emergency Quests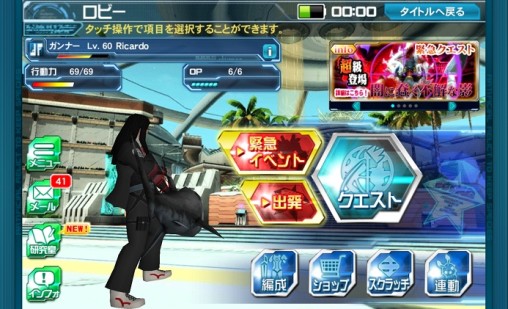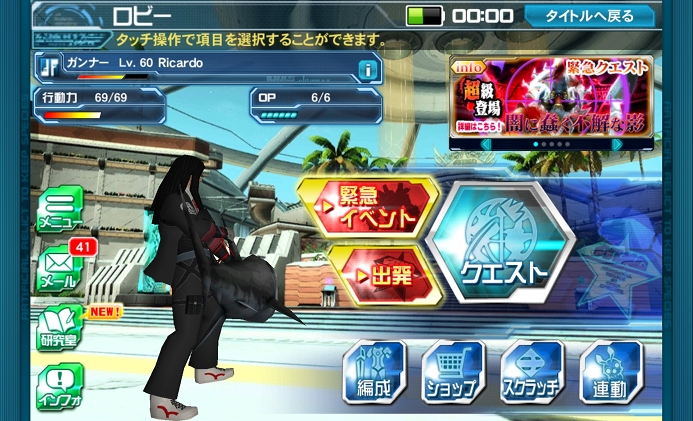 Emergency Quest in Progress
緊急イベント

Emergency Event

出発 Depart
Emergency Quests are a special kind of quest where you must defeat a ferocious enemy in a certain period of time. You can participate in an Emergency Quest by pressing the [Depart] button that appears at certain hours during the day. These quests use their own form of energy called Operation Points, indicated by the OP bar underneath the character's name.
Learn About Emergency Quests
The Chip System

Chips have two major categories:
Active Chips have a white corner, must be activated manually, and consume CP.
Support Chips have a black corner, activates automatically under certain conditions.
Each chip has a certain element attached. Equip the best combination of chips to dramatically increase your elemental values.
Chip Details
Long press on a chip to access more detailed information.
Chip Details (From Top to Bottom, Left to Right)
Cost
Chip Lv.
Element
Max Chip Lv.
HP
Pts until Next Level
CP
Class Bonus
Description
(Ability Lv. and Activation Rate) or (CP Consumption)
There are several different styles of chips, we'll outline each of these in the following tabs:
PSO2es Chip Library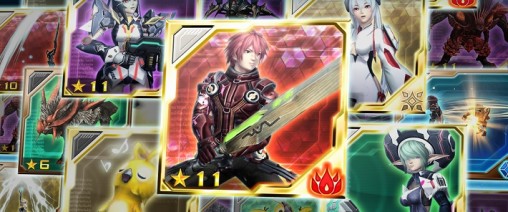 Click the button below to see descriptions of chips!
View the Chip Library
The PSO2es Chip Library contains chips released as part of an esScratch, and chips from various enemies throughout the game.